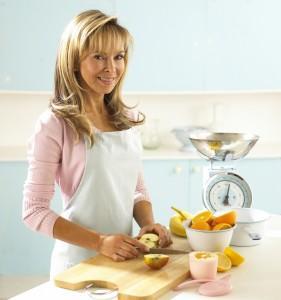 ANNABEL KARMEL'S BABY BISCOTTI FOR TEETHING TOTS
Ease teething tots with Baby Biscotti's and Nelsons Teetha® Teething Gel and Granules
Mum of three, Annabel Karmel MBE is a modern day 'mumpreneur'. As the UK's number one parenting author and expert on devising delicious and nutritious meals for babies, toddlers and children, Annabel knows how important it is to give teething tots something to chew and suck on during their teething troubles.
Annabel Karmel comments: "Teething is a difficult and painful process for most babies and, from my experience, can leave both baby and mum exhausted. It is important for parents to make teething as easy and painless as possible by helping them through the teething developmental phase. Sore gums and flushed cheeks are the primary symptoms of teething, and babies will often chew on anything they can get their hands on to relieve the discomfort, which is why I have created a delicious Nelsons Baby Teething Biscotti."
Nelsons Baby Teething Biscotti
Ingredients (Makes 20 Biscotti)
50g butter, softened
50g light brown sugar
1 egg
150g plain flour
1 tsp baking powder
½ tsp cinnamon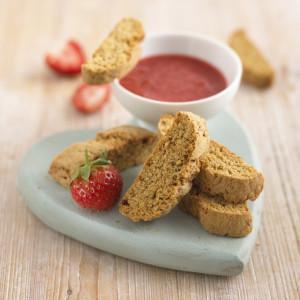 Pre-heat the oven to 160C Fan / 180 C
Cream the butter and sugar together, then add the egg, flour, baking powder and cinnamon. Mix until you have a dough. Knead on a floured work surface. Divide into two pieces and roll out to 2 x 18 x 4 cm long. Place on a baking sheet lined with non stick paper. Bake for 25 minutes. Remove from the oven and slice each sausage into 2 cm thick slices. Place on a baking tray and put back into the oven for 20 minutes turning over half way through the cooking time.
If your baby needs a helping hand through the teething phase then try Nelsons® Teetha, Nelsons NEW Teetha Teething Gel from the makers of Nelsons Teetha Granules. It is a homeopathic medicinal product used within the homeopathic tradition for the symptomatic relief of teething pain and the symptoms associated with teething, which are sore and tender gums, flushed cheeks and dribbling.
Nelsons New Teetha Teething Gel is sugar free and contains a unique formulation of natural homeopathic active ingredients, Chamomilla 12c, Belladonna 12c and Aconite 12c.
Within homeopathic tradition Chamomilla can help relieve teething pain, belladonna helps relieve flushed cheeks and dribbling and aconite can provide relief from sore and tender gums. Nelsons Teetha® is the only teething brand to offer consumers the choice of both granule and gel formats. Nelsons New Teetha Teething Gel has all the benefits of the Nelsons Teetha Granules in a handy gel format. Always read the label, suitable for babies over 3 months.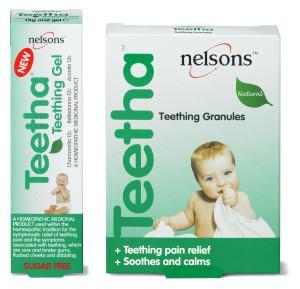 Nelsons Teetha Granules®*, a homeopathic remedy, is specially formulated for the soothing and calming relief of the symptoms of teething. It is ready-dosed in a convenient granule format that simply dissolves in a baby's mouth to help provide teething pain relief. It contains a 6c homeopathic potency of natural Chamomilla. Always read the label.
Nelsons Teetha Teething Gel is priced at £4.95 and Nelsons Teetha Granules costs £5.10 Available from Boots, Holland and Barrett, selected grocers, Lloyd's pharmacies and all good independent health food and pharmacy stores.
 *If you are concerned about any symptoms that your baby may have in particular if they have a fever please consult your doctor