Hello everyone!! I'm always thrilled to introduce artisans who create brilliant handmade gifts. It's just a perfect addition to my home decor blog!
Anna and her friend Vasily started their company, Anna Vasily, in 1992 when they were really young. Their initial collection consisted of about about four pieces at that time. Now, they have grown to a company that has already sold three million designer tableware items to top tier hotels such as Ritz Carlton, Four Seasons, Hyatt, and more. They attract not only hotels, but also have become a popular gift for stylish hostesses from all around the world.
I'm happy to share some of my most favorite centerpieces, wine and dinner sets, high tea and cake stands, bowls, and accessories with you here. You might have come across these delicate and detailed pieces at cafes and restaurants.
Do scroll down to see how lovely the rice bowls Anna sent me look in my renovated kitchen. On that note, make sure to come back and read my blog post on how I've transformed my dark, dim kitchen to a much brighter and more open one. I was able to move in only today, and started off arranging my most favorite pottery!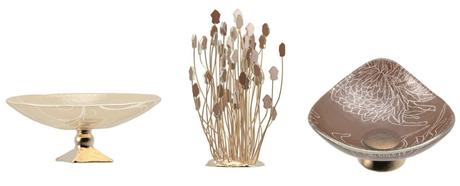 It takes years of experience and passion to make tableware like the ones I've showcased here. I hope you enjoyed browsing thru these stunning masterpieces and you also visit their online store at Anna Vasily