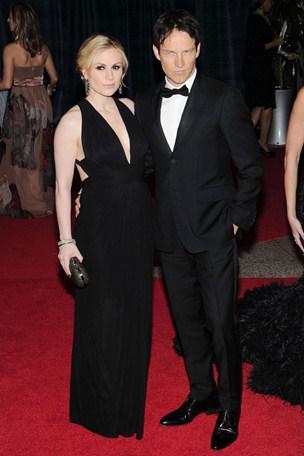 Anna Paquin and husband Stephen Moyer (Sookie Stackhouse and Bill Compton on True Blood) attended the White House Correspondents Dinner once again this year. Once again, they did not fail to impress. Paquin, newly pregnant, was stunning in a black deep-V silk jersey dress by French designer Hervé L. Leroux (formerly known as Hervé Léger).
Moyer was as dapper as always in a black tux. So dapper, in fact, that he was named British GQ's second "Most Stylish Man of the Week" — second only to the President of the United States! Well done, Stephen!
We'll be seeing the couple soon on True Blood Season 5, and we can't wait!
Sources: reader contribution and GQ.com