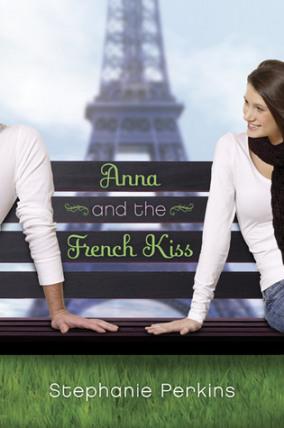 Summary: "Anna is looking forward to her senior year in Atlanta, where she has a great job, a loyal best friend, and a crush on the verge of becoming more. Which is why she is less than thrilled about being shipped off to boarding school in Paris – until she meets Etienne St. Clair: perfect, Parisian (and English and American, which makes for a swoon-worthy accent), and utterly irresistible. The only problem is that he's taken, and Anna might be, too, if anything comes of her almost-relationship back home.
 As winter melts into spring, will a year of romantic near – misses end with the French kiss Anna – and readers – have long awaited?"
Love, love, LOVE this book! After I finished it I wished I could just keep on reading. I read this for my school book club and I'm so jealous of the people who are reading it right now. That's how much I love this book.
From the very beginning I was hooked by the humor, romance, setting and the characters in this book. The setting was amazing for obvious reasons. I mean c'mon, it's Paris! The craziest part is, Anna didn't even want to go in the beginning! I want to go to Paris SO bad, so I was very much jealous of her. There was a lot of romance in this book and I'm also jealous of Anna again because she's met Etienne. Everything that is Etienne seems amazing. He's English, he's funny, he's charming, he's hot. It's no wonder everybody at the school is in love with him. The one problem for Anna is, Etienne has a girl friend.  Through out the book she struggles with this fact because Etienne seems to be giving her some signals, but she's not sure how to interpret them. I loved reading about Anna's feelings for him because it's obvious she's so in love, and whats better than a good love story, right? The whole time I was thinking, 'Just be together'! But..something always seems to be standing in their way.
Anna was a good character because she'd never really had a relationship, and I enjoyed reading about her first real interest in someone. Her new friends were also neat characters because they all had such different personalities and along with the description of them, I could picture all of them really well. Her friends back at home, Bridget and Toph, I could also picture really well. Which is important because there's nothing more irritating then reading a book and having a blank face for a character. Of course she loses touch with these two, but that's to be expected since they're so far away from each other for so long. But you do get to learn a little bit about them. My best friend also read this book and said she thought it was funny how at the end of the emails Bridget would send, she would say thing like 'You suck' instead of 'I miss you' or 'I love you'. She said she could see me saying something like that to her if she went away

I don't really have an opinion about Anna's mom because she isn't really a big part of the story but her dad definitely is and my thoughts about him aren't good ones. He's all about image, which is the reason Anna is away to begin with. He's a famous author whose books get turned to movies, so he thought it was important his daughter went to school somewhere that meant something. In the end it turns out, but what kind of dad does that?!
Over all, I LOVED this book (Have I mentioned how much I love this book?). There was plenty of surprises and romance to keep it interesting and I could really connect with the characters. For sure one of my top favorites. I recommend this book for anyone looking for a good love story.

 5/5 Stars