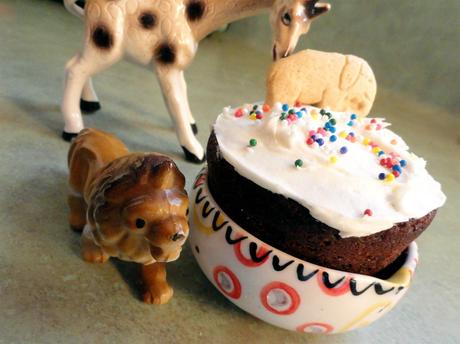 Two of my latest obsessions:


-Goodwill Excursions




-Porcelain Animals




For the former, I credit my husband. Because growing up, I didn't go thrift-store shopping. Not ever. Not once.




Now mind you, my mom is one of the most budget-conscious people I know, but with four girls

to clothe, she didn't have time to rummage for treasures.
So when I met my husband, I also discovered the excitement of finding something special amongst....well, let's say it...trash.


Ryan and I been to Goodwill four times in the last two weeks, and we've found our share of vintage wares.




The second obsession--my porcelain animals--

came, no doubt, from the books and zoo trips and stuffed animals of my childhood. We were a family that adored the great outdoors.
When I was 15, I even went to Botswana. I watched herds of giraffe run along side our bus as we cruised down dirt-packed roads. I woke up to find an elephant wandering through our campsite. My childhood was infused with experiences and images of majestic beasts.


And oh yes, did I mention I ate a lot of animal crackers?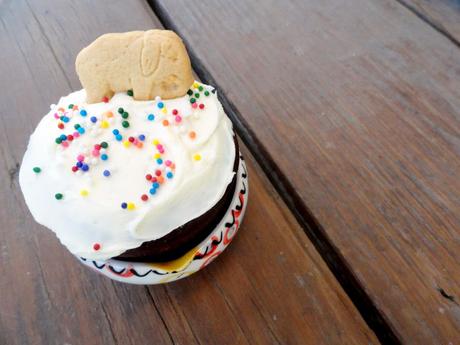 So these cupcakes? They are a melding of many passions and memories.
Porcelain animals (found at goodwill) reminding of my childhood...and inspiring me to buy a red bag of those golden treats.


These cupcakes would be perfect for child and adult. Who wouldn't like a rich chocolate cake topped with cream cheese frosting and an animal cracker?




To make these cupcakes extra special, I also crushed up a dozen animal crackers and added them to the batter. This is a fitting way to give a broken animal cracker an honorable end.




In other news, I finished my first week of my fourth semester of graduate school. I'm downhill now, and I feel the momentum gaining.




Thank you for all your love and support during this busy but exciting time.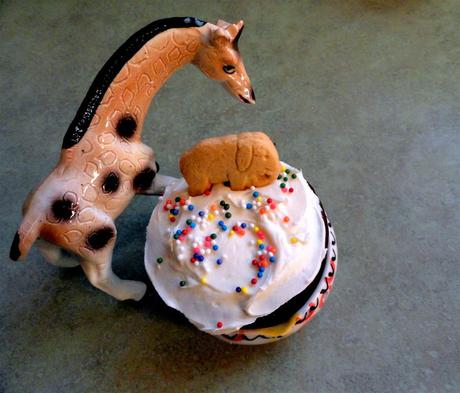 Animal Cracker Cupcakes




Chocolate Cupcake Base


8 Tbsp unsalted butter
1/2 cup Dutch processed cocoa
2 ounces bittersweet chocolate, chopped
3/4 cup flour
3/4 teaspoon baking powder
1/2 teaspoon baking soda
2 large eggs
1/2 teaspoon salt
3/4 cup sugar
1/2 cup sour cream


2 dozen animal crackers (you can do more, if you'd like)




Cream Cheese Frosting


1 8 ounce package of cream cheese
1 stick of unsalted butter


1/4 teaspoon salt


2-3 cups powdered sugar
1 tsp vanilla
 
1. Preheat your oven to 350°F.   Grease or line a 12 tin muffin pan. Using a

double boiler

, bring 1-2 inches of water to boil. Add your butter (cut into chunks), chocolate, and cocoa to the bowl above the boiling water.  While melting, whisk the ingredients until well combined and smooth. Remove from heat and let cool.  Alternately, this can be melted in the microwave. I usually heat in 30 second increments to ensure that the mixture doesn't burn.
2 In a small bowl, sift together the flour, baking soda, and baking powder.
3 In a large bowl  beat your eggs. Add the salt and sugar and beat until well combined. Slowly add in the chocolate butter mixture and beat until smooth.
4 Add in half of the sifted flour mixture, mix to combine. Mix in the sour cream. Mix in the remaining flour mixture. Stir in the crushed animal crackers.
5 Spoon the batter  into the lined muffin cups. Bake for 18-20 minutes, until a toothpick inserted into the center comes out clean.
6 Let cupcakes cool in muffin tin on a rack for 15 minutes. Then gently remove cupcakes from the tin and let cool completely before frosting.


To make Cream Cheese Frosting:


1.  Cream together cream cheese and butter.  Add vanilla and powdered sugar and cream until well combined, adding more sugar if necessary.
2.  Use a spatula or wide knife to spread over cooled cake.     


Always,




Monet


Anecdotes and Apple Cores