Hey everyone,
Just as skin care is important it is also important to care about your eyes. Dark circles is the no .1 problem not only in India and around the world. There can be various reasons for it - stress, anxiety, insomnia, iron deficiency and a host of other reasons. In my case it definitely has to be iron deficiency and insomnia. Everyone have their own reasons but one thing is for sure that the under eye area definitely needs some Tender Loving Care (TLC). If you remember I spoke about this brand Anherb Natural on my blog - I have reviewed some of their products. You may check it out HERE. Today I shall be reviewing the Anherb Natural Under Eye Gel and my experience of the same. Read on to know more........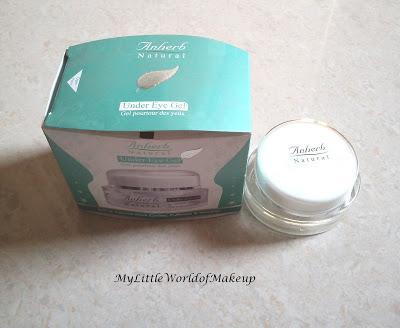 Price: Rs.450/- for 15g. Available online and on their website HERE
Ingredients: Green tea Extract, Cucumber Extract, Walnut Seed Extract,Natural protein Extract.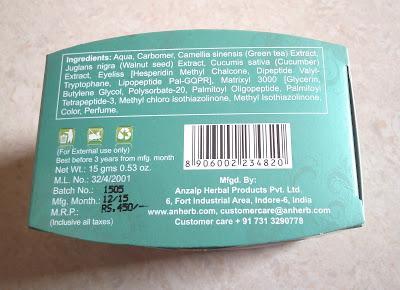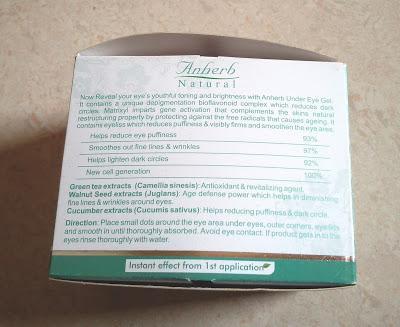 How to use: Place small dots around the eye area under eyes. Outer corners,eye lids and smooth in until thoroughly adsorbed. Avoid eye contact. If product gets into the eyes rinses thoroughly with waterWhat does the brand say:Rid the under eye area of puffiness,dark circles& fine linesIt Contains a unique de-pigmentation bio flavonoid complex which reduce dark circle.Matrixyl imparts gene activation that complements the skin natural restructuring property by puffiness & Visibly firms and smoothens the eye area.Visible effect from 1 st applicationGreen Tea Extract: Antioxidant & Revitalizing agent.Cucumber Extract: Helps reducing puffiness & dark circle.Walnut seed Extract: Age defense power which helps in diminishing fine & wrinkles around eyes.Natural Protein Extract: Helps in natural regeneration & replenishment of skin cells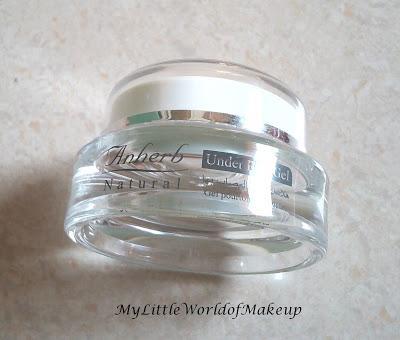 The eye gel jar comes in a cardboard packaging with all the information, instructions printed on it. The jar is transparent and comes with a screw type lid. There is an additional cover inside to prevent the gel from drying or loosing its essence. Overall the packaging is good but could be a little bulky to carry around.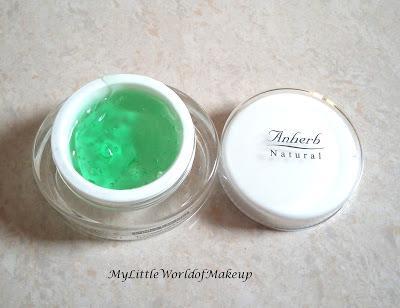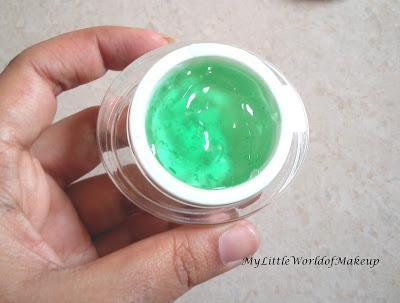 The eye gel is green in color - reminds me of Aloe vera gel. The texture is smooth and light weight. For added coolness you can store it in the refrigerator. I use it post bath and before sleeping at night. It can also be used before using concealer under the eyes especially for those who have the area under the eyes dry. I do that and it works great. I do massage it around the eyes and eye lids and on repeated use I have noticed a reduction in fine lines and also the area around my eyes feels much tighter. When I was a teenager or during my early twenties I was not even aware that an eye cream exsists but today everyone is much more aware. Just like your body and your face needs some TLC your undereyes need it too. Prevention is better at an early age as the area under the eyes ages faster. It did not do anything for my dark circles much but overall I like this cream and I do recommend it.The Good:Easily availableInexpensiveHydratingNatural - no chemicalsIdeal for use for men and womenDoes tighten area around the eyesReduces fine linesThe not so Good:Bulky packagingDid not work for my dark circlesRating: 4.2/5
Anherb Natural Under Eye Gel is one of the best under eye gel I have tried to be honest. It feels cooling and hydrating under the eyes and with repeated use skin feels firmer and fine lines are reduced. I do suggest you try this eye gel if you haven't yet.I hope you found this review helpful.Have you tried the Anherb Natural Under Eye Gel before? Do let me know in the comments section.Until next time.. Take care xoxo

P.S: PR Sample** Unbiased Review