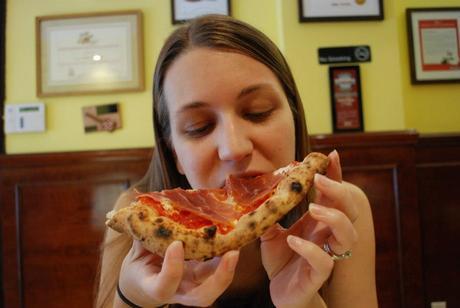 In our previous Angie Eats New York City entry we outlined the restaurants, street food, and other vendors that we were hoping to try on our recent trip to NYC. Armed with a list of 38 restaurants, we set out to try a good chunk of them and hopefully not become chunks ourselves in the process.
The following are brief reviews of the 11 restaurants from our list that we made it to in NYC, plus one added surprise, and our verdict on each of them.
Is your favorite on our list?
Rating System
As with all Angie's Eats entries into this series, the rating system is based off of a three-point scale:
Angie Needs More! - Amazing and craving more.  Reserved only for the best locations in the region.
Angie is Stuffed! - An overall good restaurant worth checking out.
Angie is Hungry! - A poor restaurant not recommended.
Murray's Bagels
We went in during a busy weekday morning. I got a multi grain bagel with strawberry cream cheese, while Jeremy opted for a more savory everything bagel with scallion cream cheese. The texture of the bagels was awesome, and you could tell everything was super fresh. The cream cheeses were delicious and were slathered on thickly. We left incredibly stuffed as the bagels were as big as my face; we probably wouldn't have needed to eat again until dinner. But alas, we had to. In the name of science and research, we pressed on.  Two days later we returned to Murray's for another morning snack. It was that good.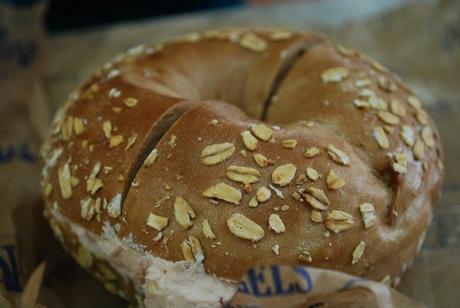 Otafuku
Jeremy was incredibly excited that there was an okonomiyaki place in NYC, as he fell in love with this street food while in Japan. We ordered okonomiyaki and takoyaki. This was my first time having 'real' okonomiyaki (we had tried and failed at making it at home). The okonomiyaki was pretty good although seemed to be lacking something. The takoyaki was excellent, though and had every texture and taste like Jeremy described from his time in Japan.  Gooey in the center, crisp on the outside.  Mmm.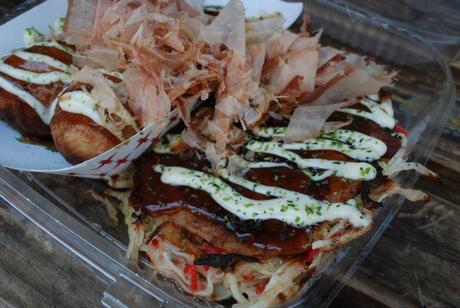 Russ and Daughters
This is definitely more of a fish place than a bagel place, and we should have stuck to ordering fish bagels. I got a plain bagel with scallion cream cheese, while Jeremy got an everything bagel with salmon spread and fish eggs- a very delicious choice. The bagels were much smaller than Murray's and didn't have as pillowy of a texture. Although this place wasn't a let down, the third morning we returned to Murray's for our bagel fix.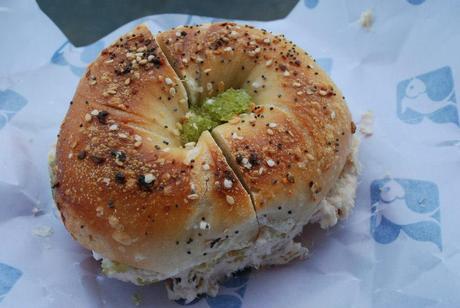 Pio Pio
This was another case where we should have just ordered what everyone else was eating (the Peruvian chicken). We started off with excellent pisco sours, and Jeremy got the fish ceviche with yucca fries while I ordered the corvina fish. The ceviche had nice bright flavors but the yucca fries were just ok. The corvina fish was cooked well, the aji Amarillo sauce was nice and creamy, and the mashed yucca was also pretty good. But the whole dish was just a little bit too rich for me. It needed some spiciness or sourness to cut the heaviness.  Or maybe just a few bites of Jeremy's ceviche every now and again.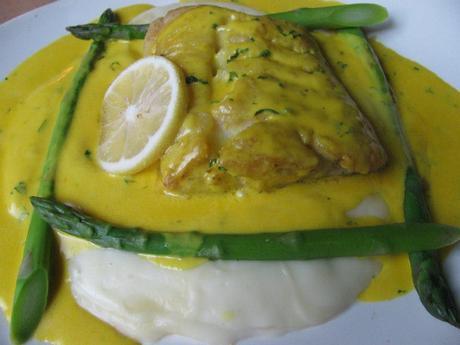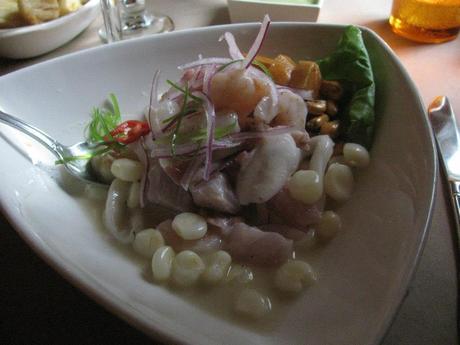 Grom
Jeremy and I are serious about our ice cream and gelato, so when we heard this place was one of the best we had to try it.
We were severely disappointed. I could have forgiven the high prices if the gelato was out of this world, but sadly, it was not even mediocre. The gelato was icy and lacked any creaminess.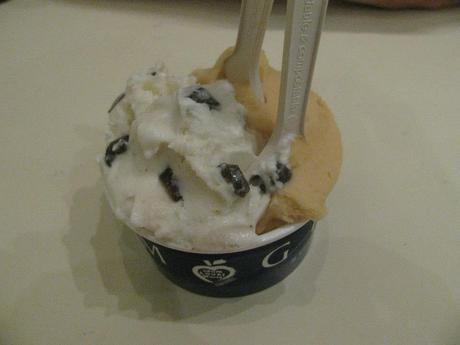 L'Arte del Gelato
We couldn't leave NYC without trying some better gelato, so the second night we stumbled upon this place and decided we had to go in. We ordered the olive oil gelato, chocolate gelato, and passion fruit sorbet. The olive oil gelato was intense and creamy, and the chocolate gelato was rich and delicious. I normally hate chocolate flavored ice creams/gelatos but I couldn't get enough of this one!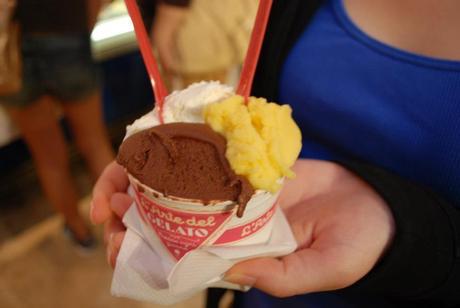 Katz's Deli
Sometimes touristy things are worthwhile, and sometimes they just make you wish you could get back the 30 minutes of your life that you wasted doing them. Our experience at Katz's was the latter. We got reubens and a knish, which were nothing to be celebrated and incredibly overpriced. Yikes.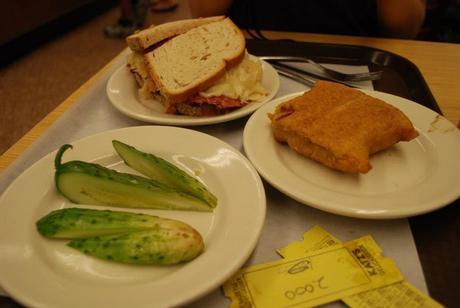 Beyoglu
I heard a lot of hype about this place, but it didn't quite live up to it. We ordered falafel, grilled shrimp, crab cakes, and phyllo dough with feta. We should have stuck with one of the mezze platters that everyone else seemed to be ordering. Our food wasn't bad, but nothing stood out as excellent or special. We also waited an eternity for our check which contributed more to our overall opinion than the food itself.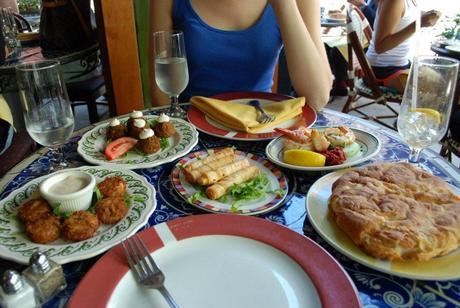 Lombardi's 
We got there right when they opened, and good thing- everyone wants to eat at the first pizza place in the USA. We ordered a large pie with pancetta on half of it. My only quibble with the pie was that there were only a handful of fresh mozzarella slices on it. Pile on the cheese, please! We want more!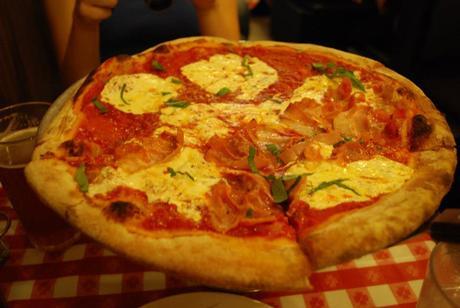 Keste
For a more gourmet NYC pizza experience, we decided to visit Keste. We ordered the prosciutto di parma pizza with homemade mozzarella, prosciutto, and basil. The mozzarella covered the pizza edge to edge, the prosciutto was melt-in-your-mouth, the crust had a great color from the wood-fired oven, and the drizzle of olive oil on top was the perfect finish.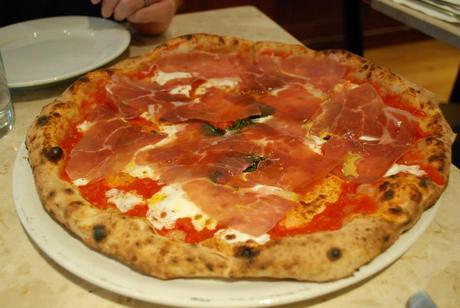 Tacombi
Located in an old garage, this place has atmosphere galore. We came here for the fish tacos but ended up ordering nachos, several meat tacos, and a veggie taco filled with corn as well. Surprisingly, the corn taco was our favorite. The sweet corn and salty cotija cheese paired so well together. The nachos were great, too, if a little pricey. We also got several aguas frescas of various flavors that, while tasty, could have packed an extra punch.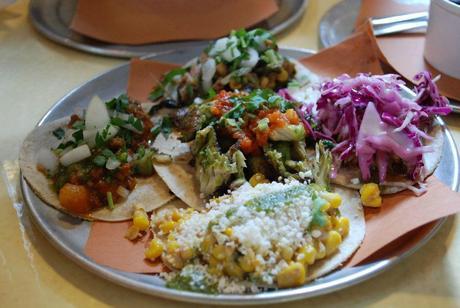 Mamoun's Falafel
After eating three huge meals and snacking all day long, on our way back to our apartment one night we decided we needed a late night snack (yay, gluttony!). We walked down MacDougal Street and saw everyone was carrying some kind of sandwich wrapped in foil. We followed the trail of people to Mamoun's Falafel and ordered two shwarma wraps. Heavenly!! You simply must go here!  The pita bread is so soft, the meat is seasoned so perfectly, and the sauce is spectacular.  While not on our original list of restaurants to visit, we later found out Mamoun's is often rated in the Top 100 restaurants in the city.  We can see why.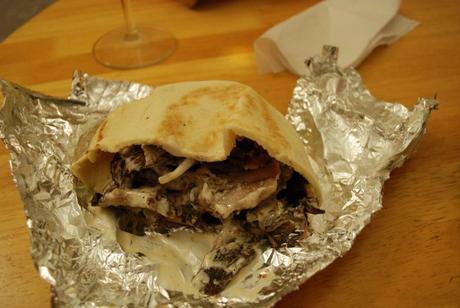 Not bad for three days work.  
Have you visited any of the restaurants we tried out in New York City?  If so, comment and let us know what you thought!
Know of a hidden gem you'd like to recommend to the world? We'd like to hear those too!
For a fully integrated map to download and use yourself while visiting NYC, click here!
Or to check out our original post with all of our other NYC restaurants, click here!
----------------------------------------------
Today's Post was brought to you in part by our friends at E-Outdoor. When heading out to explore a new destination

,

whether it is a major city like New York City or out in nature, be sure to take t

he best

travel gear to stay safe and warm

!
----------------------------------------------