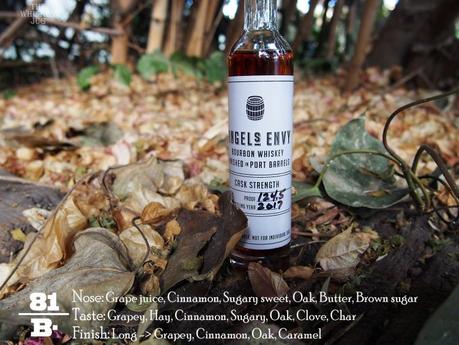 Angels Envy Cask Strength 2017 edition is an uncut bourbon finished in California port barrels. Angel's Envy has long been thought to source from Brown-Forman, but I've recently read several statements from people in the company that say their whiskey is sourced from multiple sources. Meaning they get their whiskey where they can and that each bottle could be a mix of multiple distillers.
In Louisville Distilling Co's Words: Angels Envy Cask Strength
"Perfection is a patient man's game. So we waited until Angel's Envy reached the perfect level of maturity. We judge only a handful of barrels exceptional enough for our lengthy finishing process. The result? Even at 124.6 proof, every sip is worth savoring.

A remarkably complex and unfiltered spirit, we suggest you enjoy it neat or with just a splash of water to release the flavor nuances, and perhaps with a few friends who appreciate outstanding whiskey. Angel's Envy Cask Strength was worth waiting for, now it's worth sharing."
Sourced whiskey finished in port barrels… pretty simple. On to the Angels Envy Cask Strength review!
Angels Envy Cask Strength Info
Region: Kentucky, USA
Distiller: Various
Bottler: Louisville Distilling Co.
Mashbill: At least 51% Corn + Rye + Malted Barley
Cask: New Charred Oak + ex-Port Barrels
Age: NAS
ABV: 62.25%
Cask Strength | Non-Chill Filtered | Natural Color
Batch: 2017
Price: $175*
Angels Envy Cask Strength Review
EYE
Ruby
NOSE
Grape juice, cinnamon, sugary sweet, oak and a bit of butter, brown sugar and spice. It's really closed off and smells more like a cognac than a bourbon.
PALATE
Grapey, hay, cinnamon, sugary, oak and a bit of clove and char.
FINISH
Long grapey fade of cinnamon, oak and caramel.
BALANCE, BODY & FEEL
Not fully balanced, full body and warm tannic feel.
OVERALL
Angels Envy Cask Strength 2017 is ok… honestly, it's my least favorite of these releases to-date. It tastes and smells like an oaky cognac. If done in a blind line up I have no doubt I would have guessed cognac or armagnac long before I guessed bourbon. If I had to guess, they probably used sopping wet barrels to do the finishing in.
Water does help out a bit and brings up some nuttier notes to go with the grapes and oak on the aroma and the palate, but it doesn't really force out more of a bourbon essence. Even after 60 minutes of air + some water it still tastes and smells like an oaky cognac. I like cognac and Armagnac a LOT, but well-matured grape spirits have a different essence to them, which this also misses. So while it does remind me of them, it's nothing like a 1981 Domaine du Cardinat, more like a weird in-between.
SCORE: 81/100 (B-)
*Disclosure: This Angels Envy Cask Strength sample was graciously sent to me by the company for the purposes of this review. The views, opinions, and tasting notes are 100% my own.