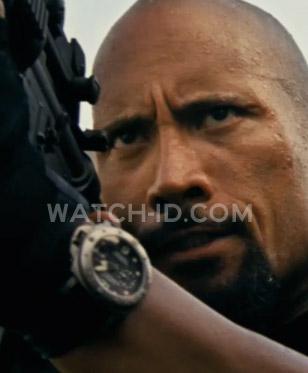 image via Watchid.com
Action movie buffs can see Dwayne Johnson, aka "The Rock", sporting the bold and action design of Panerai Luminor Submersible in "Fast Five", and action sequence film. This polished steel 44 mm watch exudes confidence with the sleek black against steel appearance. Being an action hero, so to speak, Dwayne Johnson pulls off the looks and appeal to audiences worldwide.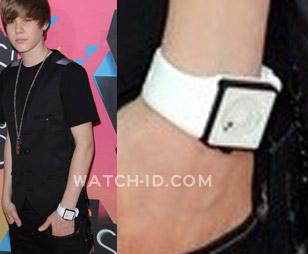 image via Watchid.com
Another popular actor is Justin Bieber who favors the Nixon Newton watch. One of the color choices he seems to be drawn to is a white watch and strap. This helps when it comes to fashion since white goes with just about every accessory and dress selection. To his credit, he really makes the Nixon work. The watch is not as large as most you see celebrities wear. His square 37.75 mm crystal dawns a simple and thin look that works well for Justin.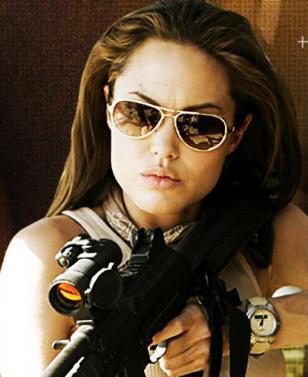 Finally, let's gander at what a real gem of an actress, Angelina Jolie enjoys for a favorite timepiece. Her recent engagement has the celebrity world in a buzz over her beautifully designed ring.
The Tissot T-Touch she wears in "Mr. and Mrs. Smith" is a truly appropriate watch for this action comedy that she shares the lime-light with her true love Brad Pitt. Of course, Angelina Jolie could wear any watch and it would look fantastic. According to Watch-ID.com, "Tissot T-Touch has been developed to offer its owner a wide range of useful functions simply by activating the tactile crystal. Besides common date and time functions, the watch's wearer is provided by a compass, a chronograph, an alarm, barometric pressure and temperature readings, as well as an altimeter."
There you have it, a selection of some well-known and wonderful celebrities who inspire us when it comes to our luxury and casual watch selections. So, the next time you decide to check out the latest movie, remember to look for a watch on the actor's wrist. See if you can figure out the brand and model, then wait to see if you were right in blogs to follow.
Having one of the most impressive pre-owned watches collection anywhere, Raymond Lee Jewelers wants to invite you to visit our impressive showroom in person or online. With name brands like Rolex, Cartier, Tag Heuer, Tissot and Panerai, you can't go wrong by checking out this beautiful selection. No matter what your jewelry needs are, you will find exactly what you are looking for in elegance and luxury and a fantastic price discount!