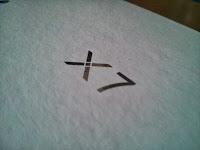 Any previous reader of my blog have probably seen that I'm a big fan of Chinese android phones. The iocean x7 turbo is the 3rd I've purchased. Before I ever bought my first one,whilst researching, I saw the iocean x7 and always liked its looks. I chose to go for other better known (to me) brands. I was really excited to get my hands on this device and now I've had it a month, I feel it's right to give my assessment of it.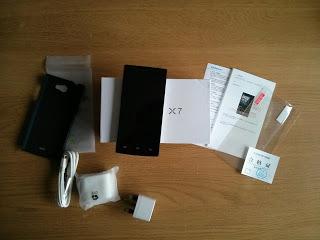 Case, charger, screen protector, instructions and of course the phone!

Facts and Figures
The x7 is a 1.5gHz Quad-core MTK6589T, the 'T' means it's the higher clocked cpu, the normal clock speed is 1.2 gHz. To be hoenst I feel there is no real advantage to this. Any speed increase is minimal, if any! It has 1GB of RAM, the phone doesn't really lag, except when jumping between heavy RAM usage apps. Also high end games tend to be a bit choppy. I like to play Real Racing 3 and found it quite hard to play. There is a 2GB version but at the moment the prices that are being charged are to high, it's in the Nexus 4 range. The screen is a big 5 inch IPS 1080p screen, which is really nice and bright. the screen is one thing I have found on the phones to always be a high standard.  The x7 has 4GB of internal memory. Which isn't a lot nowadays, you can use a micro SD to expand that. The battery is only 2000mAh, which is smaller than I usually receive, but to be honest I didn't notice a problem, it lasted as long as I need which is around 12-16 hours. I'm a heavy user and I found it alright. One negative is that I only had one battery in the box, when usually in my experience you get 2, tut tut. You can buy bigger batteries if you find 2000mAh isn't enough.Whats on the outside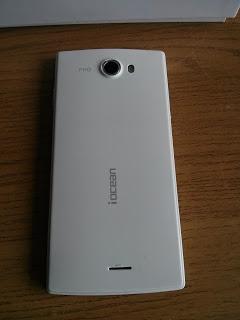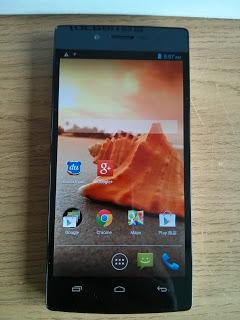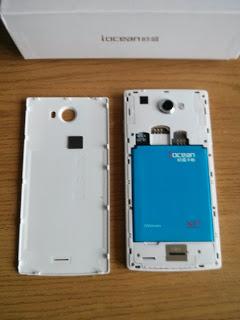 Its pretty standard on the outside. The power button is on the right. Volume on the left. The buttons have a chrome finish whilst the sides and back are a cheap plastic. The back panel is thin and feels flimsy like on the Samsung galaxy line, but clips on well and looks quite nice. There's the 2 sim slots. The main sim is 3g and for data. Sim 2 is 2g only, just for calls really. An annoying point is that the capacitive buttons at the bottom do not light up. They are basically coloured in! They also don't really do what they are meant to, Home is home, and  a long press of home is the multitasking cards. This makes the multitasking button menu? and long press is Google now. The back button is good old back!Software
One thing that really stands out for me with these devices is that they always come pre-rooted. I'm glad they do because I don't know how I would get on translating all the Chinese pages to work it out. This means that you can flash new ROM's, which there are many. If your not into that you can always install a custom launcher and do a bit of theming. All the Chinese bloatware is uninstallable, which is excellent and a big plus for the Chinese manufacturers. Mine comes with Android 4.2.1 jelly bean. If any developers take the phone up you might see it get 4.3. Don't expect iocean to do it for you.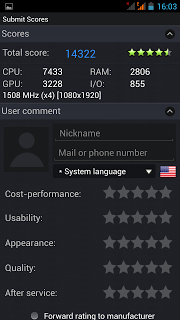 AnTuTu score

Camera
There is 8MP onthe back and 2Mp on the front. Its a good solid camera, I have taken a few shots just to give you an idea of the quality.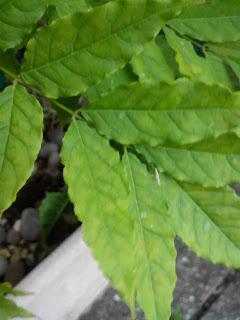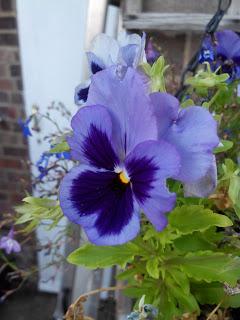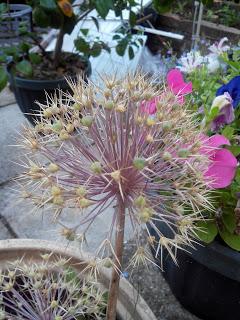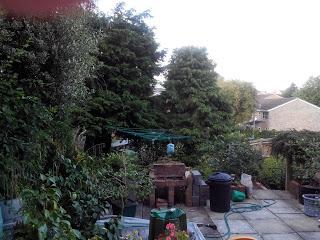 My conclusion.
I have to say this didn't live up to what I expected. This phone feels like a mid range phone instead of high end. Don't get me wrong, if you try and get anything in the UK, brand new for the same money (under £200). You will be sorely disappointed with what you get. In my head I compare it to my last phone, the Zopo c2. The Zopo is a much better made, better quality device. It's a fine line between them, but my money is always on the Zopo.
Link to custom Roms If you found this post useful please don't forget to +1 and share