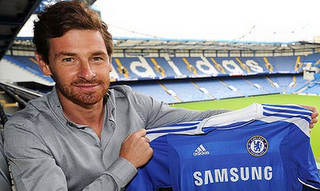 This article was written by Pete South, follow him on Twitter
@peterwsouth
.
UPDATE: VILLAS-BOAS HAS SIGNED A THREE YEAR CONTRACT WITH CHELSEA
Andre Villas-Boas has resigned from his post as Porto manager amidst widespread speculation he will be installed as the next Chelsea boss, with a Portuguese news agency claiming the 33-year-old paid the €15 million release clause in his contract that allows him to leave the club himself. Porto made a statement to the Portuguese Securities Market Commission confirming Villas Boas had left the club early on Tuesday, but insisted that they would only allow him to leave once the €15 million had been deposited into their account.
The statement said:
"Porto can inform the stock market that FC Porto has received notification from its coach André Villas-Boas, of the intention to resign with immediate effect. As such his employment contract shall be considered rescinded upon deposit of the stipulated amount."
On Monday the club reiterated their stance that they will block any move for the young manager until they received the amount stipulated in their former manager's contract. The Lusa news agency claim that he has paid the sum himself – something that seems unlikely given the enormity of the figure – something reports elsewhere in Portugal backed up.
Villas-Boas guided Porto to a domestic double last season before capping off a spectacular campaign with a win over Braga in the Europa League final. He also worked as a scout for Jose Mourinho during the Real Madrid manager's time at Chelsea and Inter Milan. Chelsea remain tight lipped over the appointment of Villas-Boas, who was also said to be on the list of replacements for Leonardo at Inter Milan, and said they hoped to reveal their new manager in the coming days.
A spokesman of the club said this:
"We hope to be able to make an announcement regarding the new manager in the next few days or so, but until then we will not be commenting further on the speculation surrounding that appointment."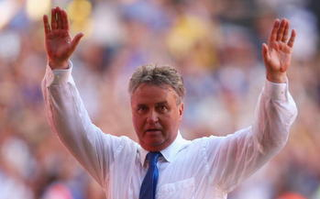 Should Villas-Boas complete his move to Chelsea, he is likely to bring Porto striker Radamel Falcao with him ending Arsenal fans hopes that he could be seen in an
Arsenal kit
 next season. Tottenham were also said to be interested in the prolific forward.
Guus Hiddink had originally been the favourite for the role left vacant after Carlo Ancelotti's departure, but is now said to be interested in the Inter Milan position, yet could still stay in his position as manager of the Turkish national side.
Hiddink's agent Cees Van Nieuwenhuizen said the following to La Gazzetta dello Sport.
"We have never spoken to (president Massimo) Moratti... Hiddink has a contract with the Turkish federation and therefore before any talks can begin, Moratti must contact the federation and say he is interested in Guus. He is contracted until 2012 so, for the time being, there is no possibility that he can coach Inter... If Inter reached an agreement with Turkey? Well at that point Hiddink would certainly evaluate the Nerazzurri offer but he is a professional and he has never broken a contract in his whole career."
What are your thoughts regarding the international managerial merry-go-round? Have Chelsea got the right man for the job in Villas-Boas? Will Inter manage to find a manager of proper quality for next season, and will that man be Guus Hiddink? Share your comments below!