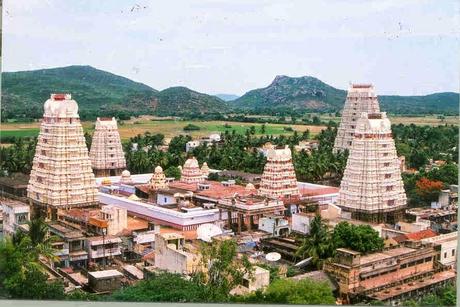 Rameshwaram, a divine place, from where Lord Rama found his way to get back his lady love Sita. This was my only knowledge about the island, that too from my grand ma's tales. I was greatly excited to visit the place. I wanted to see Rameshwaram and check if it is according to my imagination. Thoughts are always colorful though the reality is never the same.
For me, belief in God is not bonded to rituals. My faith with Him is pure without much show offs. Only place I frequently stopover is Guruvayur. Apart from the poojas and customs, I find a relaxed mood there. The idol of Lord Krishna is a favorite of mine. He is a flexible character who has done all naughty and serious things like humans. Also, I could pick a few colorful fancy ornaments from nearby shops at a cheaper rate. In fact, it is really a good thing to collect lots of earrings in just one visit and try it out for next few months. Similarly, it is the place where my college is situated. I used to meet my college mates whenever I go.
Rarely, temples inspire me to pray. All I do is look around the construction and sculptural works. Preachers say God is everywhere and so I pray from my room, bus or even bathroom. Coming back to my journey to Rameshwaram, I and my family started at around 7.30 am. We had breaks in between for refreshments.
From the wild greenery of Kerala, we moved to Tamil Nadu. Today, land of Tamilians is greener than my homeland. Only difference is that it is all manmade vegetation. Sights of tiny and huge temples, women with jasmine garlands, little girls with pots to collect water, countless mopeds, hoardings and name boards written in Tamil, cattle wandering in agricultural fields and acres of paddy fields welcomed us.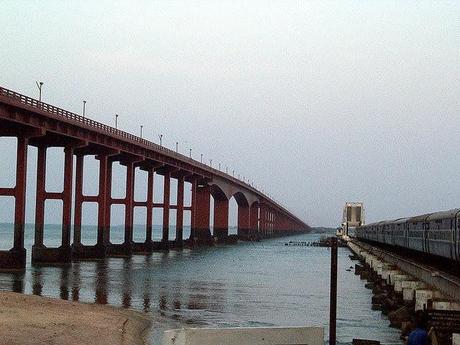 We reached Pamban Bridge. Entrance fee is Rs. 100. All I knew about this bridge was a tagline from an old ad of Shanker Cement. I must tell you, once in a lifetime you must travel through this bridge. Awesome view and experience! There are two bridges with the same name- one for railway and other roadway.
Both these bridges connect island of Rameshwaram with the mainland of India. The bridges are built across sea. It is also the meeting point of Bay of Bengal and Indian Ocean. We could recognize two seas. Indian Ocean has dark blue water while Bay of Bengal is pale blue. Our driver stopped the cab in the middle of the bridge for us to get out and watch around. He warned, "Be careful!"Take my word, if you have a zero size body shape, you'd certainly fly up. The wind there is heavy. We were there at noon and even then it was severe. Driver said it will be worse at night. But the view is truly breathtaking. Sea….! My words are not enough to explain its beauty. The sight of railway track will make you either scared or keyed up. It is just a few centimeters away from the deep seawater.
Bhakti made my family to get into the car without 'wasting much time' staring at sea. It seems there were some poojas to be held for me and my hubby to lead a happy life. We went straight to hotel rooms and kept our bags there. I don't know why they made me to hurry up to meet an old man. He was supposed to do our pooja. He was a family friend of APJ Abdul Kalam, former President of India and a great visionary. There was a picture of him and Kalam hanged on his wall.
When we went in, he was busy watching a Tamil serial. His assistant informed him about us and he came out. He had all costumes of a spiritual leader except long hair. First thing he asked us was "Are you from Pattambi?"

 

It was my husband's homeland. When we nodded, he smiled. I guess his expressed so because the one who had send us may have a tie up with this person and must have informed him earlier to buy commission. He says there are three kinds of pooja ranging from 5,000 Rs to 7,000 Rs. He said the benefit will be the same for all these three. When my dad and husband was confused about choosing, I strongly said I'd go for the lowest. Finally he told us to meet him after a holy dip in the sea and rituals in the morning.
It was already 6pm. So we had a bath and moved to the temple. I felt as if I had entered a huge fancy shop with shopkeepers inviting us to buy ornaments. Rameshwaram is famous for things made of corals. I bought a few earrings for my cousin sisters, bags for mom and in-law, bracelets and bangles for me. Then we entered the temple. It had a stink with no air circulated rooms. Also, the horrible smell of people with wet clothes welcomed us to pray. Now you tell me, how I can worship in such an environment!
Even the people at counter of prasadam were loudly banging on their table to attract devotees to buy prasadams like laddu. Once we completed the visit, we went back to our rooms. As the journey had made us tired, we had a good sleep.
To be continued...