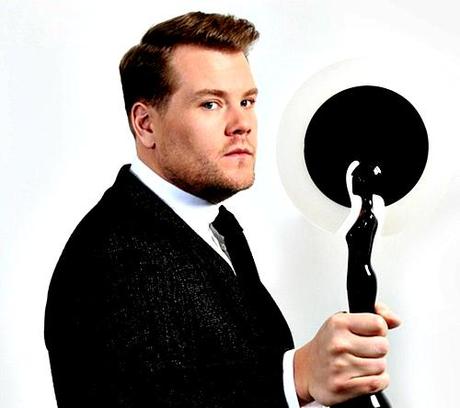 The Brit Awards 2014 were held last night at the O2 hosted for the fifth and last time by (actor) James Corden. The Brit Awards get a lot of slack nowadays. Last year they "were boring". This year (if you read the papers this morning) James Corden's gags were naff. The performances weren't as exciting as the Grammys. The venue was too big. Whinge, whinge, whinge. I personally don't see the point of harping on about The Grammys. (Yes, the Grammy performances are phenomenal.) If anything, I think The Brit Awards have tried to become too much like the Grammys, and that may have eroded some of the British "grit" off the show. (The days of falling down drunk rock stars and Liam Gallagher and Robbie Williams dueling seem long gone.) I thought the show was slick and heavy on superstars…. namely American ones. The only gripe I have about the Brit Awards this year is I would've wanted to see more live performances from British acts. For example, why was the Critics Choice Award winner Sam Smith sitting in the audience but not invited to perform? What a fabulous platform for new fresh British talent that would've been. Nevertheless the show offered us some great watercooler moments as always. These were my highlights: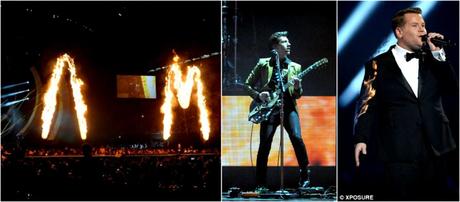 Arctic Monkeys opened the show with their new single R U Mine with a towering inferno in the middle of the audience. Lead singer Alex Turner took it all in his stride but host James Corden must've been standing too close to the flames as his sleeve caught on fire. It was all staged of course, but impressive stunt work from Mr Corden on live television. Arctic Monkeys were the big winner on the night. They won Best Album and Best Group…for the third time!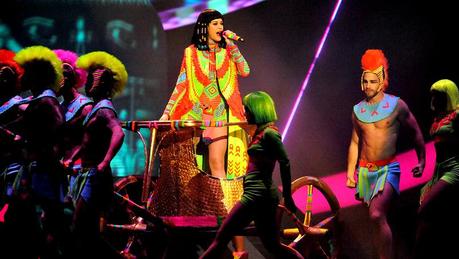 Katy Perry was a neon Cleopatra on her chariot, flanked by some impressive Egyptian warriors as she took to the stage to perform her new single "Dark Horse". There were glow sticks and some "Walk Like An Egyptian" type dancing. This is the first time I heard the track in full and I have to say…. I am hooked.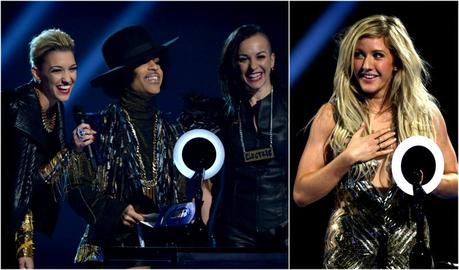 Prince presented Ellie Goulding with her Best British Female Award. Ellie's face says it all. I think she was more in awe of Prince than the actual award.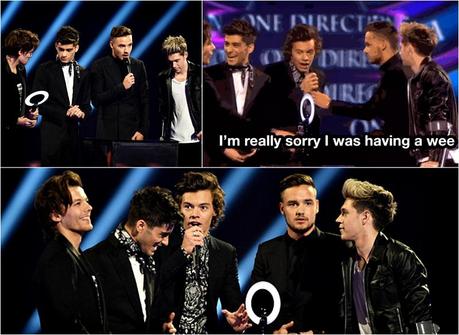 One Direction boys received two awards: Global Success and Best Video. Harry Styles nearly missed the Global Success award having apprently gone to the toilet. Liam was looking for the "curly haired one" on stage and none of the boys seemed to know where Harry had gone. He came running to the stage explaingin about where he had been when Liam shoved a microphone in front of him and Harry had to (stage) whisper "What did we win?"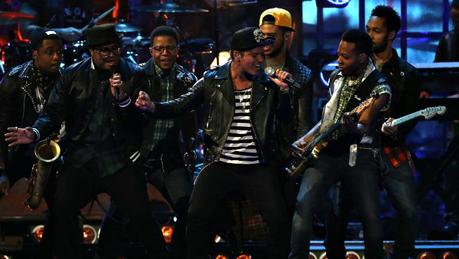 There's not much more I can say about Bruno Mars what I haven't said before. He won Best International Male and I am still insanely in love with him.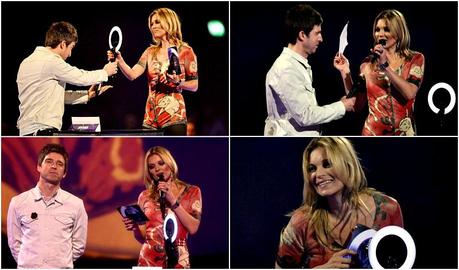 The Best British Male Award was always going to go to David Bowie. No surprises there. The only thing that kept people guessing was would David Bowie actually be there in person to accept the award. Well, no. As Noel Gallagher said David is "too cool for this shit" but he sent a representative on his behalf- Kate Moss. Kate wore one of David Bowie's (or should I stay Ziggy Stardust's) original stage outfits from 1972 and read an acceptance speech which included a reference to a Japanese myth and a plea for Scotland to stay within the UK. (Scotland are voting on independece.)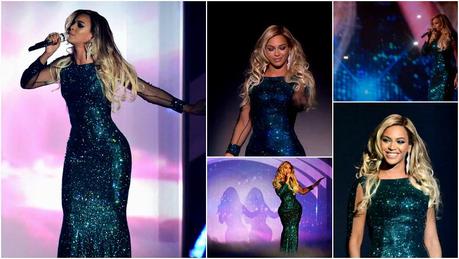 Will she or won't she? Yes, she did. Beyonce was the worst kept secret of the show and did a beautiful rendition of XO wearing the most stunning dress of the evening.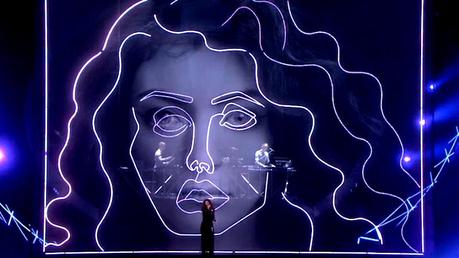 My favorite performance of the night surprised even myself and went to Lorde and Disclosure. The "electro" verson of Lorde's Royals was mesmerizing and Disclosure are one of those bands who, to me, sound… older than their years. I can hear so many musical influences in there, one of the best albums of the year and my new obsession. There's a blog post coming about Disclosure!
And the full list of Brit Awards 2014 winners is:
British Male Solo Artist - David Bowie
British Female Solo Artist - Ellie Goulding
British Group - Arctic Monkeys
British Breakthrough Act - Bastille
British Single - "Waiting All Night" by Rudimental ft. Ella Eyre
British Album Of The Year - AM by Arctic Monkeys
Best Video – One Direction
International Male Solo Artist - Bruno Mars
International Female Solo Artist - Lorde
International Group - Daft Punk
Global Success - One Direction
Critics' Choice - Sam Smith
British Producer Of The Year - Flood & Alan Moulder
All images: Hollywood Reporter, Daily Mail, Mirror, E! Entertainment