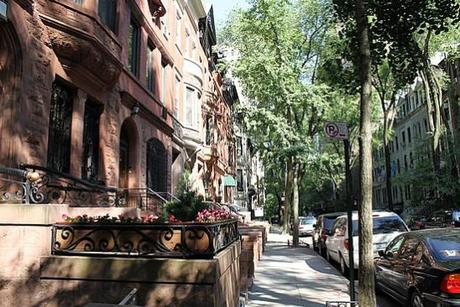 Photo courtesy of Google Images
I went to see an apartment last night.
This one seemed more promising than any of the others I had gone to see.  I first read about the apartment online and with each word, my jaw dropped a little more.  A room had opened up in a 4 bedroom apartment.  The available room room was connected to the apartment's terrace, which overlooked Central Park.  The three other girls were right around my age and, from their posting, seemed outgoing and personable.  When I scrolled down to the section of the posting listing the monthly rent, I was expecting to see a number around $1,400 so you can imagine how I felt when I saw that it was only $1,000 a month.  I was going to be living the good life on my terrace overlooking Central Park, rolling in the dough with all the money I would be saving with such an affordable rent.
Just when I thought things couldn't sound better, I got a Facebook message from a friend telling me how excited she was that I had reached out to her friend about the apartment.  What a small world.  I didn't even know the name of the person I had contacted since the email address on the posting was an alias.  The friend who contacted me is someone who I like a lot and would love to live with, so I was confident that someone she was speaking so highly of was likely to be someone I would like as well.  Naturally, after reading this email, I started looking at color schemes, bedding and chandeliers.  Life was about to get really good.
After exchanging a few emails about work, social life and schedules we agreed that I would stop by the apartment to see the room and meet the girls the following week (realtime: last night).
I met a good friend for dinner in the neighborhood he currently lives and I'm hoping to be moving into.  A friendship you can maintain over the years is a special thing.  Even more incredible, are the friends you can see once in a while and each time, pick up just where you left off.  Each time I see my friend Harry, I feel lucky that we have this kind of friendship.  As someone who has been living in the city for a year and change, he was the perfect person to bounce ideas and experiences off of.  It probably wasn't the best idea to go see his room before going to see a potential apartment since, somehow, he managed to score a bedroom that took up half of the entire 3 bedroom apartment (not to mention, the gorgeous granite counter tops that lined his private bathroom).  I was practically drooling by the time I left.
At 8:30 PM, I walked over one Avenue to see an apartment that I hoped would be the apartment.  Walking over felt bizarrely similar to the nerves I feel when walking into a first date.  I introduced myself to the doorman and told him which apartment I was going to see so he could tell me how to get there, the same way I approach a hostess and tell her who I am meeting so she can direct me to the table my date is sitting at.  When I knocked on the door, I hoped the girl on the other side would be normal just as I hope a guy will be.
She opened the door and she was – normal and friendly.  When I walked in, I saw the common room – a little bland and could use some serious decorating but a great size.  The next thing that caught my eye were the two windows at the far end of the room.  This view was amazing.  Mind you, I've planned events for work on some of the most fabulous rooftops in all of NYC, yet this view was still completely breathtaking.  I could definitely get used to coming home from work every day and staring out these windows.
Things were looking good, until I saw the bedroom.  I know I can be a bit dramatic, but I am not exaggerating when I say the room was no bigger than 7×7.  And yup, if you're wondering why anyone would design a room in a perfect square, I'm right there with you.  It was terrible.  No, actually, it was worse than terrible.
"I know the bed is a twin, but you can totally fit a full in here if you wanted," I heard someone behind me say.  The voice made me realize this was really happening and I wasn't having a nightmare.
Really? I could totally fit a full in here? And where exactly would that go?!  I could barely imagine walking in small circle in this room with a twin bed in it, so I couldn't exactly picture a bigger one in here.  No wonder the room was attached to the terrace. It's probably illegal to have a room this small! And if its not, it should be.  Things went from bad to worse when she explained to me that to get to the terrace the other girls (and guests) would have to walk through my room.
"I know it's not ideal, but obviously we'll ask before coming through."
How considerate. Not only would I be living in a room that resembled a jail cell, I would also have visitors all of the time.  But at least they would ask before coming in.
The girl started talking about the monthly cost of cable and utilities when she told me to come to her room because she had the amount written down somewhere.  When I stepped into her room, my jaw actually dropped to the floor. It was one of the biggest rooms I have been in all of New York City.  It was beautiful. It was perfect.
"Oh my god," I couldn't help it, it just came out, "is this the biggest room in the apartment?"
"Nope! Can you believe there is one bigger than this?"
No, I couldn't.  I couldn't believe or accept the fact that I would be moving into a teeny tiny room and the three other girls would be down the hall in huge, luxurious bedrooms.  I imagine moving into the city and having a room to decorate and make my own.  Somewhere I can come home to at the end of the day and have it be a space that I love.  I knew that no matter how eager I was to move into the city, there was no way I could make that happen with this room.
I left feeling terribly disappointed and discouraged.  I know they say NYC real estate is fierce, but this is starting to feel impossible.
Here is to staying positive and not giving up until I find a space that is perfect for me.