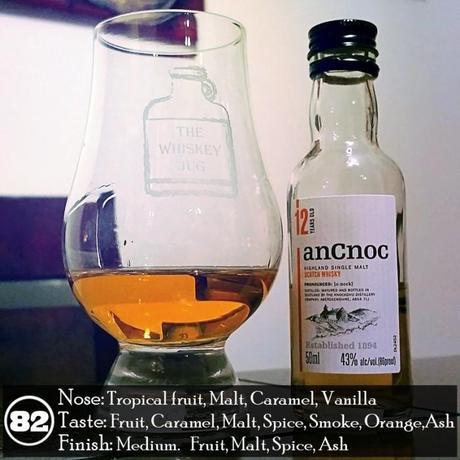 AnCnoc 12 years is the basic release from the Knockdhu distillery. Founded in 1893 Knockdhu has changed hands several times over the years, but it wasn't until they were bought by Inver House that bottlings named after the distillery ceased and the name AnCnoc was born.
Starting in 1993 Inver House changed the bottling names to AnCnoc but it wasn't until 2003, after Inver House was bought by Pacific Spirits, that the AnCnoc 12yo became the baseline official bottling. From that point on various releases have happened and more expensive bottles with bigger age statements have been released along with special editions.
AnCnoc 12 years Review
Distiller: Knockdhu
Age: 12 years
ABV: 43%
Price: $44
EYE
Gold
NOSE
Tropical leaning fruit, malt, caramel, vanilla, butterscotch and a light smokiness blend with some hints of grass, damp earth, red licorice, gummy candy and spice. There's also an odd note of canned pineapple that comes and goes that throws me off a bit. It's complicated for sure, but I can't say I'm wild about it.
PALATE
Ambiguous fruit, caramel, malt and spice pretty much sum up the flavor. There are some light notes of smoke, mandarin oranges, ash, vanilla bean and maraschino cherries, but they're not consistent. Sometimes I pick them up, sometimes I don't. It's an oddly amorphic flavor.
FINISH
Medium in length and made up of fruit, malt, spice and ash.
BALANCE, BODY & FEEL
I can't call it balanced, but I also can't quite say why. That amorphism is throwing me off, but it has a medium body and a cold smooth feel to it.
OVERALL
Ancnoc 12 is in that "it's not really good, but it's not really bad either" kind of area. It's not something I'm clambering to buy (a bigger bottle of at least), but if it were in the $35-$40 range it's the kind of thing I could see myself grabbing on my way to a friend's house for an afternoon of board games. A utilitarian whisky that's more for those times when you don't need something amazing in your glass, you just need something that isn't horrible.
SCORE: 82/100