I have long wanted to go to Anawangin Cove in Zambales but never had the time until I brought up the idea to my sister just a couple of days before we left. Still disappointed that we never got to go anywhere out of town for the Christmas break, we jumped at the chance to finally leave the city to nature-trip. I showed them photos and dug up some reviews online to show them, although it didn't take much to convince them to go.
We left Pasig at around 5am last Friday, Jan. 10, in our AUV, filled up our gas tank and proceeded to NLEX. Breakfast was at the ever-reliable Jollibee along the first Petron station at NLEX (Pancake House was our first choice but it was closed). I had their longganisa as usual.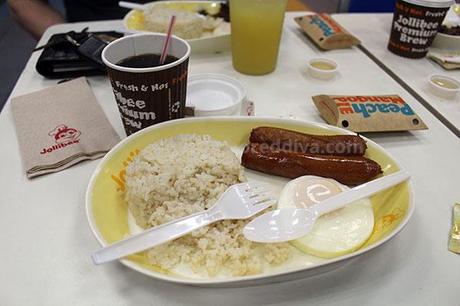 We resumed our trip along NLEX and entered the SCTEX, all the while glancing at the directions from Google map that I had printed and wondered why we couldn't find the Jose Abad Santos Ave. that it told us to make a left on. When we finally reached Subic Freeport and got off the first stop for coffee, it was so cold out that it almost felt like Baguio. We had to zip ourselves up; it was a good idea to bring our hoodies along.
Had we known exactly where to go, we could have reached San Antonio market sooner. Somebody said to take the next left after two corners but it seemed like we drove forever to find it. We reached the market at past 9am and couldn't decide what to buy for food as we brought practically nothing next to our clothes. We ended up settling for bread and cup noodles. The local traffic aides were very friendly but the directions they gave us to Pundaquit were a bit confusing that we had to ask a few more people. 3 corners then right, then 4 corners and left. Or something like that. The sight of water was proof that we were finally in Pundaquit. After passing by a few parking spaces, we settled for the one further in that already had a few vehicles inside. It was Php 100 for overnight parking, and the watcher was kind enough to lend us a styro box so we can store ice and beer in. He probably felt sorry for us after seeing that we had practically nothing on us at all.

After paying for our ice blocks and beer, our boatman, Smith as they called him (probably because he almost looked caucasian if not for his deep tan), led us down a few meters to the beach to where the boats are. The view was awesome!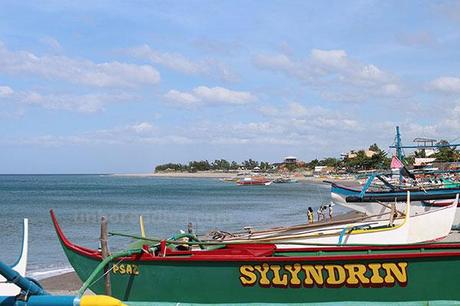 The boat ride was smooth and the sun was forgiving. We kept to the coast for the entire 30-minute ride. We arrived at the cove at past 10am.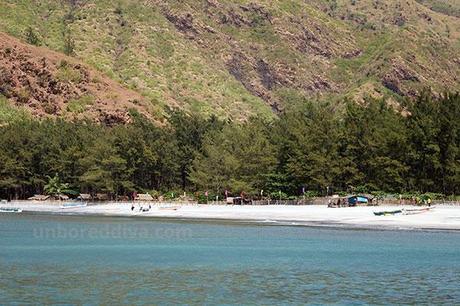 The beach was white but the sand on the water was gray though fine. We were told that there were no pine trees at all in the area until the Mt. Pinatubo eruption. To reach the cove, you can either take the 5-hour hike with a guide, or take the 30-40-minute boat ride like we did. You pay Php 100 per person for use of the cove.
Just as luck would have it, or maybe because it was a Friday and people were back to work after two weeks on holiday, we had the cove all to ourselves. There was a family swimming when we got there but they left after 30 minutes. What truly amazed us though was the view of the river on the other side of the cove going to the camping sites.
The view was so breathtaking that we immediately abandoned our stuff and took almost a full hour just taking photos. We certainly did not expect this!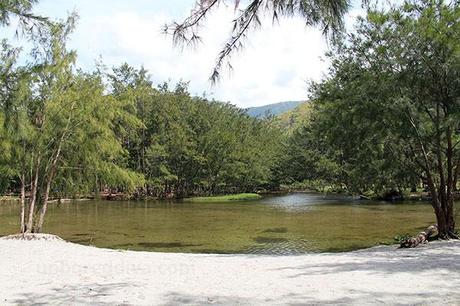 Those are the camping areas on either side of the water where you see the pine trees. Each site is connected by foot bridges.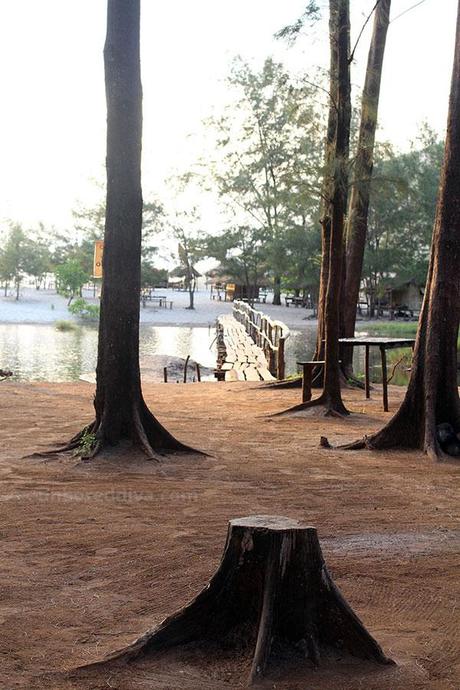 View of the beach from the camping grounds
Since we had almost no food with us for lunch, we had asked the cove caretakers if they can prepare a meal. While waiting, the men looked for a good spot at the camping grounds and pitched our tents. You can rent a tent for Php 200 a night. Ours had some holes in it so just bring something to ward off the mosquitoes and some pegs to secure the tents in place.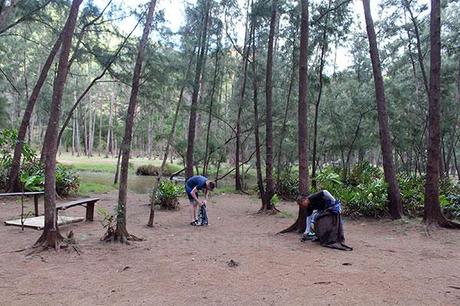 We got 2 very large mud crabs and rice cooked for us – all for 500 pesos. My husband is not a big fan of crabs but due to the size (and with no other choice), he ate a lot! Our party of four were too full that the other three decided to nap on the beach while I walked around and took photos again, as well as read some parts of my book "Inside Of A Dog". The weather was so nice, it was just glorious to be there.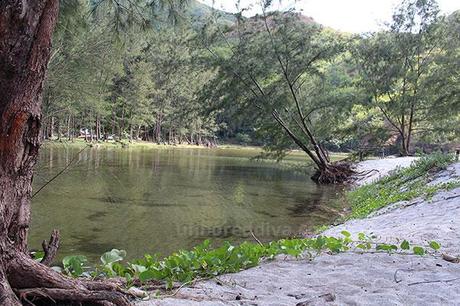 After they awoke, we took a dip in the beach for only a few minutes because the waves, although small, were very strong that they pulled us into the water even as we were merely sitting where the water met the sand. The sand was also very loose that my feet would quickly bury in it, and it frightened me a bit.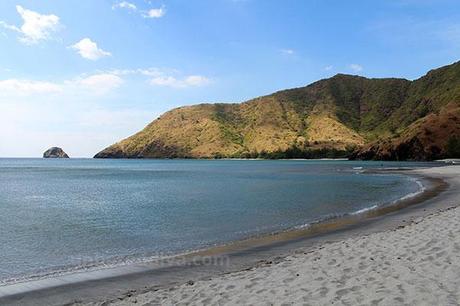 We went to the far side of the cove near the rocks and were told that we can take a hike up the hill for a fantastic view but we didn't have hiking shoes with us so we just stayed in that area and bounced rocks off the water. It almost felt like we were filming a movie.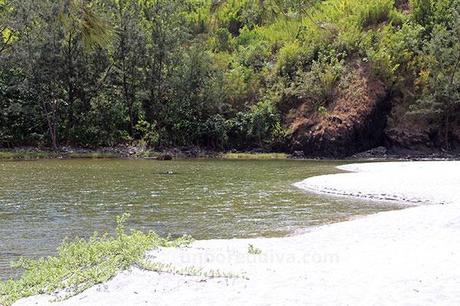 We had a couple of vendors approach us to sell their wares, and we bought a few items. They may even visit you near your tents early in the morning, but don't let them get to you.
We also made a furry friend. The husband named him "Taylor" because he said the dog looked like Taylor Lautner's character in the movie, Twilight. LOL! He also had a mate which we called Olivia. They are the happy dogs of the island.

I suddenly wished we had Bishop and Ava with us. They would have loved running around the place.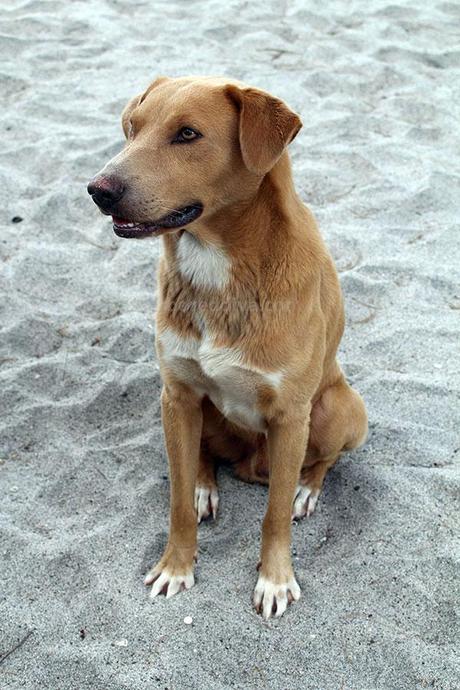 Isn't he precious?
Sunset came almost too soon. We wanted to take a photo but the sun was almost entirely hidden by the clouds except for a few precious minutes.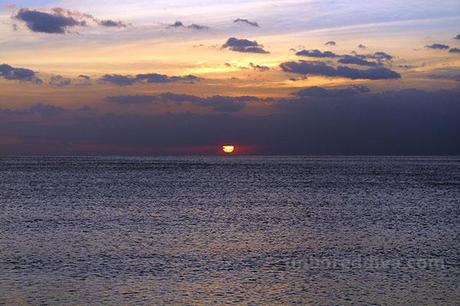 We started the campfire going at half past 6 as it was getting really chilly. This was my first real camping trip and campfire (my first one was when I was in 4th grade for Girl Scouts but that happened within our school grounds so it doesn't really count) so I was very excited!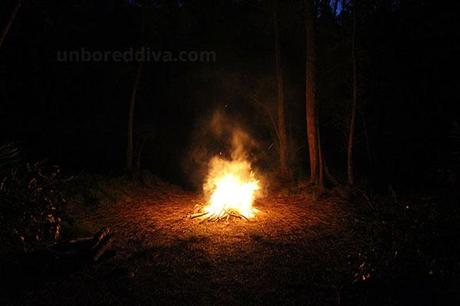 We supped on bread, sardines and cup noodles. You'd wonder where we got hot water? No, we didn't boil them ourselves over the fire.

The cove watchers lent us a thermos full of hot water. We did find some twigs, fastened our bread at one end and toasted it in the fire! We also had chips and beer, and my sister had her wine.
There are bathroom stalls with stored water about 300 meters away but there are absolutely no lights – no electricity, no cellphone signals – nada. It was a good thing that I had a flashlight with me, and matchsticks for the fire. The sky cleared up sometime after dinner and the moon flooded the campsite with light. That was really something.
It was getting too cold at past 8pm, and our fire was dying so we decided to head to our tents and call it a night. The wind was also getting stronger.
I woke up around midnight because our tent was swaying due to the very strong, howling wind. I thought we were going to get blown away. It also got a bit warm inside even as we left the tent entrance half open. I guess it was because I was wrapped up in my flannel blanket and I also was on a sleeping bag.

At 3am, I felt my husband get up and out so I got up myself. The sky was filled with stars! Giant, very bright stars! It was a truly heavenly sight! I wish that I had my glasses or lenses on to fully appreciate them but even as they appeared blurry to me, the sight was magnificent!
I got up at 6am while the rest were up at past 7. We had coffee and bread for breakfast (hot water again courtesy of our cove watchers). This was the state of our tents in the morning. The one on the right was rented. Its shape was round the night before.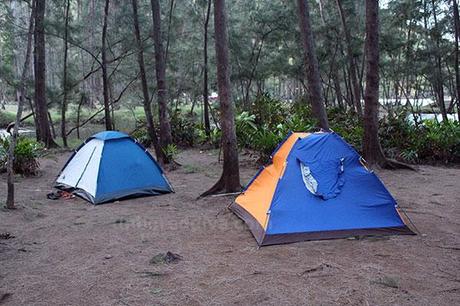 People came piling in by the boats by 8am. Again, we counted ourselves lucky that we had the entire place to ourselves the day before.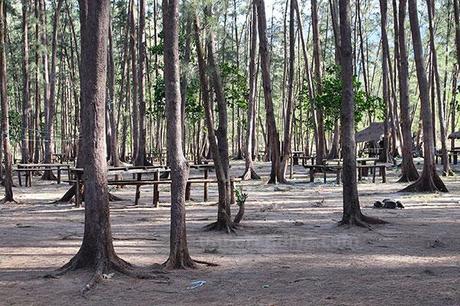 New guests at the campsite.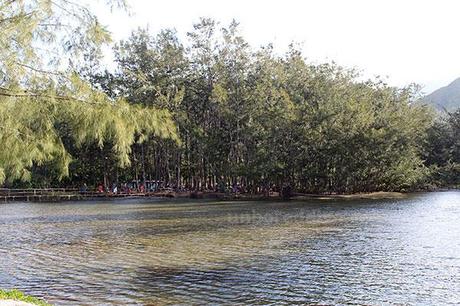 Smith came to pick us up at past 8am for a supposed side trip to the nearby Capones Island. He said that the strong winds last night weren't expected. 15 minutes into our boat ride to the island, he suggested that we put off our trip because the waves were too strong and we might capsize if we force it. It wasn't a huge loss. Anawangin was fantastic. We are definitely going back.