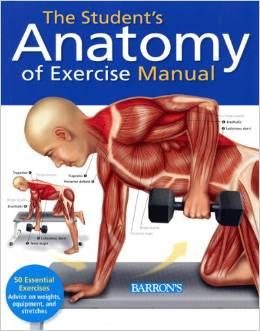 Is that a dumb bell or are you excited to see me?
Now that I've finally converted to Crosstrainism, and even went so far as to buy myself an elliptical machine, I wanted to know more about whát muscles I was giving a workout exáctly.
So I got all excited when I spotted Anatomy of Exercise Manual: 50 Essential Exercises Including Weights, Stretches, and Cardio in the library! I grabbed it, and ran home with it.
Anatomy of Exercise Manual
The Student's Anatomy of Exercise Manualwas written by Professor Ken Ashwell. It's meant for
Students of anatomy
Students studying sports physiology
Sporty people who want to improve their body beyond what they're already doing
Bodybuilders
I think runners are in the third group. At least I am.
Anatomical images of the human body
Do you remember Robbie William's music video in which he takes off all his clothes, and then even his skin? That's what the pics in this book are like. There's clothing nor skin. It does provide with a good view of the human anatomy, but it did make me feel a bit sick.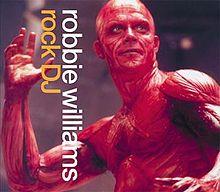 Robbie Williams took his clothes and skin off
About the book
I liked the way the book was divided into three parts.
Part one: general anatomy, presented in pictures of the human body
Guide for exercising: exercises for 5 major muscle areas. Arms and shoulders, chest, back, torso, legs and buttocks
Coloring pages. Even though this sounds like fun, it's really a test to see what you've learned.
If you're a runner who's interested in muscle strenghtening exercises the second part is where you should go.
The exercises in Anatomy of Exercise Manual
I liked the fact that you can think: 'Today I would like to work on my butt!' Then all you have to do is find the exercises that will help you do just that.
But, there's a big butt. Because even though the instructions on how to to do the exercises are pretty specific, nowhere does it say how often or how long you should be doing them to get results. There's only a rather technical explanation about how to perform them, but it's definitely not a training programme.
Apart from that, most exercises in the book require fitness machines that you usually only find in gyms. A pleasant exception are the dumb bell exercises. Those you cán try at home.
But my biggest disappointment was that there was absolutely no information about the muscles one uses while suffering working out on an elliptical trainer.
Running up the total
The Anatomy of Exercise Manual is well written and offers a great view of the human anatomy. If offers lots of muscle strengthening exercises with clear instruction as to how to do them.
But I would recomment adding a part with specific training programmes. And one with information about muscle use on an elliptical trainer, thank you.
Practical information
The Anatomy of Exercise Manual: 50 Essential Exercises Including Weights, Stretches, and Cardio is available on Amazon. com and will set you back 16.93 USD. Which is still way cheaper than going to the gym!