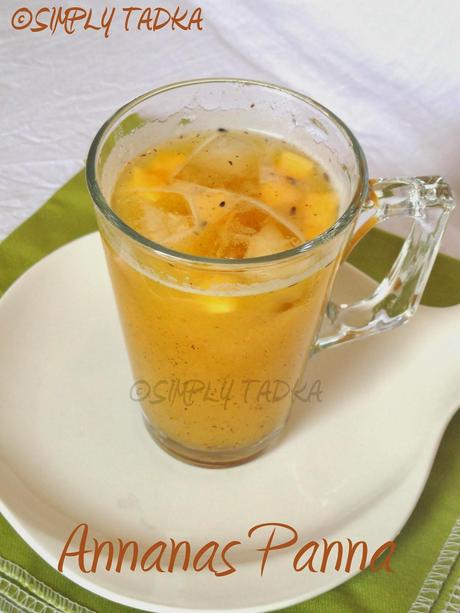 Pineapple panna or Annanas Panna is really tasty and healthy drink for parties. Traditionally, Panna is made with raw mango and sugar but for a more variation I use grilled pineapple for this recipe. Serve chilled with little chunks of fresh pineapple to enhance the taste more. 
Preparation Time: 15 Minutes
Cooking Time: 15 Minutes
Servings: 4
Category: Beverages
Ingredients:
1 Fresh Pineapple
1 Tsp. Black Pepper Powder
1 Tsp. Roasted Cumin Powder
1 Tsp. Black Salt
2 Tsp. Sugar
1 Lemon Juice
Ice-cubes
Instructions:
Grill the pineapple on stove for 10-12 minutes.
Peel and chop the Pineapple and blend it until to smooth.
Strain the mashed pineapple for fresh juice.
Now combine all ingredients together with juice and serve chilled.
Notes:
You can use fresh pineapple juice also for instant version.
Tags
: How to make pineapple panna, pineapple recipes, fresh pineapple beverages and drinks, how to prepare annanas da panna, annanas recipes, summer drinks, healthy and chilled drinks, annanas panna recipe, ananas panna recipe. 
Enter your email address:
Delivered by
FeedBurner