Readers, it's time for some real talk. We'd like to chat about the Gretchen Rossi engagement ring pictures making the internet rounds, but first we want to make a few things clear.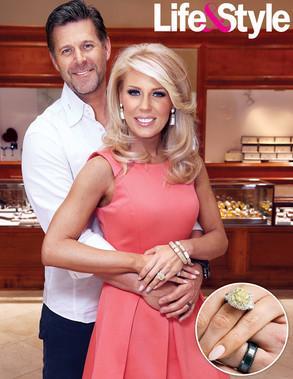 via E!
Nothing but love for Gretchen proposing to him – we think it's great when women pop the question and doubly great that Slade has a man-gagement ring (and it's really cool too – black gold with black diamonds.)
We're based in Boca Raton. The bigger the diamond, the better. The bigger the fancy yellow, even better – hello, we collect 12 carat internally fancy yellows like no one's business. It pains us and confuses us that we dislike this ring so much.
Engagement rings are highly personal statements. One woman's treasure is another's travesty, so obviously our opinion means zilch to Gretchen, who we're assuming loves her ring. All that being said, we can't bring ourselves to ooh and ahh over this ring the way we do over the dozens we ogle each day.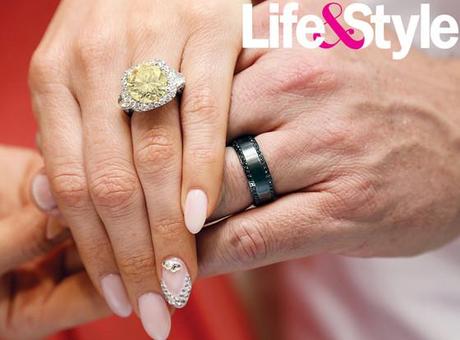 via E!
There's just something so off about this ring. The 4 carat round brilliant fancy yellow diamond looks like it's got an impeccable clarity grade, but that color is just so off. It looks either irradiated (which is fine, when it's done right) or like a strange shade of vivid FY. Bringing it back to the positive, jeweler Danny Arik's addition of a white diamond frame around the stone is lovely. It adds a nice finish to the stone, which would have looked strange in just a prong setting. We're not nuts about the addition of the trapeze cut white diamonds on the side (we would have preferred just the round brilliant in the white diamond picture frame setting). But, in the O.C., more is more. No comment on her statement nail.