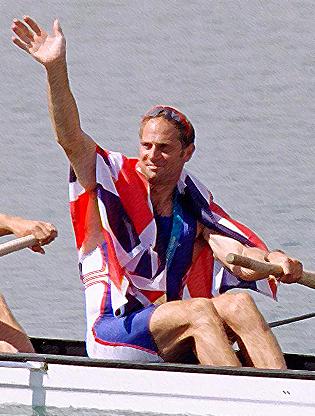 Remember when Great Britain – including Steve Redgrave – won the Coxless Four rowing race at the Sydney Olympics in 2000?
Oh, how we cheered. Towards the end it was a tight race, with Australia and Italy vying for gold, but GB trumped them by just 0.38 seconds, didn't they? That is, according to the London 2012 blog anyway. And with that, Redgrave became the first endurance athlete in history to win gold at five consecutive Games.
Of course, Isobel doesn't have the biceps required to participate in the sport, but she does have a challenge all of her own just the same.
On Saturday 24th May, 2012, Isobel is one of 100 children participating in the PACE Children's Challenge at Stoke Mandeville Stadium. This wonderful event takes inspiration from the 2012 Olympics and Paralympics Games – the latter which returns to its birthplace for the first time since 1983 – and is part of PACE's Gold Challenge incentive to raise £100,000 this year. For more details, see www.challengetime.org
Each child has been assigned an individual Olympic-themed goal in the Children's Challenge. Isobel's challenge is to 'row', ie. to push herself with her legs over a set distance while sitting on a scooter-board.
OK, it's not walking, but nevertheless this key activity will enable Isobel to build up crucial strength in her legs, and to distribute her centre of gravity by pushing through her arms on the scooter-board.
PACE has already started practising on the scooter-board with Isobel and, so far, it's looking good. The last time they tried it, she covered a good 40 feet or so. It remains to be seen what distance PACE plans to set Isobel on the big day: follow this blog for updates over the next few months.
As one of the youngest participants in the Children's Challenge, it is felt that Isobel may feel too overwhelmed by the magnitude of the stadium. Instead, she will carry out her task in one of PACE's activity rooms along with other children of the same age, a film recording of which will be beamed live onto a giant screen at Stoke Mandeville stadium. It's all terribly exciting, and I can't wait to watch her in action on 24th May.
Please sponsor Isobel in her challenge today. You'd be helping us reach our personal target of £10,000.
To donate online, please click on the link below to pay with a valid debit/credit card:

It's easy, fast and totally secure.
JustGiving sends your donation straight to The PACE Centre and, if you're a UK taxpayer, automatically reclaims Gift Aid on The PACE Centre's behalf, making your donation go further. What's more, JustGiving will never spam or sell your details.
When I say that every penny or pound donated will count towards Isobel's challenge, I mean it. Reaching their £100,000 target from the 2012 Gold Challenge will help PACE secure 50% of the total annual funding for their Early Years services, of which Isobel is an user.
Isobel's soaring progress today is down to the tireless dedication and support of PACE staff, who work with her week in, week out to bring out the best in her.
Of course, it's extremely hard work, can be repetitive and take years, but it's clear that Isobel is benefitting from the sustained activity – and her rowing challenge may be her greatest yet.