In July, I received an email from Mr. Terrence Coffman, who will be curating an exhibition in New York next month that will raise funds to help bring bicycles primarily into Africa through World Bicycle Relief. He said he had seen my work on-line via this BLOG, and asked if I'd be interested in being one of 95 invited artists from across the US, Canada and Ireland who will
participate in this year's
juried exhibition at the Cedar Lake Theater in the Chelsea area of New York City
   This is the 2nd year of the 

SRAM pART PROJECT

 and if you follow this link you will be able to see the work created by the 

amazing artists who participated in this project last year.
   I admit, I was a bit leery at first, given the request to participate, seemingly came from nowhere. However, after checking out the links Mr. Coffman provided, and after seeing the scale and quality of the work produced last year, I knew I had to say YES.  
   One week later a box of brand-new
100
SRAM bicycle parts arrived at my studio. . . Now - all I had to do was create something, right?  YIKES!
   This was a very difficult project for me to start. The parts I received were beautiful, high-quality, high-end, brand new bicycle parts. What I didn't take into consideration, was that I NEVER, EVER, EVER, EVER use NEW-anything in my work. 
   I was befuddled, I felt lost, nothing worked, nothing looked right! I looked for inspiration everywhere I went. I asked for input from everyone who would listen. Although I was able to incorporate bits, pieces and parts of all the ideas I was gathering, it took me weeks and weeks, and 8 or 9 different concepts, until I was finally able to zero in on one concept that appealed to me.
   As it often happens with my most difficult art challenges, it felt as if the 'piece' itself was telling me what to do next, it seemed to come together after many weeks of trial and error. 
   My next challenge was: What to call it?  "Geared Up / Time Out",  "The Gears of Time",  "Time is Running Out",  "Words and Music" . . .  again, nothing felt right.  Then one morning, around 4AM, I woke up from a deep sleep, and I knew what the title would be.  It is titled: "Waiting".
   I finished "Waiting" last week. 
In the end I can say, I am happy with the finished piece.
   It has been delivered to the UPS Store for shipment to NYC!  WOO! HOO

!
So here is the BIG REVEAL . . . . do tell me what you think.
"Waiting"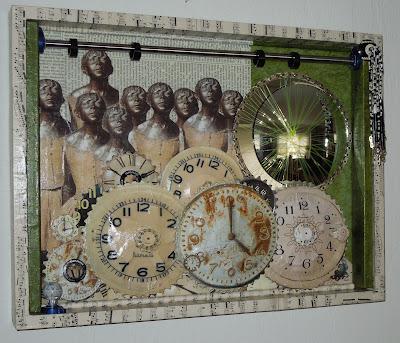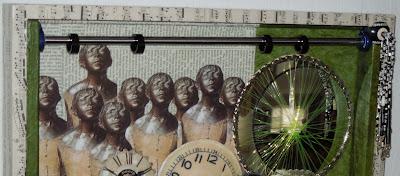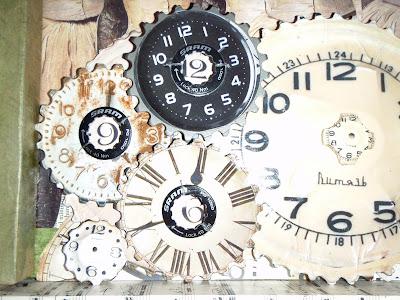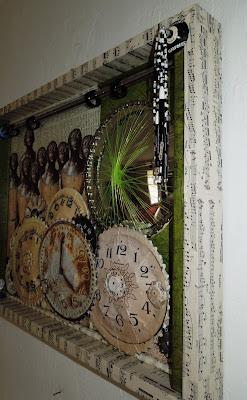 18" x 24" x 2" wood frame, collaged on the back and sides with vintage music, on the inside, an enlarged image of my original collage of duplicate copies of a photograph of Degas' "Little Dancer" atop vintage dictionary text and green tissue. Along the top, a wooden dowel snugly holds 4 steel rods, while the 4 black rings slide freely back and forth, a blue thingy
anchors each end
(sorry, I really don't know what the bike parts are called - see image below)

, bicycle chain

(around the mirrors)

, and gears - lots and lots of gears covered in vintage clock faces. On the upper right is a spray of hand-strung black and white beads

(to mimic the music notes)

, and on the lower left, a small compass sits ready to give direction.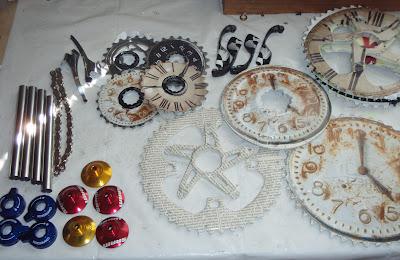 I will post additional details as I get them. 
Or, just keep visiting

SRAM pART PROJECT
and see the progress.  The the AUCTION is scheduled for November 29th.   Check back often, tell your friends, and BID! BID! BID!

World Bicycle Relief serves people in underdeveloped regions of the world who suffer from lack of access to health care, education, and economic opportunity. With a bicycle you can travel four times farther, carry five times more, and save up to three hours a day in travel time (based on a 10-mile commute). So you can get to a doctor, to school, or to work faster and more safely. Doors closed by distance are now opened, as is the way to a better life.