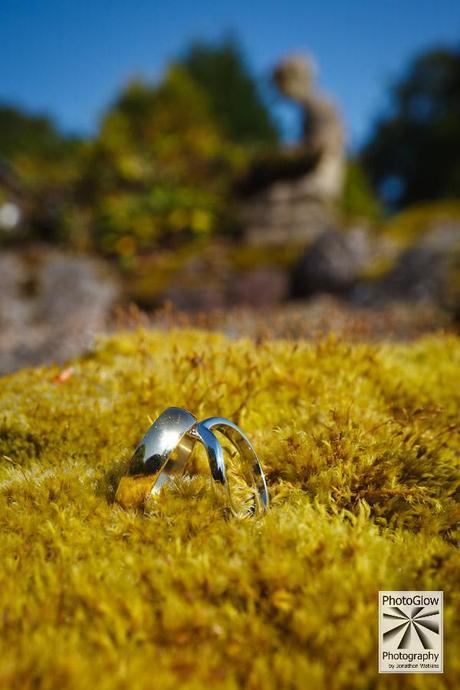 The Isle of Kerrera is home to the ruined Gylen Castle, which adds to the amazing sense of history and ancient charm of the setting for Heather and Gavin's wedding day.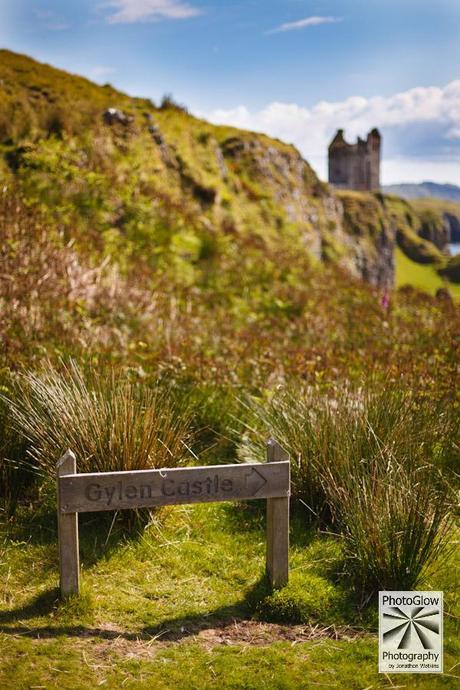 The theme for the wedding day was natural, in whites with a gorgeous creative twist – I love the peacock feathers standing from Heather's wedding bouquet. The bouquet and wedding flowers are by
Petals of Oban
.
A bemused Highland cow comes to see what on earth is going on, as wedding guests hitch a lift to the wedding site. I love a wedding day that's an adventure for guests too – this is fantastic.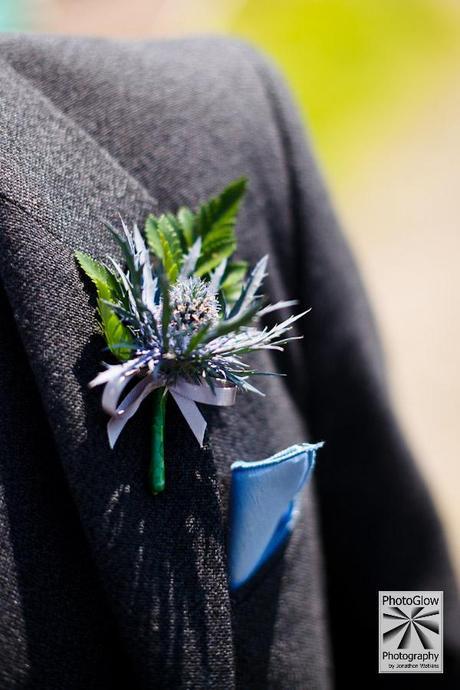 There is, of course, a true Scottish flavour to the wedding. Thistles, ferns, sporrens and clan tartan. Love it.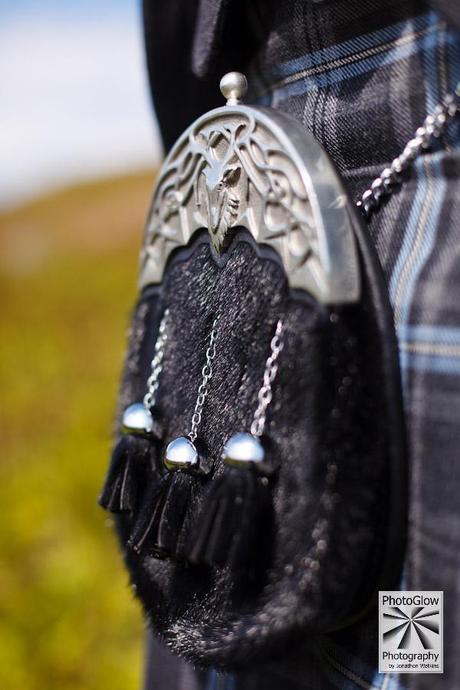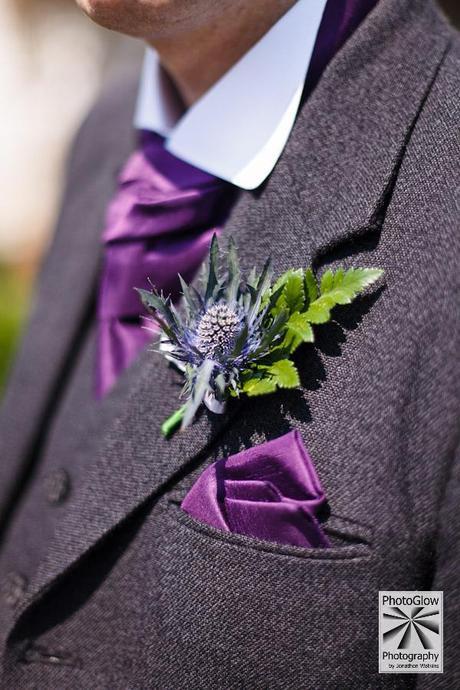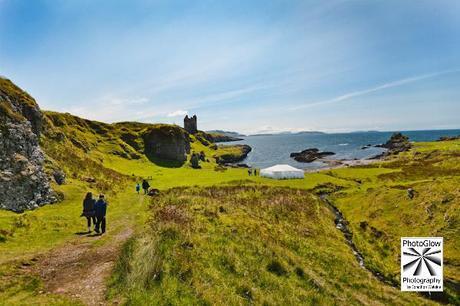 The wedding venue. Wow… and below, Heather and her bridesmaids. I love the colours, I adore Heather's dress and that gorgeous wrap – more of which later. For now, check out the ribbons on the back of the tractor!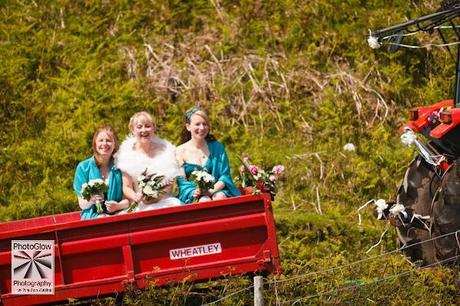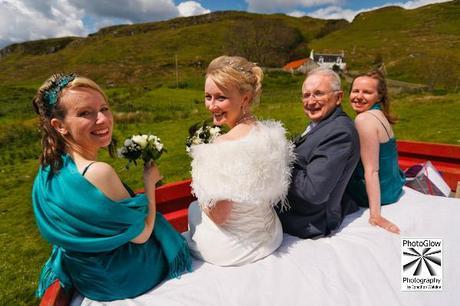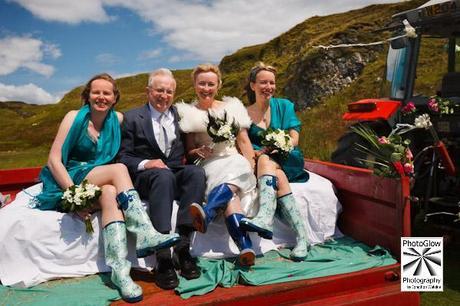 Wedding wellies are
de rigeur
today…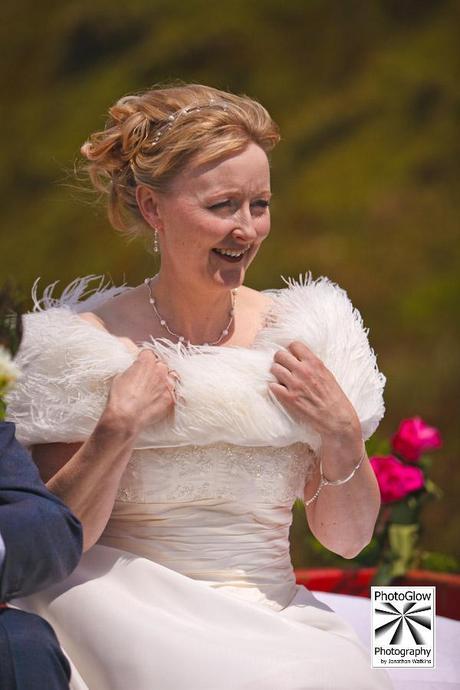 Heather's wedding dress is from Barnardos (love her to bits for that!) and she looks amazing – most of all
I want to be her
, sat on the back of a tractor looking across the island to the wedding marquee: I love the sense of adventure, I really do!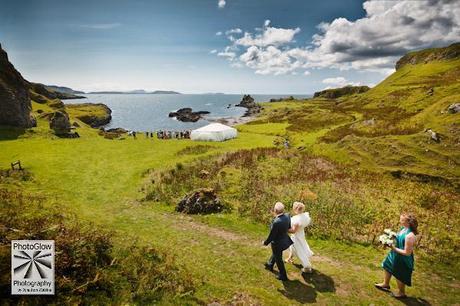 Time for our beautiful bride to make her entrance – a little different to most walks down the aisle! The photograph from the top of the hill captures the whole view, and from a perspective Heather won't have seen. (I saw on the
Photoglow facebook page
one of the wedding guests commented that Jonathon was leaping around like a mountain goat to get the very best shots – I can really see why. This is amazing!)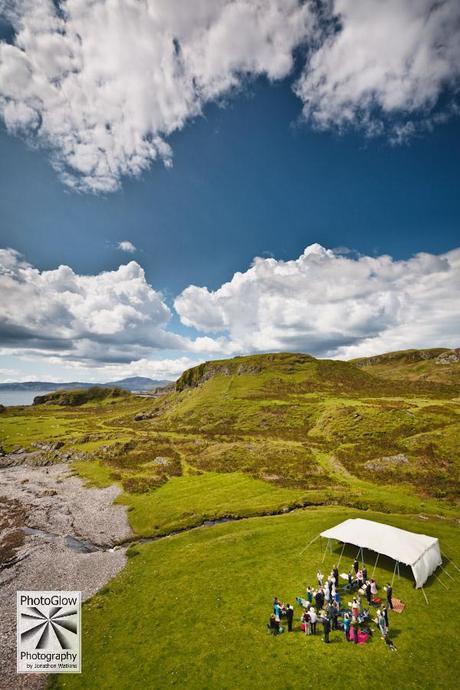 Again: wow. An intimate, remote, and very, very special wedding ceremony.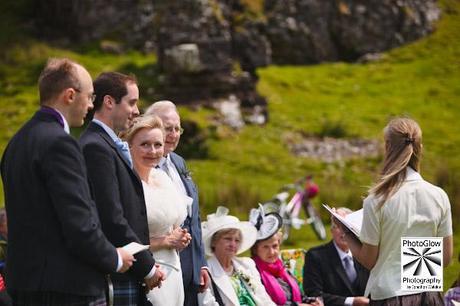 The bride and groom exchange vows with Gylen Castle behind in the distance. A stunning wedding photo, a beautiful moment and precious memory all wrapped up in one.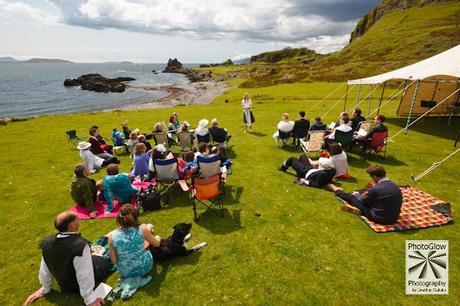 Wedding guests with an assortment of folding chairs, picnic blankets and sheepdogs listen to readings and  the waves splashing against the shore below. (
Am I romanticising this too much? I love it, I really do!!!
)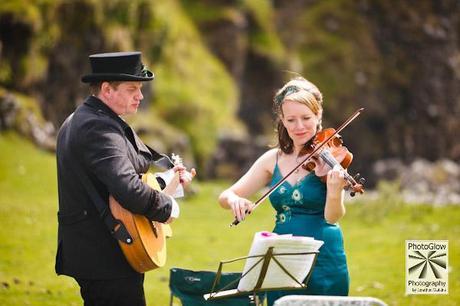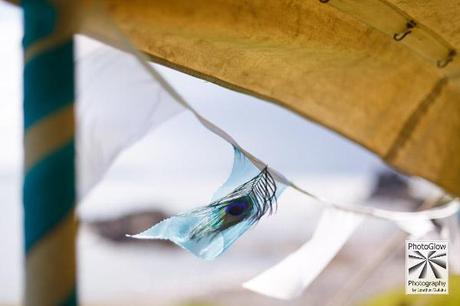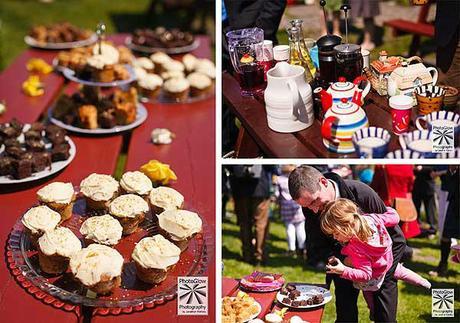 A colourful wedding day feast – eclectic and charming, and making me very hungry right now!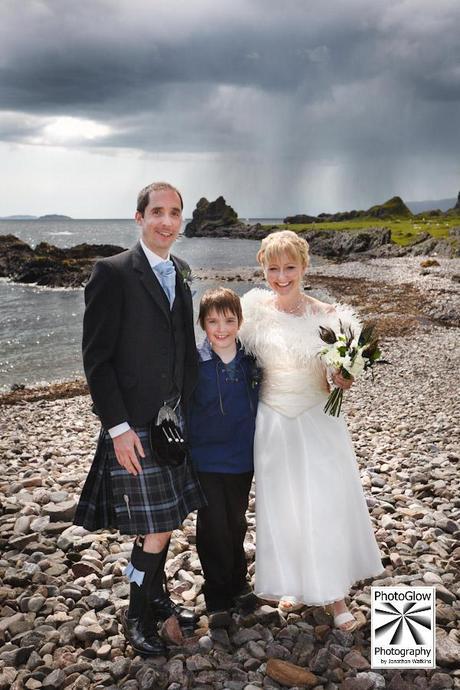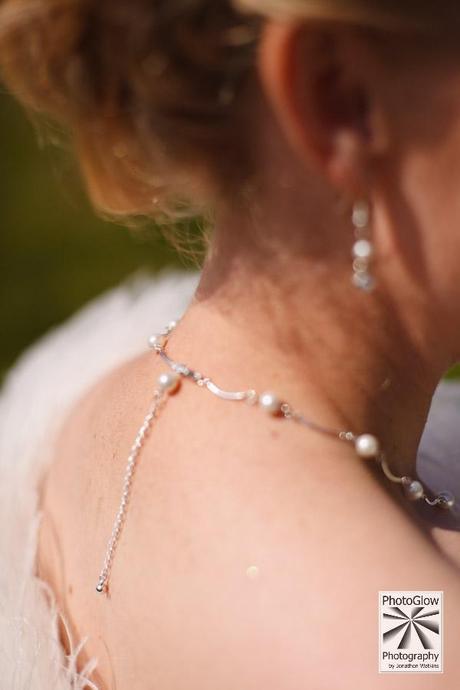 Heather's jewellery is so pretty – simple and delicate, with a pretty silver and pearl necklace, and tiara from Monsoon.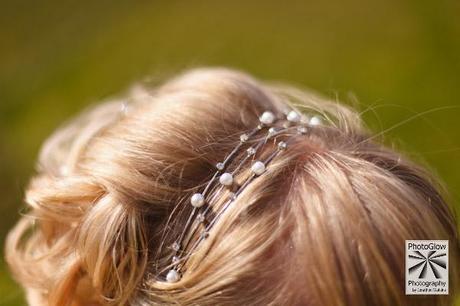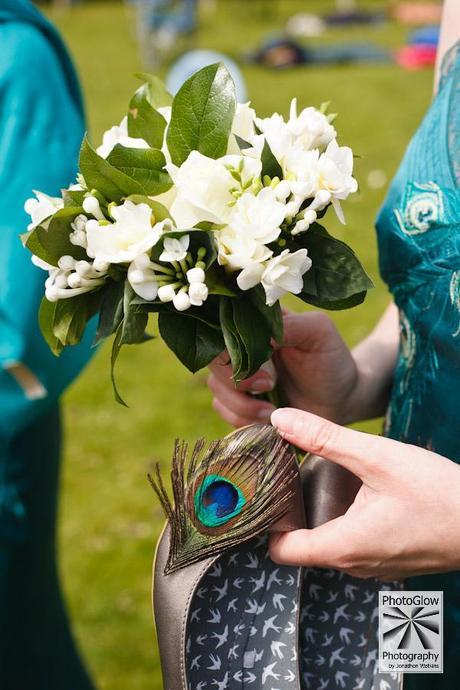 The bridesmaids have peacock patterns on their dresses and feathers on their shoes to match – I love this idea!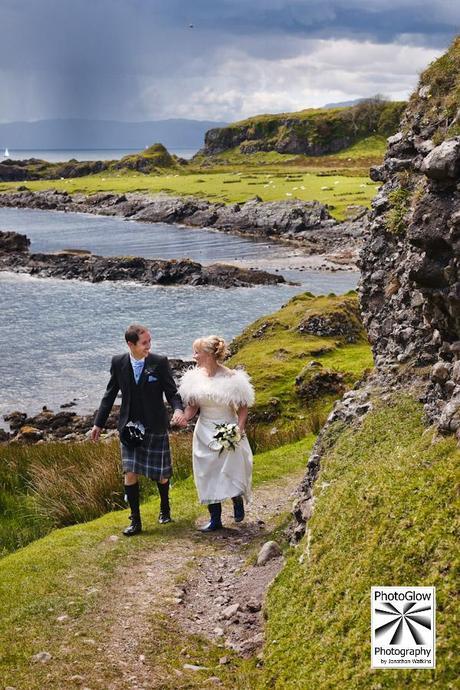 Above and below, two of my favourite photos from the wedding day. The setting is so beautiful: expansive skies, the wildest natural landscape and beautiful blue sea. The perspective gets me too:
great UK wedding photography
by a dedicated (and sprightly!) up and coming photographer. Have I mentioned Jonathon Watkins is based in Cheltenham? Must be hilly there too…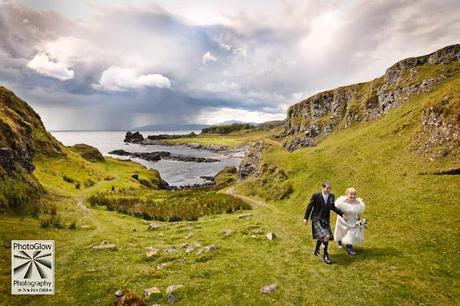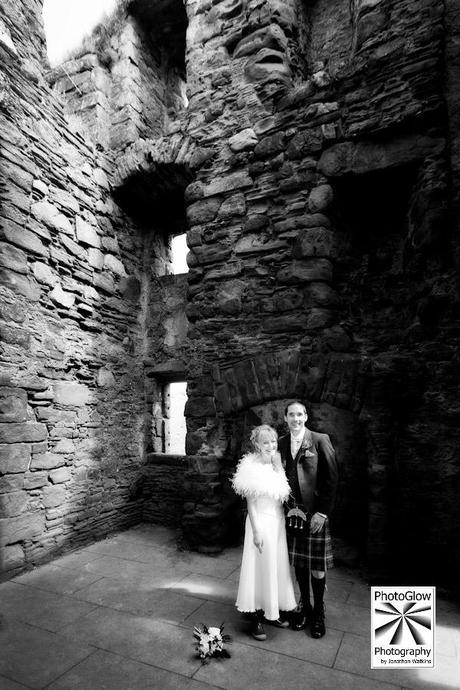 Inside Gylen Castle – a lovely atmospheric portrait of the gorgeous bride and groom.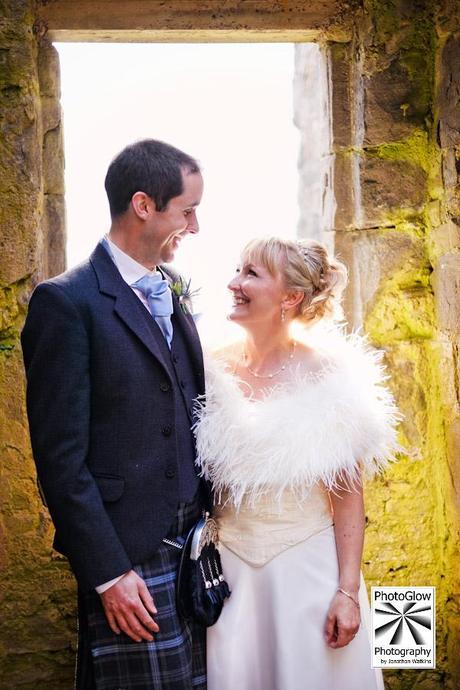 Who else is smiling right back?!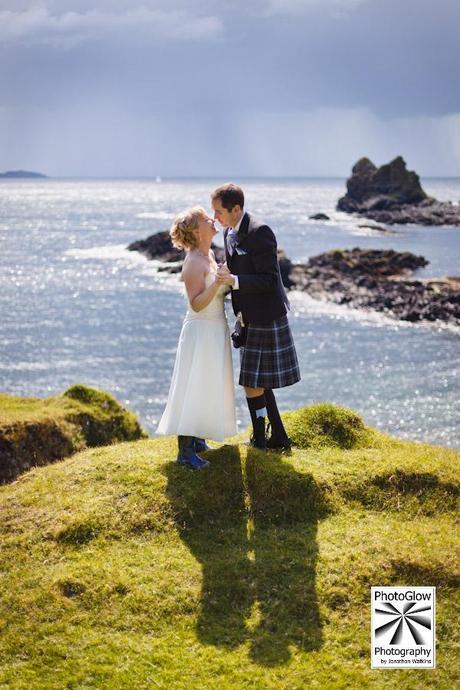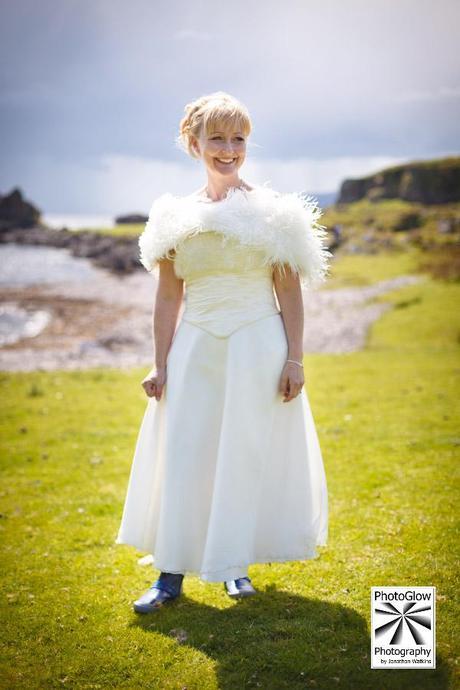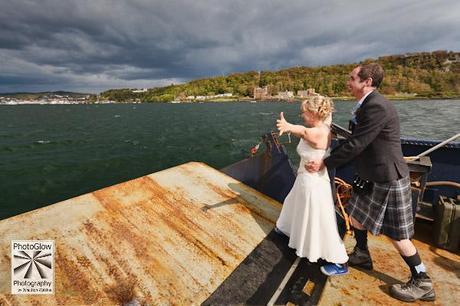 Heather and Gavin recreate that famous moment from Titanic on the ferry to the Isle of Kerrera – makes me chuckle every time – and there's a real sense of pure happiness and triumph to the image too!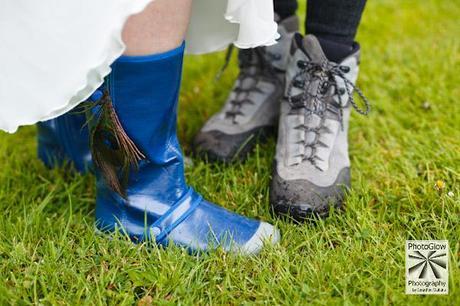 Sensible shoes for an Inner Hebridean island wedding!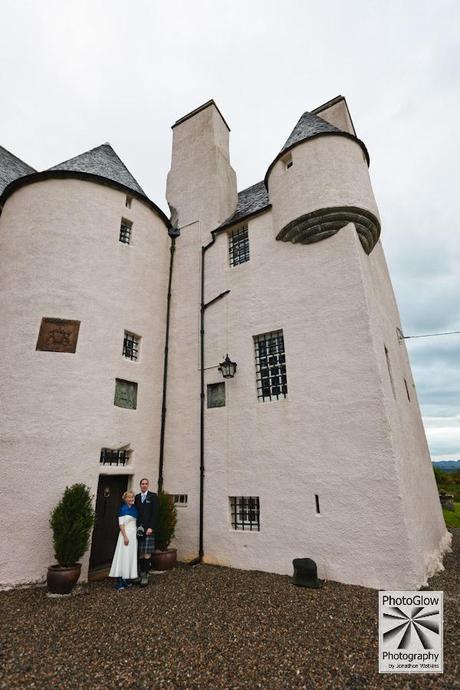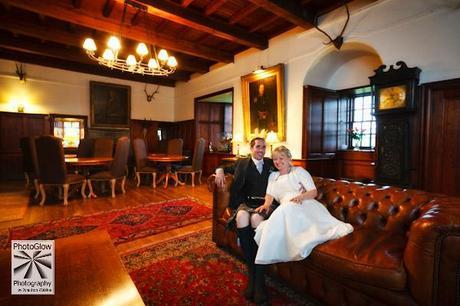 At the end of the day, our bride and groom retire to altogether more comfortable and luxurious surroundings. Heather and Gavin – congratulations!
Thank you to Jonathon Watkins, intrepid Gloucestershire wedding photographer, for sharing this lovely adventure of a wedding day with us today. I have never seen a wedding like it and I've loved every image. See more from Jonathon in this elegant Ellenborough Park bridal shoot or visit his wedding photography blog on facebook for more.
The wedding details are as follows:
Dress: Barnardos!
Tiara: Monsoon
Shoes: eBay
Hair: Marianne at Rutherfords, Oban
Makeup: Heather (bride)
Bouquet: Petals of Oban
Cake: Susan Law, The Mallard Hotel, Gullane
Suits: The Kilt Hire Co, Edinburgh
Bridesmaid dress: Karen Millen (from eBay)