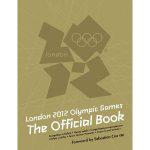 London 2012 Olympic Games: The Official Book, published by Carlton, £12.99, available from all good book shops and online
You may recall that a few weeks ago I told you that to celebrate the launch of the Official Book of the London 2012 Olympic Games, rowing legend and all round nice guy Sir Matthew Pinsent had (perhaps rashly) agreed to submit himself for questioning, and that members of the public (and that included you) were invited to send in their questions for him.
Now, with fewer than 100 days to go, the results are in. The best questions were put to Sir Matthew and I'm excited to say that one of mine was included; it's the third question in, so listen out for it.
If you want to know whether the great man wears his medals around the house or fancies himself in another Olympic sport, you need to get watching. Here it is:
The book – as I reported before – is a good read, too, so don't forget to order your copy online or look out for it in the shops.