Some of my readers will be aware that I am a Business (and Psychology) major. So, whenever I come across a business enterprise that I witness growing and one that I find interesting, I am always intrigued about its "back story". What truly made Paul Atkins from Arcane Movie Tees all the more interesting was the fact that here is a man who not only had great business sense, but one that went ahead and did something most of us desire to do all our lives; he managed to mix his passion, for movies, with his business giving the term "don't mix business with pleasure" a run for its money.
I came across Arcane Movie Tees and their products via Twitter and while I was convincing them to host #MTOS I thought it was perfect opportunity to get to know more about the man behind the company. In my last minute attempt to coincide the hosting with the interview, I would like to thank Paul who was kind enough to answer the questions in rather a short period of time.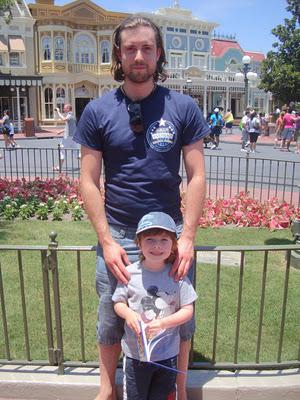 Paul (wearing one of his own creations) with his Son. 
Raghav Modi (RM) - Hi Paul, thank you for taking out the time to answer the questions of the interview. I would like to jump right into it and simply ask what made you start your company Arcane Movie Tees? Was it simply love for cinema and business, or is there more to the story?
Paul Atkins (PA) - I have a genuine passion for movies and I wanted to vent that passion in some way. My other main love is Music and I previously used to produce artwork and websites for my own band and friends bands. This led to creating tees and other clothing for some of them and it was at that point I thought it would be cool to create some ideas inspired by Movies also. I wanted to create designs that I thought were lacking in that market and I would also love to wear myself. It started with creating ideas that were appealing to me and soon enough appealing to those others I showed. The idea then turned into a business model and here we are today.
RM - Take us back to your earliest childhood memory of watching a film. Which film do you remember had the biggest impact on you as a kid?
PA - I certainly remember watching Robocop for the first time when I was only 9 and that had a very profound effect on me at the time! A friend of mine acquired it from his Father's VHS collection and we thought it would be a cool idea to watch. I can tell you it's a very disturbing Movie to watch as a 9 year old. That stayed with me for quite a while. Even by today's standards, I feel the violence in that Movie is quite shocking.
Arcane Movie Tees latest design
RM - Why "Arcane"? What significance does the name Arcane have in your life? Also, if you could please give us a short history of the origins?
PA - Arcane was a name I worked with throughout a graphic design project in my younger years. I used it then to create the identity of a fake record label, but loved the word and it's meaning from then on. When I founded AMT it seemed a very fitting name to work with as one of its meanings is 'known or understood by only a few'. Exactly the subtlety I wanted to project in some of the brands intended designs.
RM - Moving on with the company, why did you decide on making the Tees only in limited editions of 150? Has it been a good business move so far?
PA - We wanted to create something even more unique here at Arcane and felt that limited edition tees would be perfect. Its a very saturated market, so by having a limited number of each design, it makes our tees stand out as they will not be around forever. And only an exclusive amount of people Worldwide would ever own the same t-shirt as the other customer who purchased it. We thought that was a cool approach to producing such rare garments. We have found that our customers really love this exclusivity and love the fact that only a handful of people share the same tee.
RM - Tell us some films that you are proud to have in your collection and some that you desperately want to add?
PA - There is currently a long list of films wanted that I am constantly updating. I generally seem mostly to be boosting my Blu-ray collection. Either with new titles, or usually ones I already own on DVD, but it's got to be done! I even have some of them still on VHS, so I am prepared for all occasions!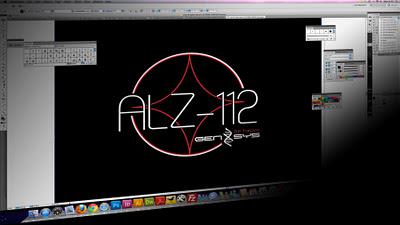 Work-in-progress @ Arcane Movie Tees
RM - I know Arcane Movie Tees has been quite pro-active when it comes to using the social media. It is after all the new form of advertising. How important and crucial is it to your business and to any business for that matter?
PA - It is by far the most important form of advertising and customer interaction to us. We were relative novices of Twitter until a few months ago, but our Facebook page has been a very useful marketing tool since the beginning. Along with being able to promote our products direct to the people who would most appreciate them, it's a fantastic way to interact with our fans/customers on a more personal level, which is definitely the most crucial aspect when creating such an esoteric Brand.
RM - Arcane Movie Tees is amongst a number of companies that are giving out a similar product. Although there seems to be healthy competition between everyone, how do you try and stay a step ahead of everyone?
PA - I feel that we try to stay ahead of the game for a few reasons. Its no secret that the market is now more saturated with similar designs, that's why we now also try to create different designs that are not the same in any way. We still create designs that are inspired by fake brands, companies or locations from Movies, but they are now the style of Movie tee that can be found from a multitude of places. We don't want to disregard that style or the subtlety they evoke, but feel there is room for far more. We also feel that by creating our other design ranges (e.g. Suspects, Decade and Iconic Images) we are moving away from what any other Movie tee company can offer. It is a precise balance of unique and diverse style limited edition designs, a great value price structure and the fact our tees are available on a wide range of colours to suit everyone's taste that make us, I feel, one of the most exciting tee brands out there.
RM - Tell us a little about films that you are passionate about? What do you like, dislike, love to hate, and hate to love?
PA - Horrors are my main passion. My partner and I both share the same healthy obsession with the genre and have a few particular favourites. The Shining has to be my ultimate personal favorite and The Lost Boys and The Thing are simply awesome. Horrors aside The Godfather trilogy is incredible. I've lost count of the amount of time I have spent watching it. I even love the much-slated 3rd, even though to be fair, it isn't a patch on the first two parts. My guilty pleasure have to be early Van-Damme movies, he tries so hard! Much the same can't be said of Seagal films, that guy has no charisma what so ever.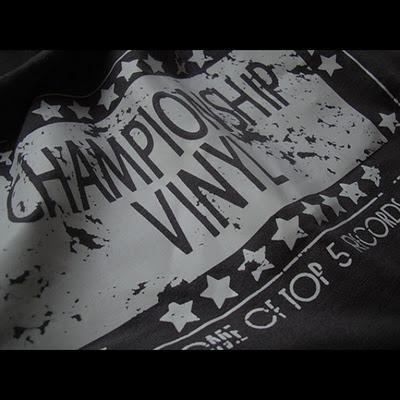 The one I own - Inspired from the movie High Fidelity
RM - Which direction according to you is the movie industry heading in now? Are you a supporter of 3D and is that the future of cinema?
PA - That is a tough one. There are still plenty of amazing films released each year, but that said I do feel that Hollywood has gone re-boot crazy of late. There seems to be far to many remakes, re imaginings, prequels, sequels and re-boots of Movies that we just don't need. Also the big Hollywood re-workings of great foreign films seem a little like a general lack of ideas for totally original concepts. 3D is a medium I tend to avoid. I much prefer the standard 2D versions of the film and in reality most of the 3D adaptations of Movies are just cashing in while it's such a popular format and I don't feel it really adds anything to the Movie going experience, except maybe those annoying glasses!
RM - In the end, without giving away much, what more can we expect from Arcane Movie Tees in respect of designs and or products?
PA - We will continuously push to create more new and interesting designs and develop more original ideas as we go. We will be showcasing a little more of our illustrative side also after the amazing reaction to our Suspects range and at the same time still create the style of design we are best known for producing. Also look out for the AMT Ultimate Movie Crew coming soon. It's not a tee, but that's all I can divulge this time.
RM - Thank you for your time and wishing you all the best in your future endeavors. 
Arcane Movie Tees can be contacted through their website www.arcanemovietees.com or on Twitter with the handle @arcanemovietees