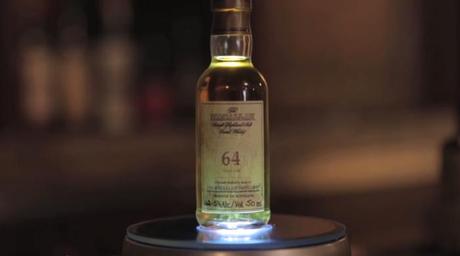 A couple weeks ago I saw the video embedded below about a guy who buys a shot (50 ml) of Macallan 64 for $64,000… and then doesn't drink it. I know what you're thinking and I had the same thought. Is this guy crazy, or does he just not like whisky? If he doesn't like whisky then what's he doing buying the shot?

Sure all of the money went to charity, but what's the point of buying something that amazing and then NOT drinking it? It seemed like there was more to this story and so I did some digging and contacted Mr. Blaine Vess to find out what the deal is.
TWJ: So my first question is… do you like whisky? That would be a very tempting, very difficult thing for me to pass up.
Blaine: I do, I don't consider myself a connoisseur or anything like that, but I am a fan. I was actually in Scotland 4 weeks ago with some friends and we toured Laphroaig, Bowmore and a few others. So I'm definitely a fan.
TWJ: That makes it even more impressive that you passed up drinking it for the charity. Mind going into that a little bit more?
Blaine: Sure, we were trying to figure out how to make the whole experience a bit more meaningful and I just felt that saving it for the day when our mission is complete or near complete would be much more meaningful.
TWJ: Definitely makes sense, but what does that actually mean? Having your mission at or near completion. What does that look like?
Blaine: That's a really tough question because we don't really know what will happen. Freedom of speech and freedom of movement would be huge milestones that we would love to see, but we know It certainly won't be like the US or anything like that over night. It might first move to something more like China where they are more open, but still very strict. Perhaps there will be something like the Arab Spring. It's hard to say exactly what it will be because there are so many factors at play. What's important to us is helping the people.
TWJ: Wow, that's quite the mission. So how long have you been involved with Liberty in North Korea(LiNK)?
Blaine: I've been involved with LiNK for a little over 2 1/2 years now. I saw this documentary about North Korea and started looking for a way to get involved and it just so happened that LiNK was based here in Torrance, California. I met the leadership team and they were a bunch of fun and passionate people, so I started as a financial supporter. I eventually visited LiNK's office in Seoul and went on a rescue mission in Southeast Asia. Back in December, I joined LiNK's board and then last July I became the chairman of the board.
TWJ: Very cool. So you've been over there on rescue missions… what was that like?
Blaine: Yes, I was on one in 2013 and then went back in July. I wasn't as involved in that one, but I was there getting to know some of the refugees (our clients).
TWJ: Were there any harrowing moments during the rescues?
Blaine: (Laughs) You know, not really. We have a pretty good process down now. LiNK has been doing these rescues for over five years now, so the organization has learned a lot in that time. I wouldn't say that things are predictable, but fortunately the mission I took part in went very well. Everyone arrived safely.
TWJ: That's good to hear. I watched the Dennis Rodman visit on Vice, but I know I've seen another documentary on either HBO or Netflix where they went to rescue some of the refugees and that was pretty interesting. To see them pulling up to safe houses and loading people into vans and then trying to get away before anyone came after them. It was really interesting stuff.
Blaine: Yeah, I think that was Seoul Train. It's a good documentary. It shows people on a rescue mission and what it's like to go through that experience. I can't really participate in the rescue missions in China. I guess I could, but it would be riskier for the mission and for me to go on the journey through China and Southeast Asia. I can't say exactly where people travel for obvious reasons, but it'd look strange for a white American to be on that journey.
TWJ: Oh I get it, no worries. So back to Dennis Rodman. I'm curious what you think of that. Any opinion at all?
Blaine: Well I would say that it's not a really productive way to make any changes there. The idea of basketball diplomacy wasn't effective. It seems to be more of a show than anything else.
TWJ: It seems like it really just ended up trivializing the whole situation. The Dictator and the Celebrity paling it up. The other thing that was weird in that Vice episode was when they took a tour of a business and it was filled with people who were just looking at random websites. Not really doing anything at all, just clicking on random spots on the screen. It was really surreal. Did you ever experience that kind of stuff?
Blaine: Yeah it really is. I guess I do have one more thing to add about Rodman. The coverage of him doesn't help people there. Our focus is to help the everyday people in North Korea and they aren't covered in these stories.
So back to your question. I visited North Korea two years ago. I visited a school, a hospital, the DMZ and a number of other places. I didn't visit any businesses, but the school was similar to what you described from the Vice piece and it was a little creepy. All of the children were just quietly drawing and not looking at anyone. It's like they were instructed to not look at any one at all. If you or I were to walk into any classroom in a school here, the kids aren't going to have their heads down, quietly drawing and never look at anyone. They're going to be looking around, curious about the strangers in the class and probably making some noise. I remember seeing clips of what you were talking about with the business and watching people just sit there and it had that same unnatural and staged feel to it.
TWJ: If I remember right, you have to tell them your entire Itinerary if you want to go there and they have to approve it so they can set these staged events up. You also can't take pictures of anything you want either right?
Blaine: You can't leave without your guides. If you want exercise, you have to run around the hotel.
TWJ: Do some jumping jacks and calisthenics in the lobby…
Blaine: (Laughs) Yeah it's interesting. The tour that I went on was a private tour. It was two guides, a driver, and me. I got to know my guides really well and it sounds a bit weird, but I actually had fun. The guides and I really got along well. We talked a lot and we went to a lot of interesting places.
I'm a city guy and I'm not much for hikes, so we went and saw the school and the hospital. We even went bowling, saw a movie, and did some karaoke. It was fun, but it wasn't a real representation of life there. It was very censored and staged. I wanted to take a photo of some people playing basketball outside of a school and you're not supposed to take photos without asking. So, I asked and they said no because there was some construction going on in the background. Or maybe there was a dumpster by the basketball court. It was something like that, but they wouldn't allow it because they want everything to look perfect. They think if a photo like that got out it would make North Korea look undesirable.
TWJ: Wow, that's pretty crazy. Well, I don't really have any other questions. I just wanted to get some background on the man who bought the $64K dram and find out more about you and your mission.
Blaine: Well, I really appreciate you taking the time to talk about what we're doing.
After that we exchanged some pleasantries and chatted about stuff not relevant to this story so it's not included. I hope you enjoyed getting to know more about the man and the mission behind that crazy awesome purchase and I'll also be keeping in touch with Blaine to see how things go. Who knows, he might even invite TWJ to cover the opening of the bottle when that day finally comes.
Thanks for reading, thanks for watching and we'll resume our regularly scheduled broadcast of whiskey reviews shortly. Cheers!
(P.S. For the sake of disclosure, I should let you know that I didn't have to dig very hard to get this interview. Turns out we have a mutual friend. So don't worry your malty little heads, I'm not abandoning The Jug for the glamorous world of investigative journalism anytime soon. That's far too much work and probably not as much fun for the average Joe as Hunter S. Thompson, Noir Films and Pulp Comics make it seem.)