You first saw her in Monsoon Wedding and then recently in Shanghai. In between she has been busy, exploring and experimenting with cinema in its rawest form. Her latest film Qissa is making waves in the festival circuit and is sure to stir up the cinephile in you. I talk to Tillotama Shome about cinema, life, theatre, and travel; discovering a smart, vibrant, almost spiritual, and a very private individual who has her head and her heart in the just the right place.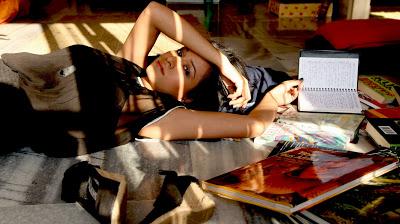 Photo courtesy Ms. Tillotama Shome
Raghav Modi
: Jumping straight in, as an actress you have been part of the film industry since Monsoon Wedding in 2001, yet you have stayed away from what would be called as proper commercial cinema. Even Shanghai that some may classify as commercial cinema, was very different from the everyday song and dance film. Is this career move pre-planned or have you just gone ahead with the roles offered? 
Tillotama Shome:
Ah! The commercial Vs non-commercial is a very limiting dichotomy. Besides there is only so much you can plan. I grew up with a stammer and I made a conscious choice to do the one thing that felt impossible for someone like me:To Act! The magical world of performance was anathema to who I believed I was. I challenged that self perception and wanted to see how far I could take that challenge. I am still doing the same thing. Everyday is about challenging what I think I know and what I feel I can't do.
Raghav Modi
: Cinema, all across the world, has a habit of typecasting the actors in particular roles. Although it is slightly easier to breakout from the chains of typecasting in the West, it's not that simple back home in India. What are your thoughts and experiences in this regard?
Tillotama Shome:
It's tough everywhere! Actors usually complain about the same things. You can complain until your throat goes dry or the listners ears fall off. But it helps to save energy towards creating an inner story, which is uniquely your own and belieivng in that until it begins to take form. I don't even know how I am typecast anymore. I thought I was going to forever bear the cross of the demure maid (Mira Nair's Mosoon Wedding),but that soon transformed to roles of the activist (Italo Spinelli's Gangor), the matriarch (Abhishek Pathak's Boond), the pimp (Jeffrey Brown's Sold), the sensual siren (Owais Hussain's untitled film), a nun( in Calire McCarthy's The Waiting city), the delusional alcoholic (Q's Tasher Desh)and now crossing the gender divide to play a man in my last film Qisssa. It seems pretty diverse to me. Is there more to do? Hell yes!!! Am I ready? Totally!! You are lucky when you stumble upon work that is unfamiliar, you fall on your face and scrape your knees but it expands your sense of self.
Raghav Modi
: Films in India have undergone a dramatic transformation in the last decade. A lot of it is attributed to an injection of young talent, especially directors, who have come up with fresh new ideas. You've worked with both young and experienced directors. What have been some of your observations with regards to these changes in general and experiences working with different directors?
Tillotama Shome:
An understanding of our times is always relative to the space we occupy. The times will feel exciting if you are excited and innovating. The times will seem regressive if you are stagnating. I am honestly really inspired by my peers who (be they writers, producers, film critics, stand up comedians, actors, directors, story tellers ,musicians) are trying to find their voice amongst the din that surrounds us. The sceptic's scalpel, the provocateur's new voice, and the thinker's brave new world are struggling for space and putting up a great fight. The road is long, but it's happening and we need more.
Raghav Modi
: One of the most impressive, and maybe little known fact about you is that you have utilized your talent in acting towards social causes. Please tell us a little about CUNY/CAT and how that came about? Also, now that you are based in India, do you still carry on with similar social interests locally or internationally?
Tillotama Shome:
Acting for me was theraputic in finding my voice. It bypassed the cops in my head, who felt they knew what I could do and I could not. Acting was and still is the liminal space that constantly pushes the boundaries of my self. I am deeply grateful for finding this space and that drove me to understand how I could explore this tool further and pay back. That lead me to study Educational Theatre in NYU and discover a whole new world of using theater to enter delicate spaces where the chalk and talk method had failed. The Creative Arts Team was spearheading that kind of cutting edge work in New York. I was fortunate to work with them, especially the work at Rikers Island prison. It's a very fine line seperating the prison inmate from those of us who think we are free. I learnt a lot about acting/choices while working in the prison. But it was an emotional burn out and I decided to give it a break for a bit. Besides I wanted to act in films again and I did not want to disguise that desire behind a cloak of social activism.
Raghav Modi
: What is your thought process when taking on a role? Walk us through how you decide to agree on a film from the time you hear about it till you actually act in it?
Tillotama Shome:
Read the script. If I like it, I go for the audition. If I don't like it, I sit at home and grind coffee beans into fine powder. If I don't get the part, I make origami swans with the script. If I get the part, I place all the origami swans I have collected over the years on the alter of rejection and say a big Thank You.
Then, I re-read the script and ensure that it was not a figment of my imagination. I meet the director and that's where the dance starts. I let my gut take on from there. I usually have a lot of questions. Each part has called for a different journey and each director has been a different compass. I try to keep myself open and not fear looking stupid because I do ask a lot of questions until I get on set. Once on set, the questions, if I am lucky, turn into answers in the doing of it and you have to just surrender.
But it has to be a role that atleast raises a few questions in my head!
Raghav Modi
: A number of films in your filmography are Shorts such as A Drop, Clap Calp, and Long After. It's a medium that isn't very popular in India yet, especially from an entertainment point of view. Do you feel it is something that it should be promoted with festivals or showings before feature-length films, or it is better left as a less popular yet impactful medium?
Tillotama Shome:
All these shorts raised questions in my head and so I did it! Simple. I really think short films should become more than a new director's show reel. The length of a film is a construct of commerce and multiplex rules. However it can be a pithy medium for powerful storytelling and Indian directors are experimenting with the format. It would be great if a short film and a feature length film were twinned as counterfoils to each other and enrich the cinema-goers expereince.
Raghav Modi
: While I won't ask for favourites, but which roles and/or films have been the most challenging for you and which have been the most fun, and why?
Tillotama Shome:
The one I am currently doing is always the most challenging because it is yet to be done.
(Also just a tiny aside:-In retrospect the challenging ones are the most fun!)
Monsoon Wedding was challenging because it was my first film and the camera was like a friendly voyeur and I knew more about Victorian literature than acting. It was fun because I got to work with the finest actors and a director like Mira Nair, who made you feel like you were the center of the Universe. She taught me things without complicating them. Her delight and her passion is infectious!
Shanghai was challenging because in very little time I had to convey Aruna Ahemadi's past, her failed marriage, unfulfilled desires and a yearning for righting the wrongs. Dibakar had filled my head with so much about her and then wanted all that to reveal itself in the few scenes that she had! That was a high.
In Anup Singh's Qissa, I play a woman who is raised as a man by her father. It was seven months of training, a hard and steep learning curve. But it was the biggest challenge and the greatest gift because Anup Singh whispers magic.
Raghav Modi
: You've always had a very low-key presence outside of your work. How has it been living as a star and how do you manage time to indulge in other interests that you might have?
Tillotama Shome:
This question makes me laugh! I am not a star. I just have the privelege now to do what I love doing for a living. Earlier I was doing it because I wanted to live.
Raghav Modi
: On a lighter side, one of the perks of making or being part of films is travelling, often to exotic places around the world. Which places have you discovered purely as a result of film related travel?
Tillotama Shome:
Purulia, meeting Mahashweta Devi in her living room as she entertained us with her stories of revolution, Venice, San Francisco, Himachal, misty mornings and cold nights in Punjab, Rann of Kutch where the salt deposits shine like diamonds on a moonlit night, as we drove to the premiere of Monsoon Wedding in Toronto the twin towers came down and the city became funereal, a meeting with Bernardo Bertolucci in his living room in Rome, Baul singers in the middle of a forest in Shantiniketan, Latur where I would have never gone if it was not for a film...
Raghav Modi
: Qissa, your latest release is part of TIFF. Tell us a little about the film and also about your experience at an International film festival? Is this also your first time at a festival of this magnitude?
Tillotama Shome:
This is my second time at TIFF, and it has become so much bigger. What remains unchanged is the love for cinema that the general populace have. So much so that professionals from all walks of life take time off from work and work as volunteers for the festival!
I can't say just 'a little' about Qissa, as it has been a monumental experience for me and I am still processing the experience. A folk tale of a Sikh who loses everything during the separation of India in 1947 and that loss catapults his obsession for a son into a vortex of choices. When his fourth daughter is born, he challenges destiny by raising her to be the son he always wanted. To play the part of Kanwar I trained for seven months in Punjabi, swimming, kalari and driving. It was the best education! Anup warned me from trying hard to be a man, instead he encouraged me to just be the best son I could be to my father. Anup's direction was sublime, and I wish I had understood more when we were shooting than I do now. That's my problem; I mostly understand things retrospectively.
Raghav Modi
: In the end please tell us about some of your favourite national and international films that have either inspired you to take on films as a profession or ones that you like simply for the entertainment factor they provide?
Tillotama Shome:
The first film I saw in a theater was "Young Sherlock Holmes". I was 8 years old and the film had a poison dart that makes inanimate objects come alive. I was so traumatised by the film that I had nightmares of being struck by the poison darts and hallucinating that the tap in our bathroom was strangling me with its extended tentacle like stainless steel fingers. Clearly I had an active imagination! But in retrospect, I realize how huge the impact was of watching my first film in a theater. Even after all these years, I am still humbled by the whole process of film making like that eight year old. My all time favorite film is Jaane Bhi do Yaaro. Of recent films Once upon a Time in Anatolya!
Raghav Modi
: Thank you very much for your time and all the best for Qissa and your future endeavours.