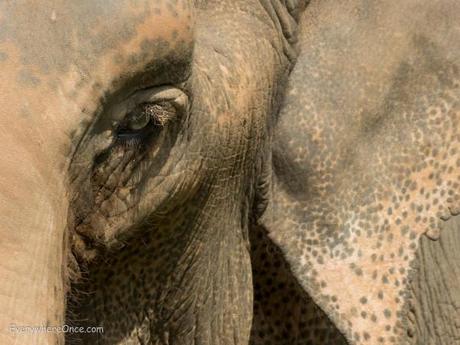 After landing in Bangkok for our first time ever we had a whole host of unanswered question about how we'd spend the next four months traveling around South East Asia. One thing we knew for certain, though, was that we wouldn't be riding any elephants.
That's not because it's hard to do. In fact, it's all too easy. Just wander down any random street in Chiang Mai and you'll find dozens of places offering everything from multi day treks riding elephants through the jungle to an afternoon learning how to train them like "a real mahout."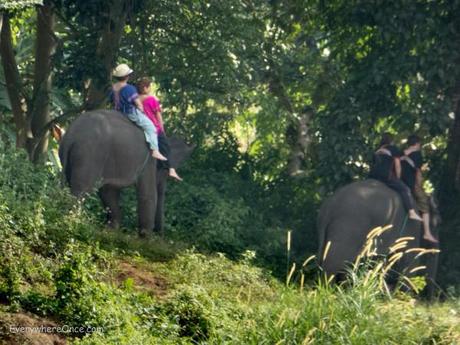 Elephant trekking we witnessed in Thailand
We weren't interested in any of those tours. We had heard that the elephants in Thailand are generally treated poorly. We also understood that despite their size and their obvious strength, elephants' spines are not well suited to carrying the weight of people. The last thing we wanted was for any elephants to suffer for our amusement.
What we didn't know until recently was just how bad things really are for these majestic creatures.
It's no exaggeration to say that the elephants you see working in the fields or in the tourism industry are trained with torture. In what is known as a "crushing" ceremony (as in to crush their will) young elephants are confined to a cage so small that they have no room to maneuver.
Over several days, or sometimes longer, the animals are subjected to food and sleep deprivation. They're stabbed in the feet and jabbed in their ears and cut repeatedly by mobs of men until they learn to do what they're told. (The sticks you see being used to poke the elephant in the video are tipped with nails.) Only when the elephant's will to resist is crushed are they released from the cage.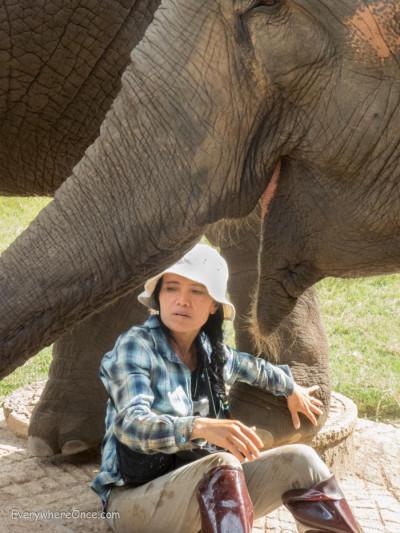 "Lek" Chailert, the founder of a sanctuary in Thailand, with some of her rescued elephants
But that isn't the end of the torture. Pain is used throughout an elephant's life as a way to control them. And control them they must if elephants are to be used to carry tourists. That's why we'll never ride one, and why you shouldn't either.
But that doesn't mean there aren't ethical ways to enjoy an elephant's company while in Thailand. One good option is to support reputable animal sanctuaries like the Elephant Nature Park. Located in a jungle valley almost 40 miles outside of Chiang Mai, the 250-acre preserve is currently home to 41 formerly distressed elephants, each with their own story.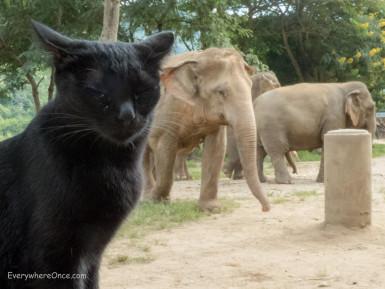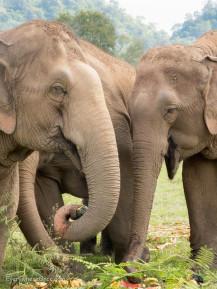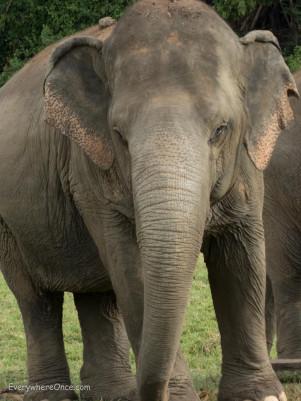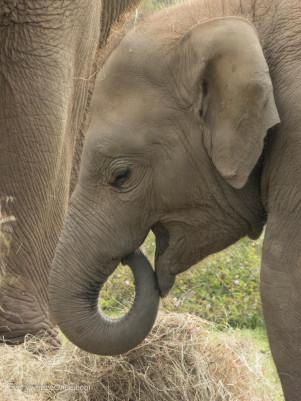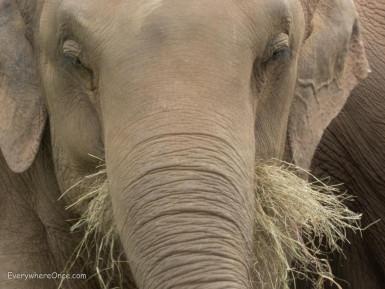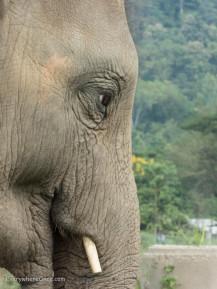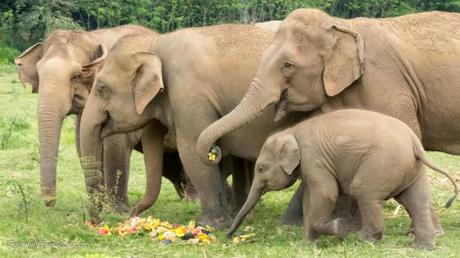 Most of the elephants at the park were rescued from the tourism industry and many still bear marks of abuse. We met one elderly elephant who was blinded by the constant glare of circus lights while another had her eyes put out as a disciplinary measure. Some were wounded by landmines and others were crippled by overwork.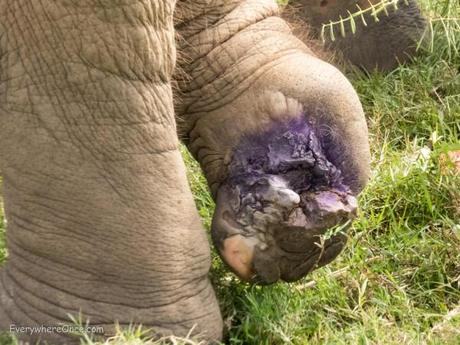 This elephant's foot was damaged by a landmine. Now covered in purple antibiotics and healing under the care of The Elephant Nature Park
But not all the stories here are sad. We also met juvenile elephants that were born in the park and have therefore never known the cruelty of the crushing cage. The park's founder, Sangduen "Lek" Chailert, is hoping to socialize these young elephants purely through positive reinforcement. But performing for humans won't be part of their routine. These elephants will learn no tricks and will never be forced to work. They just simply need to learn to live peaceably with the human workers and guests who keep the giant elephant sanctuary humming.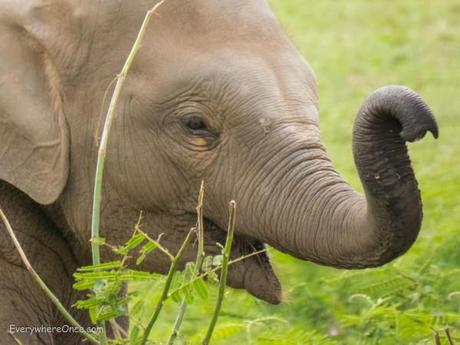 The Elephant Nature Park offers various options to those visitors looking for an ethical elephant encounter. The most popular of which is to spend a full-day observing, feeding, and even bathing the giants in the natural river that flows through the sanctuary.
Feeding time at Elephant Nature Park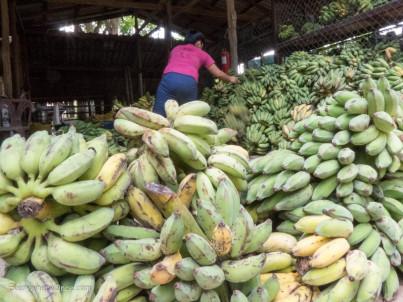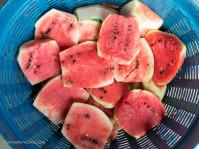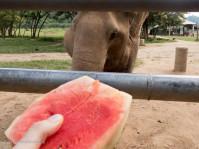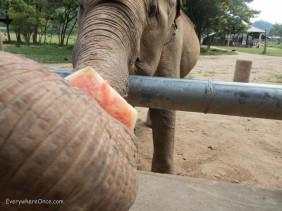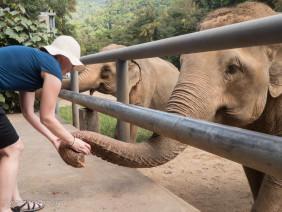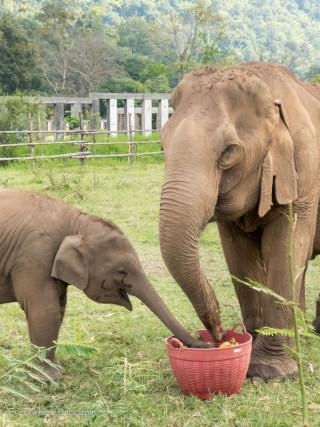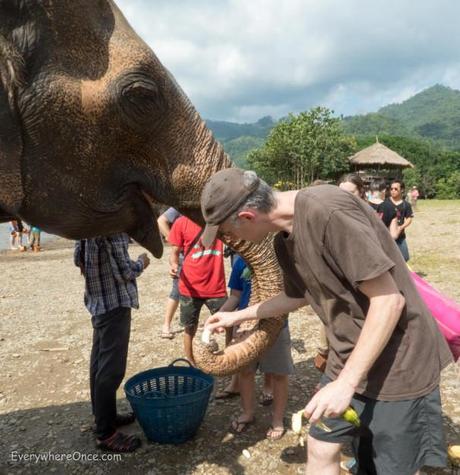 We wanted a bit more time with the elephants so we opted to spend the night at the park. One word of warning for anyone considering sleeping over at The Elephant Nature Park is that beds are limited. We reserved our space about two months in advance and still had to rearrange our schedule because our preferred dates were already fully booked.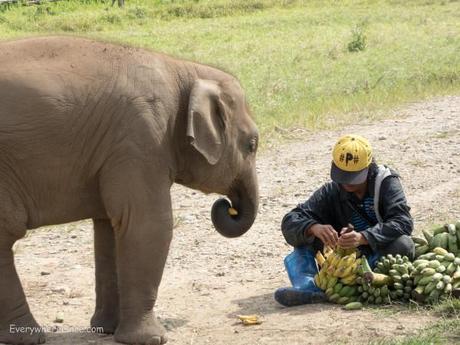 We're glad we made the effort, though. From our experience overnight guests get a more personalized experience. Day trippers move through the park in groups of what looked like forty or fifty people. Our group of six had its own dedicated guide who took care of us the entire time we were at the Nature Park.
Bath time at the sanctuary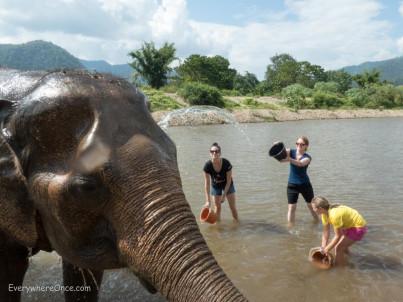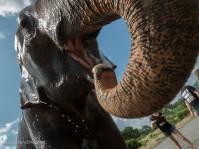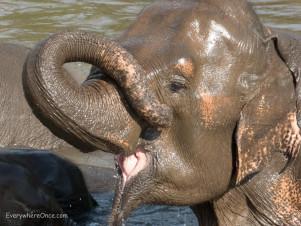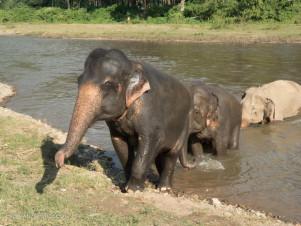 After most of the other guests left for the day, we got to spend some quite time dining in the shadow of jungle mountains getting to know some of the guides and the few other visitors lucky enough to spend the evening. We then retired to our elegantly appointed, jungle chique, bungalow where we dropped the mosquito net, opened the windows, and fell asleep to the sound of snoring elephants who dozed just a dozen meters away.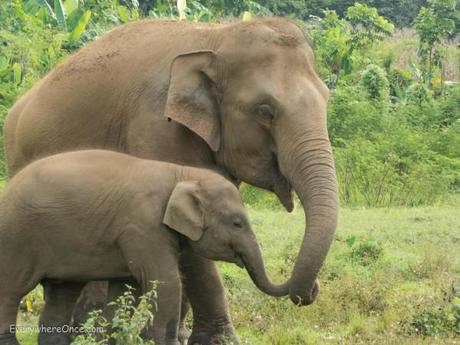 In the morning we spent a good hour or more walking through dewy fields, shadowed by a herd of grazing water buffalo, while quietly observing the morning rituals of an elephant family group; all before the first van load of day trippers arrived.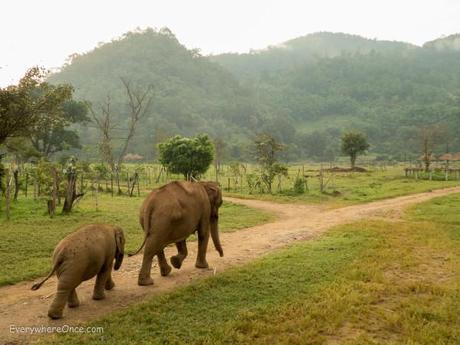 Related Story: For more tips on ways to travel ethically, see our primer on How to Make (and Keep) A Traveler's Hippocratic Oath