How's your economic eco-system?
Business is often asked to consider two popular notions: sustainability and the environment. At times – and probably too often – they are simply buzzwords; at other times, they focus on the need for everyone – business included – to take responsibility for the sustainability of the planet.
That's all well and good but it need not stop at the natural environment. We can learn a lot more from environmental science across the entire spectrum of management practice.
Your business does not operate in a vacuum. It depends on all sorts of stakeholders. Just think of the six basic ones: shareholders, managers, employees, suppliers, customers and the community. Together they make up the ecology of your business. Call them species if you like.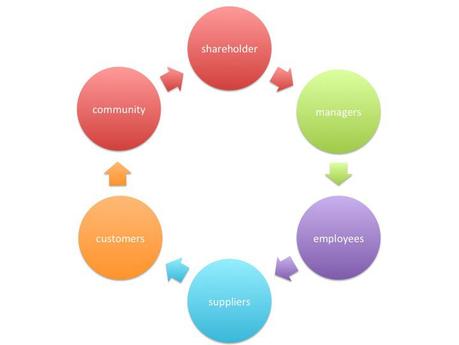 They all depend on each other and have needs which have to be served. Often we focus only on serving the customers. Yet you can't expect your business eco-system to function optimally if you ignore the others.
You need to serve them all.
Shareholders won't be prepared to stump up funds to finance your business if their interests aren't acknowledged. Nor can you expect employee turnover to be minimized, or productivity to be maintained, if you serve employees badly. 
Don't expect timely deliveries from suppliers if you constantly treat them as the bottom of the food chain. Managers can't manage without the support of the members of the board and the employees of the firm.
And the community? Well, that's where your customers come from. It's all a two-way street.
Getting that eco-system in balance is what makes a business hum. It's not some woolly theory. It's like spokes in a wheel. If one is broken, the wheel will wobble. You will have to peddle harder and you probably won't go as fast.
Ignoring this is like saying sustainability is not a sensible goal. Is there anyone out there who does not want a sustainable business?
So it pays to fix it.
For a quick check up, rate your firm's performance from one to ten for each of the stakeholders. What can you do for the ones that score lowest? You might say, well, I'm the only shareholder so that doesn't matter. Wrong. What is the firm doing for you? Is it meeting your long term goals in terms of value and returns? What, in turn, are you doing for it?
If you are a middle manager, what can you do for the manager you report to?  If they go well, so will you. Can you work on a new service with a supplier in a way that helps both them and you – and deliver a better product to your customers and your community?
A successful business means mutually dependent stakeholders working together in a balanced eco-system. Ecology doesn't just apply to endangered species in nature. To avoid becoming one in business, try serving all the elements that make up the whole.