I have a secret about Charleston Restaurants.
It's pretty shocking, so you should get your self some smelling salts. You'll have to travel to a 1940s screwball comedy or maybe a BBC Victoria drama to find some, but go ahead, I'll wait.
Ready?
Ok, here it is: Mike and I ate and drank our way through Charleston. Shocker, right? Aren't you glad you got the salts?
Here's a rundown/review on the places we ate, should you be planning a visit of your own (which I recommend).  All of these places are within walking distance of each other. Charleston has got to be one of the greatest eating towns in the world.
Low Country Bistro
49 South Market Street Charleston, SC 29401





This is the first place we stopped upon arriving because it didn't look too fancy ('bother-in-law' was with us and we can't take him just anywhere) but it looked fancy enough and had a wine menu. I had Chicken and Waffles for which I was told they were famous, and while it isn't something I would normally order in a million years, it was pretty damn good. Tried my sister-in-law's lobster hush puppies which were good, if a bit dry. Giving it 4 out of 5 because the one hostess was kinda miserable and the server was good but either high or a sweaty alien masquerading as a human. I'm sure if we lived in Charleston, we'd stop by all the time until he assimilated us and took us back to his planet.
Peninsula Grill
112 N. Market Street, Charleston, SC 29401





I feel like I'm cheating reviewing this spot because we only had room service from the restaurant and breakfast, but everything was really good. As mentioned in my review of the hotel in which this restaurant is located, the Planters Inn, Mike and I shared the Lobster "3 Way" (Lobster Ravioli, Lobster Tempura and Sautéed Lobster with Warm Tomato‐Basil Vinaigrette) and Pan Seared Carolina Trout with  Shaved Brussels Sprouts, Blue Crab, Capers and Almond Brown Butter. And of course the famous Ultimate Coconut Cake® was creamy, coconut, yumminess. It didn't send me straight to a tropical beach just this side of heaven, like I thought I would after all the hubbub about that damn cake, but it was probably about as good as coconut cake can get. Plus, I had it at the end of a very, very long night so who knows. I might have been eating just about anything.
At breakfast, Lynn, the hostess was awesome and may or may not have had a glass of wine with us after her shift. We have a history of corrupting the staff, so please don't hold this against her.
Toast
155 Meeting Street – Charleston, SC 29401





 (for breakfast)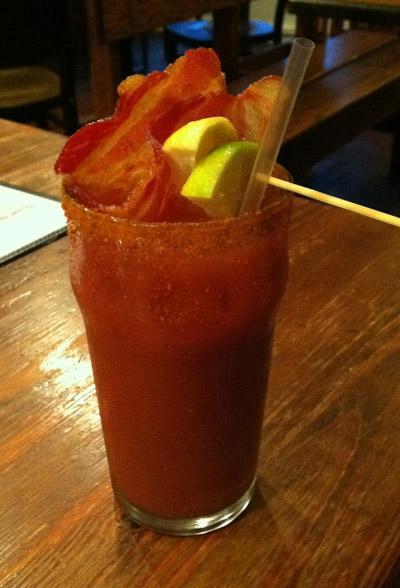 Toast won't be everyone's cup of tea, but for breakfast we could NOT have been happier. I had a
bacon infused vodka bacon Bloody Mary
that I would have fed intravenously directly into my veins for the rest of  my life if the option had been on the menu. Biscuit gravy was awesome. Breakfast was awesome. Someone on TripAdvisor called this place a "tourist trap" but as someone who grew up in a tourist town, I heartily disagree.  It isn't a tourist trap because the food is GOOD. The atmosphere is a bit, er, local? Downhomey? 'necky? But that is just part of the charm. If you're looking for "upscale" this isn't it. I understand- we snob-out for lunch because Mike can't eat a meal without a wine menu. But for breakfast, if you're looking for good food with a friendly staff, and down-home charm – BINGO.
Leaf
15 Beaufain St.Charleston, SC 29401





When we ate lunch at Leaf we needed food like Kanye needs confidence boosters, but  there I was, chowing down on a braised short rib grilled cheese because: braised short rib grilled cheese. How could I not try that? It was super tasty and not too greasy, my only regret that I could only shove half of it down my gullet before my stomach cut me off and told me if we stayed in Charleston another day it was going to have to get combat pay.  My husband's burger was so big it was like the steer it came from had put in his will that all of him had to be on one bun.
We loved the atmosphere, the staff was great and it was a very "wine" oriented spot. We imagined it was a local's favorite, and probably would become ours if we lived there. The spot is tricky to find – when someone points down a street and says "it's down there" know that it is down there AND around a corner in a little shopping area.
Mercato
102 North Market Street Charleston, SC, 29401





I LOVED Mercato. First off, we almost didn't make it because we fell into a food coma after lunch at Leaf and slept until 15 minutes before our reservations. We called and cancelled, and then called right back and asked if they could get us in (even though we knew they were totally packed). The hostess told us "no problem" and I didn't even hear her mumble "assholes" as she put down the phone, which is more than I would have done.
Our waiter was attentive without being cloying (it's killing me I can't remember his name) and the atmosphere was warm and intimate even though the restaurant was full. I will say, we were seated upstairs away from the jazz band, which was probably a good thing. I think downstairs it would have been loud for me, because I get pouty when I can't easily yap.
I had Veal Parmesan that I now dream about every day and I grew up in New Jersey eating Veal Parm for every other meal. If I had to pick a meditation word it would be VealParmAtMercatoooooo. As soon as I ate the accompanying pasta, I screeched "is this pasta homemade??" at the waiter, who, after they brought him back from his heart attack with the defibrillator paddles they keep in the back for just this emergency, told me indeed it was fresh. YOU COULD TASTE IT. Upon returning home after vacation I looked upon my boxed pasta with disdain I know it could feel.
Even though we had no refrigerator back at the hotel I boxed what I couldn't eat of my Parm and had it again later that night and then a bit the next morning, eating it with my fingers like an animal.  

Mike got the Tagliatelle Bolognese with Traditional Pork and Veal Ragu which he loved as well.
It was one of those meals where all the stars aligned. If we could only go back to one spot, it would be here.
Magnolias
185 East Bay Street  Charleston, SC, 29401





We were lucky enough to get reservations at Magnolias for Christmas dinner. Mike, who picked Magnolias specifically because they hadn't whittled their menu down to just turkey for the holiday, ended up getting the turkey dinner, which looked like Christmas on a plate and was delicious (particularly the stuffing). The salad we had beforehand featured corn bread croutons I'd like to keep in a bag in my pocketbook and eat like Skittles all day long.
I had duck, which I'm not seeing on the menu on their web site right now, so that might have been a special. It was indeed special, and served with a butternut squash mash that I inhaled like a Dyson vacuum. I can't remember the glaze on the duck now, because it was the last meal of an insanely delicious three day tour of Charleston, but it was good. Let's say it involved berries somehow.
Magnolias oozed southern charm, and all the people around us eating looked like they fell out of a John Grisham movie. You couldn't have stuffed another body in there with a crowbar, but it wasn't loud.
It was the perfect "southern experience" restaurant to sum up our trip.
We'd definitely go back!