Father's Day in Australia is just around the corner. I didn't expect to write this letter but today, seeing my papa with my littlest brought me back memories of when I was little.
I remember my papa use to be very loving and fun when I was a toddler. He would take me out on rides and walks, you know, just hanging out with his kid. It was one of the more happy moments I've had with my papa. And then I grew up. 
My papa isn't a very affectionate person really, not even towards kids. But he was with me (when I was younger anyway), and surprisingly now, with my littlest. Maybe because my eldest isn't very friendly to begin with, and she takes aaaaaaggggeeesss to warm up to someone, even family members. So even if grandpa wanted to be affectionate, it wasn't exactly doable. But now that she's 3.5 years old, she absolutely adores her "goong goong". 
I was heading out today when I saw him pushing my littlest in her smart trike, going around the housing area for a leisure stroll. Memories started flooding through me, and my tears began to flow. How time flies. It was like yesterday my papa pushed me on my bicycle, fast forward thirty years and he's now doing the same thing with my children. One look at this heartwarming scene, my walls came crumbling down and any frustration I've had due to our differences just melted away into literally nothing.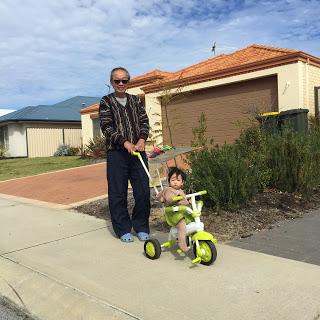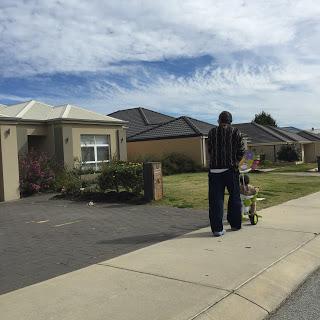 It's time like these you feel the guilt of filiality creeping up on you. How do you repay your parents for those precious memories, of how much love was put into raising you? How much time do you have left to treasure them?
You see, I haven't had the best relationship with my papa. I have wasted many months and years focusing on our parenting and lifestyle differences. So much that I've failed to be the daughter he deserves, and yes he deserves so much more than what I am now. I was selfish. I don't call him enough; I don't hug him enough; I don't kiss him enough; I don't acknowledge him enough; I don't tell him I love him enough; and I definitely could have been a better daughter to him.
Ever since I became a teenager, our father daughter relationship has never been the same. Some call it the age of rebellion, some say it's due to the puberty and it becomes a little awkward when your daughter needs answers to menstruation and boys (although I never really had that talk with my mother either lol). They are, after all, not the most comfortable topic to chat about with one's father. For me, I think another factor that could have caused the relationship to drift was communication. 
Growing up, I was taught to "listen more and question less". It's the principal of what most Asian parents tend to follow when it comes to parenting. As a unfortunate result, I find it very difficult to express my views or feelings to my parents without getting frustrated or feeling awkward. I probably could share my feelings better in writing than I could face to face.
So this Father's Day, I want to apologize to my papa. I want to tell him I'm sorry for not being a more understanding daughter; for not making an effort to get to know him better; for complaining and not being more patient; for taking him for granted and not making more time to be with him; for not showing him often enough that I treasure and love him. 
I love you papa, and I am sorry for all those heartaches and headaches I've put you through throughout the years.   
I promise I will try and be a better daughter, papa. I don't know how I'm going to do it, but I will try.
It's funny how out of all the times I could have written this piece, I chose to write it at a cafe full of people. Not funny when my eyes kept tearing while writing it. But I just had to finish it while the emotion is still raw and fresh. It's not exactly the most positive thing I could write for Father's Day, but it's a day to be remembered because I am reborn today as my father's daughter. 
Happy early Father's Day, papa.
Fudge, I think I'm going to head home now to give my papa a hug, and tell him how much I love him.