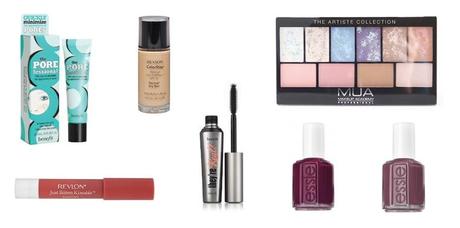 I've been a naughty blogger these past few days but that's really down to being a very busy bee with work for my dissertation and some extra hours at work. I think I also burned myself out a little bit as I'd been trying to post every day for the past couple of weeks and eventually hit a brick wall, but here I am back with a wishlist! This is a mixture of things that I'll either be putting on my Christmas list or treating myself to at some point so I just thought I'd put them together in a post. I'm sure there will be plenty more wishlists on the lead up to Christmas. So this is what I've had my eye on lately..
Benefit The POREfessional was an easy one as I've been absolutely loving the little sample from Glamour a few months ago and have seen a considerable difference in the appearance of my pores under foundation and also better staying for my makeup during the day. Sadly my sample is coming to the end (although it has lasted very long for such a little tube) and I would definitely like to invest in a full size tube in the future, although the price tag is still putting me off at a whopping £23.50, ouch!
I have always ummed and ahhed at the Revlon ColorStay foundation but never took the plunge because I wasn't sure how much coverage I really needed and with it being one of the more expensive drugstore foundations I always found a reason not to try it, but now I'm finding myself wanting to give it a go. My skin has been playing up for the past couple of weeks with plenty of spots (although stress and feeling poorly haven't helped) so I'm leaning more towards a higher coverage foundation and with my faithful Wake Me Up and Healthy Mix foundations running out, what better time to go for it.
The Revlon Just Bitten Kissable Lip Balm Stains are another favorite in the blogging world and with me taking so long to try the Lip Butters I think I'll need to get my skates on and try this soon. I'm not the biggest fan of very pigmented lip products so a stain would be perfect for me and the shade Honey looks like such a lovely and natural color for the lips, especially for autumn/winter time. 
Another Benefit product that isn't very purse friendly but has caught my eye for a while is the They're Real mascara which has had some fab reviews and amazing before and after photos as proof. It takes quite a bit of work and patience in the morning to have my lashes looking a lot more visible with some length and volume but this mascara could be the wonder product I've been after.
The MUA Artiste Collection Palette is one of the many newer releases from the very affordable brand and at just £6 for 6 eyeshadows and 4 face powders, you really can't go wrong. The merged tones of the eyeshadows look gorgeous and the mix of blushers, bronzer and highlighter make this the perfect palette for traveling or whenever you're on the go. I'm holding myself back until MUA reach 50,000 likes on their Facebook page as they will be offering a massive 50% off and free delivery, so you can expect a big MUA haul whenever that happens.
Finally I have two Essie polishes on the list as I have slowly been moving away from the pastel and nude shades in favour of more autumn/winter appropriate shades, and these two are unlike anything I own. The first is Bahama Mama and yes, here we have another blogger talking about this particular polish, apologies! The deep plum red shade would be perfect for this time of year and looks very wearable as I'm sometimes worried that darker shades will make my pale hands look even paler (if that's possible). The second shade is Angora Cardi which is somewhere between a dusty purple/mauve color and again looks like a great pick for the winter months.