First of all, many many apologies to readers of this blog for the length of time since I last posted. I hadn't realised it was quite so long as it was. The reasons are a mixture of a heavy workload and being away, meaning I had very little time to go walking and seeking Cornwall wildlife and nature. But now I am back!
This is a short post, to share a lovely amble down to Lizard Point yesterday afternoon. I was looking for seals, so had gone down as close to low tide as I could (a good time to spot seals). I didn't see any in the end, despite much scanning with binoculars, but, because low tide was a little after sunset, I was able to sit and lose myself in some very beautiful skies.

Golden skies over The Lizard (photo: Amanda Scott)
The sea was comparatively quiet, the air was crisply cold and still, shags and cormorants and gulls were perched on the rocks, and a kestrel flew by, its feathers catching the golden light. The seals were missing a great evening!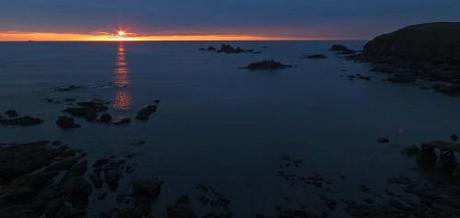 Sunset over The Lizard (photo: Amanda Scott)
There's a few more photos on the What's Wild in Cornwall Facebook Page.