The following is a guest post from Sophie McGovern.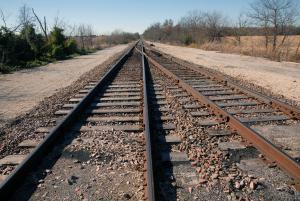 I had already done the great British coast to coast to visit my nan in Yorkshire: a four hour trundle from Blackpool to Scarborough sat on my bag outside the train toilet eating a soggy pasty and getting delayed for three hours due to a flock of escaped sheep on the line. When I got to Scarborough I found that it was a lot like Blackpool only with more seagulls and a bit of extra rain. Not exactly the most thrilling of expeditions, to say the least.  (Photo "Train Tracks" by linder6580)
This may have been the pinnacle of my British rail touring, but luckily I could afford to be a bit more luxurious about my USA coast to coast, which was to be a three week adventure across the 3,000 mile stretch. Goodbye constant delays, broken air-conditioning and bacon baps.
Guided rail tours are more of a first class affair, with all the facilitie on the train that you would expect from a comfortable hotel. Transport had already been booked and transfers arranged, so all I had to worry about was enjoying the scenery, which, may I add, was spectacular. It turned out there was no need to have packed my net of tangerines and Tupperware of cashew nuts, as tepid coffee and vacuum packed sandwiches were swapped for classy meals and wines on my train. And there wasn't a grumpy conductor in sight.



The journey began in New York, where we were given a guided tour and took in all the famous sights including the Empire State Building and Time Square. Determined to blend in with the crowd, I promptly bought myself an "I Heart NYC" T-shirt and a novelty Statue of Liberty hat to pay homage to the good lady herself, who looked positively radiant from the deck of the Staten Island Ferry.  (Photo "Manhattan Skyline" by abejo)
In the first week we toured from NYC to Washington: city of monuments and official finery. Then it was on to Chicago, a cosmopolitan college city where I was reunited with one of the great loves of my life, pizza.
Blackpool pleasure beach, eat your heart out. With a history of gold seekers, outlaws, buffalos and beer brewing the American West felt as wild as I'd imagined it. With the soundtrack to The Good the Bad and the Ugly playing on my ipod I laid back and took in the scenery on the stint through the Great Plains and in to Denver.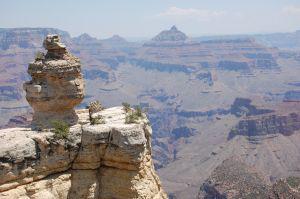 The rail tour was as much about the passing landscape as the destinations, which was a far cry from the drizzly fields of Yorkshire. Pristine wilderness, forests and mountains all decorated our route, the landscape constantly changing throughout the trip all the way out to the auburn rocks of the awesome Grand Canyon.
Ending the tour in laid back, bohemian San Francisco I looked back on my trip from the sweeping summit of the Golden Gate Bridge, and was happy that I'd experienced it mile by mile by choosing a rail tour, as I really felt the great distance that I'd traveled and had savoured every step of it.  (Photo "Rock Tower" by jimrhoda)
--------------------------------------
Today's post is a guest post from Sophie McGovern. Sophie is a writer, freelance journalist and musician based in Bath. She has written articles for various websites and publications including Southbank Centre Literature and Global Poetry System. She also runs writing workshops for schools and organizations.