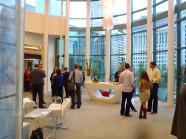 By Susan Garrigle, Services at B Lab
On Thursday, September 29, 2011, B Lab held a Windy City Cocktail Party at Certified B Corporation DIRTT's Chicago Green Learning Center. With spectacular views of the river, DIRTT showcased its modular walls and products.
Over sixty people attended the event – from the Certified B Corporations in Illinois to the Chicago Professional Chapter of Net Impact, from members of the Treasurer's Office of the City of Chicago to individuals interested in learning more about Certified B Corporations.  The attendees were treated to delicious food by local B Corp Zullo's Market and wine from B Corp Mendocino Wine.
It was fantastic to see the energy in the room around growing the number of Certified B Corporations in Chicago and getting benefit corporation legislation passed in Illinois in 2012. Overall it was a superb evening!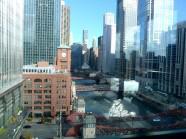 I would like to extend a personal thank you to Chris Matus and Tina Guy-Skoller of DIRTT for making the evening a smashing success by offering their incredible space to B Lab to have the event!
If you are interested in finding out about more B Lab Events throughout the country please check out the B Calendar. If you are interested in hosting an event, please email Susan to discuss!