Amores Perros
is a Mexican film released in 2000 with the English title "Love's a bitch". This film is often compared to
Pulp Fiction
because of the non-linear style of storytelling. But let's not go there; instead we should admire Amores Perros for its own substance; It is director Alejandro González Iñárritu's first film.
It is the story of three people living three totally different lives and how they connect because of a car accident. These characters belong to the rich socialites to the working middle class to the homeless tramps of Mexico City.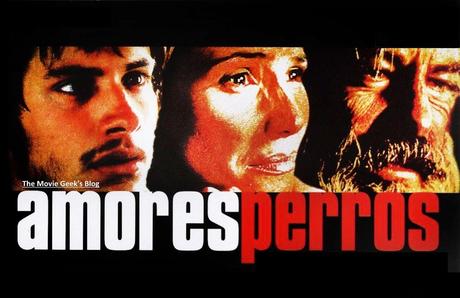 There are three different segments in this film that play one after another and all of them have some common elements, which bind the three plots into one.
The first segment is called "Octavio and Susana". Octavio is having an affair with his brother's wife Susana. Seeing the way his brother beats teenager Susana, he thought she deserves better and plans to run away with her, but needs money to execute his plans. He indulges in the dog fighting where guys make their dogs fight and make money out of it. One of those fights went too intense and a guy shoots Octavio's dog Cofi in order to spare a defeat. Octavio ran away from the place in his car and gets into an accident at the intersection of the roads and injures himself badly. 
The second segment called "Daniel and Valeria" is about the rich TV people. Daniel, a TV producer abandoned his family and is living with his beautiful girlfriend and young actress Valeria. Daniel rented a new apartment for Valeria where her little dog disappears under the floorboards while chasing a ball into a hole in the floor, only to never return. Later during a car accident Valeria severely injured her legs and is now permanently out of her modelling and acting career. This was the same accident which injured Octavio, only this time we see it from another point of view.
In both of these segments, we come across a tramp El Chivo.  El Chivo is who we learn about in the third segment, "El Chivo and Maru." Although he seems like a beggar by his appearance but he actually is a professional hitman with a revolutionary past that ended on a bad note. He also has an estranged wife and daughter Maru. El Chivo is hired by a man to kill his business partner and when he was about to do the execution, that car accident which affected Octavio and Valeria interrupts him. El chivo steals Octavio's money and his injured dog Cofi and nurses him.
After the road accident, there come unexpected revelations in the lives of Octavio, Valeria and El Chivo. Perros in English means Dogs and indeed the director has showcased dogs as a significant entity in this film. Dogs are symbols of loyalty and in each of the three stories; there is disloyalty by the characters in it, whether it is Octavio being disloyal to his brother, Daniel to his family or El Chivo's client to his business partner. 
It is interesting to see that how one car crash changed the course of time for the three main characters of this film. This film is melodramatic, sensational and violent at different points of the plot. Depicting elements of disloyalty in the company of an animal who is a symbol of loyalty is a notable contrast in Amores Perros. 
Amores Perros lost to
Crouching Tiger, Hidden Dragon
for the Award for the Best Foreign Film at
Academy Awards
2001. It was the first film of director
Iñárritu's Death Trilogy
; the other two films were 
21 grams
and
Babel
.
Movie Geek's Rating
: ★★★★ Great
Cast:
 Gael García Bernal, Goya Toledo, Emilio Echevarría
Directed by
: Alejandro González Iñárritu
-------------------------
Author
: Amritt Rukhaiyaar
[This post is a part of the 
A to Z Challenge in April 2014
. Let's celebrate blogging.]