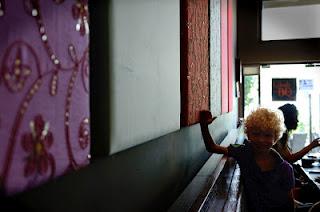 Friday is a sacred day in Dubai, and not just for those who pray. Less than half the workforce enjoy a 5-day week - for many, Friday is the only day off. Every other day, its unusual to see a man at leisure, but on Friday, they fill the streets, the malls, the beaches. About one hundred men from who-knows-where flock to a carpark near us, and play cricket. All day. Maybe they're labourers, street cleaners, cafe waiters or supermarket shelf fillers. I might see them at other crossroads in my daily life, but if I do, I don't recognize them. On Fridays, uniforms and beige shalwar kameez are swapped for Friday-best jeans with designer buttons and tears, brightly striped polos and cotton shirts adorned with flowers and slogans. They laugh, run, jostle each other - the way Australian men do all day every day. But here, only Friday is reserved for spirit.
Likewise, Friday is a special day for my family. It's the only day our beloved Mary gets off, and so it's dedicated to being a Walton family day. Husbands of wives who have maids are notoriously incapable of handling children on their own, and we have got to the stage where a single day of assistance-free child entertaining requires so much unnatural energy that an entire second weekend day is necessary to recover. Therefore it's easier to battle enjoy it together.
But this Friday I have a date with my other family. These might not have the same gene pool, but we're definitely related - we all have food in our blood, hearts and souls. We are Fooderati Arabia.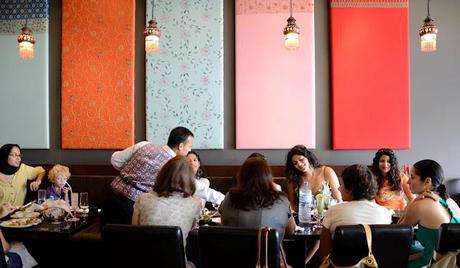 Who would have believed that there are over 100 food bloggers in the UAE? We get together in small numbers and large, at official launches, tastings, lessons, radio shows and publicity stunts. Today we gather in mutual love of a fairly new Pakistani joint in Umm Suqeim.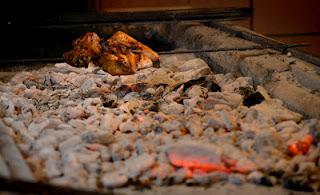 The bread arrives, straight from the hot stone wall of the pit in the kitchen. Do we eat it while it is freshly steaming? No - we photograph it. We swoop in with our prime lenses set to an aperture of 2.4, forgetting to cater for the extra loss of light due to the crowded space. We bump around like hens about a dish of seed, trying to get the best angle, attempting to bring a little atmosphere into an image. The owner of the restaurant looks on in disbelief, as finally the kerfuffle eases and we all sit back. The bread is now cold. Do we eat it? No, only half of us - the rest are on a gluten free diet.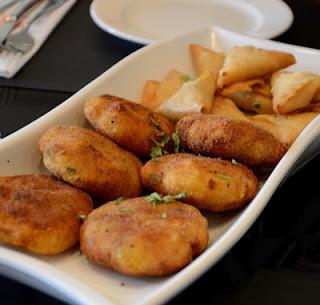 As we discuss our childrens' lunchboxes and labelling regulations of food (or lack of them) in the UAE, my date for the day, goldilocks, falls asleep - drained by ennui. He misses the aloo cutlets and chicken samosa. After another mad rush of lenses, the potato cakes fall prey to my greedy fingers, and I almost propose marriage. I've had aloo cutlets before, but these are creamy on the inside - in a way that is almost surreal and unnatural. But the owner has been assuring us that she has attempted to modernise her cuisine, and move away from excessive use of saturated fats. But they taste too good to be 'good' if you know what I mean. We all gurgle over them and the grilled items that accompany like babies with sweeties. It's quite pathetic really, how excited we all are, but it's OK - we're among friends.
Goldilocks awakens with the appearance of the Nihari. The Indians and Pakistanis at the table are gushing. They know what this is and dive in while the ignorant of us sit back and wait. Goldilocks cries out - he's afraid he might miss out on this treat that all the beautiful ladies are eating before him, and for a moment it gets a little edgy. Finally he settles with some rice and this famous overnight slow-cooked beef, and shovels three mouthfuls in before he realises it is laced with chili. Fortunately the chatter has increased and moved onto an inane argument about the tiny black seeds in the zesty chicken haandi, and they drown his cries and Lamaze style panting. He shifts to the chicken while the battle of onion seeds, nigella and black cumin rages on. (Incedentally, they are all the same thing)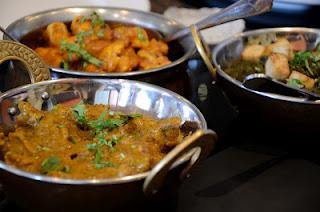 After a mouthful of the Nihari, I put the camera away. The food is too excellent and I don't want to be distracted. My Custard Pie grabs her Nikon and walks straight into the kitchen to photograph the unprepared cooks. I'm not sure she would want to know what they were saying in Urdu in between the spurts of both dismay and laughter. She winks at me as I steal a quick last shot, "I never would have done that six months ago..." she muses cheekily. We all grow in different ways
Today's banquet arrives with compliments of the establishment, but I've used their delivery several times previously. I'd joined the girls believing I would pay for today, thinking it was only a gathering in mutual respect for our discovery of a jewel in the Dubai take-away crown. Bonus. As our bellies fill, the noise levels droop and other diners can finally enjoy their Friday brunch in peace. We all wallow in the after-curry slurry, more stuffed than we usually would be because our companions have urged us to taste everything twice, three times, to assess, evaluate and inspire.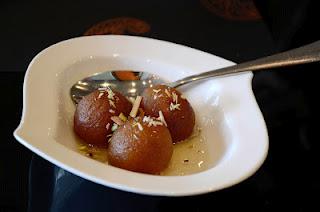 Gulab jamun arrives. We stare at it, unmoving until Goldilocks starts to fight a path to this sugar, gluten and casein filled sweet. He's not supposed to eat this kind of thing, but for the moment, I cannot move. He eats three balls before I can drag the spoon away from him, then covers me in cardamom syrup fingerprints as he pleads for more.
Chai makes its steaming entrance as I look at the clock for the first time - not with desire to leave, but with worry I have overstayed. Hambone will be entrenched in an eight-year-old playdate by now, and probably getting grumpier by the second. I've stolen his sacred day away and had a clandestine play with fellow food-monsters while he has assisted with homework, given a swimming lesson and made pancakes for hungry gremlins. Oh well, luckily for us, we get a second shot at the weekend, and I might make it up to him with a doggy bag...
-------------------------------------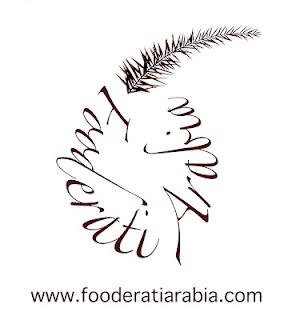 You can follow me, my friends and our culinary journeys on www.fooderatiarabia.com - it's an aggregate site, featuring links to the posts of around half of our members. Some do not post on the Fooderati blog, but you will find links to all the individual food blogs we have come across in the region on the site. We are all different - some provide recipes, others restaurant reviews, some concentrate on nutrition, some have amazing photographs of food around the globe. There are professional chefs who share their work diary, and then lush mums like me who talk a little bit about everything.
Regarding Kabab BQ, As I mentioned, I have tasted their food several times before. Together with the Nihari and Aloo cutlets, make sure you also try the Mutton Shammi Kabab - the best I have had in Dubai, their monstrous grilled prawns, and the soft and silky Chicken Reshmi Kabab. The delivery menu and details can be found linked here. I must say that every attendee on this particular day went away thrilled - I did not have a bad dish, and when all the Fooderati agree on something, you know you are onto a winner.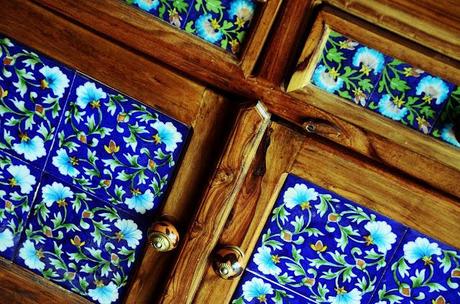 And a little bit of fun for those who think we're all mad....