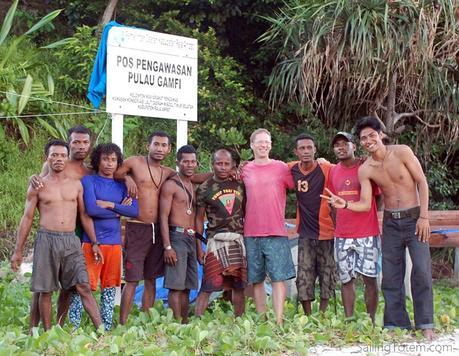 The coconut telegraph, as the cruiser-to-cruiser communication is jokingly referenced, is good for a lot of things. The clearance process like in Vava'u, Tonga. A great deal on brie at the Carrefour in 'Ārue. An unmarked shoal by the Santa Inez Islands. But don't let the coconut telegraph shape your perception of a country or culture before you arrive: assess from your own experiences instead. Now flip that around. How often do we show up in another country and find ourselves judged based on our US nationality?
Identifying ourselves as Americans
Do you fly your US flag on Totem? We've been asked this a number of times since coming back. The assumption is that flying the US flag is asking for trouble, because people don't like Americans. You know what? It's not our experience at all. We don't fly our US flag very often, but that's because UV damage is killer on fabric, I won't fly a ragged flag (disrespectful!), and it's expensive to replace. We try to make it last and as a result it doesn't live on the transom of Totem full time, and flies only on special occasions… not because we're worried about being identifiable in an anchorage as The American Boat.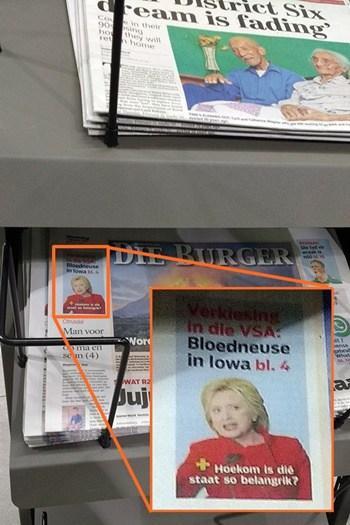 South African news stand in February. Headline reads: "Election in the USA: knock-out punch in Iowa" and "Why is the state so important?"
How Americans are perceived abroad
So much of geopolitics is connected to the US and our economy that for better or for worse, people outside the USA often are pretty dialed in to what's going on in our country. It was still startling earlier this year to see daily headlines in South African newspapers following the US presidential elections, like this one in early February about the Iowa caucus results.
Of course people will have opinions, but in the rare occasions where we've been at the receiving end of bad treatment, it had everything to do with the person directing it at us rather than the fact that we were Americans.
Our reception based on being American ranged from neutral to positive. Sometimes, it helped to identify ourselves as Americans. Papua New Guinea is a former dependency of Australia, a complicated history and relationship; we found our reception sometimes improved after clarifying we were American and not Aussie. In Indonesia, pride in the US President's childhood ties to the country sometimes spurred positive outbursts of "OBAMA!" once our nationality was known.
Who doesn't like Americans?
During eight years overseas, a period which aligns closely with the Obama administration, the people who seem most likely to have negative pre-conceptions about Americans are… well, what do you think? We've been through a lot of territory in that time. Go on, guess.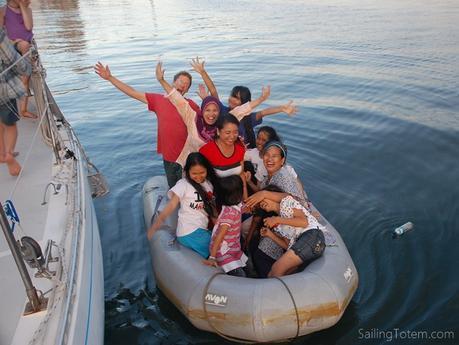 Making friends across boundaries: Jayapura, Indonesia
Perhaps surprisingly, it's been fellow travelers from other English-speaking countries. Brits, Canadians, Aussies, South Africans, etc. Little brother complex? Resentment of being influenced downstream by US policies or economics? Some rationales are easier to understand, and some are silly, as expressed by a Kiwi cruiser one evening in an international gathering over sundowners. "I hate Americans!" he blurted out. "What," said Jamie, "all 320 million of us?"
Representing
I strongly believe that it's important for us to be good ambassadors while traveling. Like it or not, many people we meet are paying attention to US politics and will have preconceived opinions. And many of them may be apprehensive that we have elected a bellicose reality-TV star who has fanned flames of bigotry and thinks climate change is a hoax. Some of the first messages I had waking up the morning after election day were from friends we've made overseas with responses that could be most graciously summarized as "what the heck?!"
It's even more important now to be those good ambassadors, and demonstrate that the media impressions people in other countries get about America is, well, just media, and the outcome of the election almost certainly is about desire for change and not offensive ideology. Shine that through everyday actions! Outside of the fact it is simply the right thing to do, I believe that individual actions make a difference and how we interact with people as travelers can have a ripple effect.
How not to be an ugly cruiser
Be respectful. If there's a cardinal rule to be a good ambassador, this is it. Is there any emotion more likely to breed ill will than disrespect? I remember watching a shirtless guy ranting at the Port Captain in a smallish town in Mexico over some unimportant frustration: the guy handled that interaction badly on multiple levels, and it didn't help his case.
Remember you're a guest. You don't have a right to be in (fill in the blank: country X): rather, you are privileged to have the opportunity. Their culture, their rules, their standards, your responsibility to be attuned and inline.
Be indiscriminately kind and patient. Sure, things take longer sometimes, or happen in unfamiliar ways that make your life a little more difficult. It's not meaningful. Repeat mantras about being a guest, and showing respect.
Seek local company. Interact with people besides other cruisers. Thoughtful interest is appreciated and you'll probably learn something. Language barrier? No problem. Surprisingly few common words are necessary to communicate. Authentic interest reflects positivism.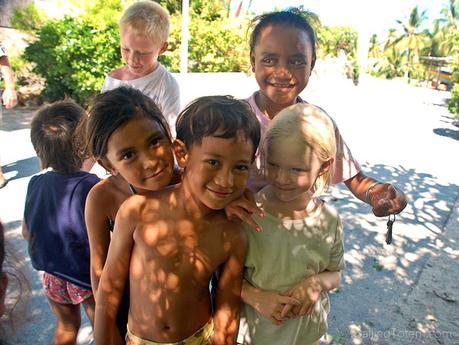 Kids in Fakarava, French Polynesia – June 2010
Assume the best in others. Like a memorable cruiser we knew once said, "the world is full of beautiful people." Enter every interaction with that in mind, not the possibility that they are somehow out to take advantage of you, and flip off the internal voice that distrusts. I don't mean be naïve and ignore your gut, but start from a positive assumption. I don't think it's a coincidence that the most suspicious cruisers we knew were the most frequently plagued by petty theft.
Don't complain about local standards. OK, so we all commiserate in the cockpit conversation about things that are challenging in an unfamiliar place, whether it's the selection of produce in the market or the bus schedule. But for deeper differences, if you really don't like them? Please, go somewhere else, instead of sharing your disdain. Mobility is one of the great luxuries of living on a boat.
Have a sense of humor. Be open to making fun of yourself when finding how people react to you! Remember that laughter is also a reaction to confusion or nervousness, like… when you're trying to have a conversation with someone in a different language/country/culture.
This week a friend of ours said "…we can, all of us, commit to not allowing the prejudice and hurtful in our lives and around us and reach out to other folks and show them, through example and deeds, that other folks are good and we are worthy of each other. The alternative is to bask in our moral superiority, calling out the other side, and telling ourselves – 'Well, I am not like those people.'" He's referring to the post-election domestic dialog in the US, and it's spot on there but holds a greater truth. Our human family has so much more in common than we do holding us apart! Thank you for the words, John, and the reminder.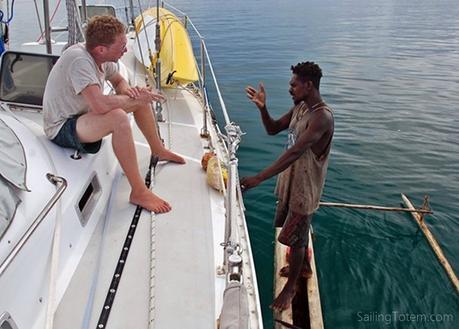 Jamie and Patrick talk politics and disenfranchisement. Near New Hanover, Papua New Guinea
Holidays are coming! If you shop on Amazon, please consider clicking through an Amazon link on SailingTotem first (like this one, or, click through the listing for Voyaging With Kids that's on every page). When you do that, we get a commission on any Amazon purchase you make in the following 24 hours. There's no added cost to you, but it does make a difference for us. Thank you for the consideration!