Ok, I've decided not to let it go. Yesterday I lamented that Amber Heard and Johnny Depp's engagement missed the deadline for my This should end well post (my attempt at sarcasm font. Brilliant, right?) Well I'm not ready to let it go. And judging by the onslaught of coverage this engagement ring is garnering, that's exactly what their Amber's PR team wants. Fine, you win publicists, I'll take the bait.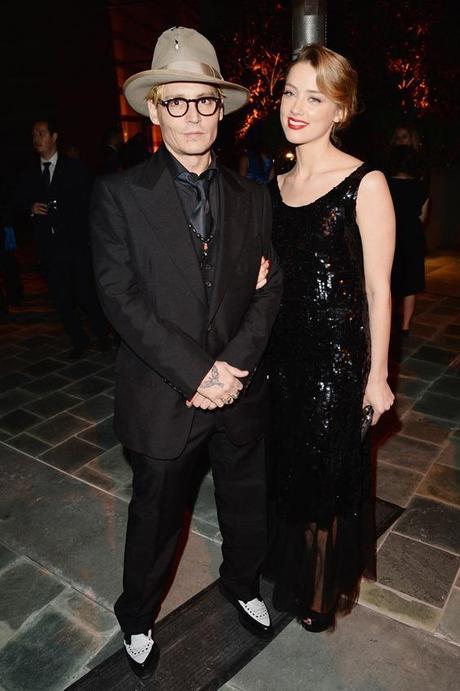 via Lainey Gossip (highly recommend you read her take on them)
First of all, Amber Heard is beautiful. She just is. But an A-list actress beauty does not make. Second of all, she must have barely passed Kaley Cuoco's Stunt Queen 101 class at the Royal Tampa Academy of Dramatic Tricks. Because the desparately-grasping-my-left-hand-so-you-won't-notice-my-ring pics are so try-hardy it's like Kris Jenner and Hayden Pannetiere called the paps for her. Woman, if you don't want people to notice your ring/see it/speculate, why not just remove it? Turn it around? Switch it to your right hand? Because she didn't want to. Here's my theory: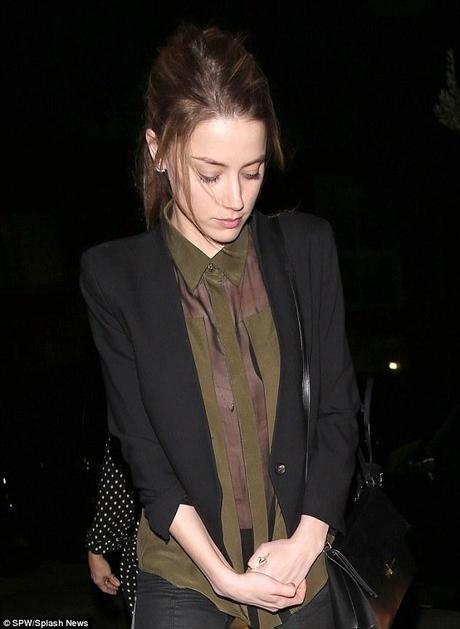 via Daily Mail
After Amber started "dating" Johnny on the set of the Rum Diaries, they became the poor man's Brangelina (or, for the younger set, the Hilary Duff/Aaron Carter/Lohan triangle). French supermodel/mother of his children Vanessa Paradis was left in the dust for Johnny's mid-life crisis. All of a sudden, Amber – who is, as stated above, beautiful but is just another gorgeous young blonde in Hollywood – started getting more attention as the official girlfriend of Johnny Depp. She even got to present at the Golden Globes! Sure it was with Lady Gaga's boyfriend and the other guy from Chicago Fire, but hey.
She also started getting diamonds. Lots of them. As the Guardian Liberty Voice so tastefully put it: "Johnny Depp Has Found the Cure for Amber Heard's Bisexuality: Diamonds." The article has since been removed, but let's put aside that horrendous headline for some juicy gossip. Amber received a reported $50,000 in diamond Christmas gifts from Johnny. Supposedly it was a pair of 2 ctw drop earrings set in platinum with a matching pendant. Given the quality of Neil Lane's diamonds, that amount sounds about right. But apparently the eyewitness missed a back-room deal, because those weren't the only diamonds she got.
The engagement confirmations all state that the proposal happened a while ago – so Johnny might have made a Christmas proposal (bad move, in the unlikely event that the engagement is called off she gets to keep the ring. It was a gift.) He also might have proposed before then and Amber decided she wanted some more bling to match her ring for Christmas. But one thing is for certain: Amber was tired of keeping the engagement hush hush. And what better time to force an announcement than awards season?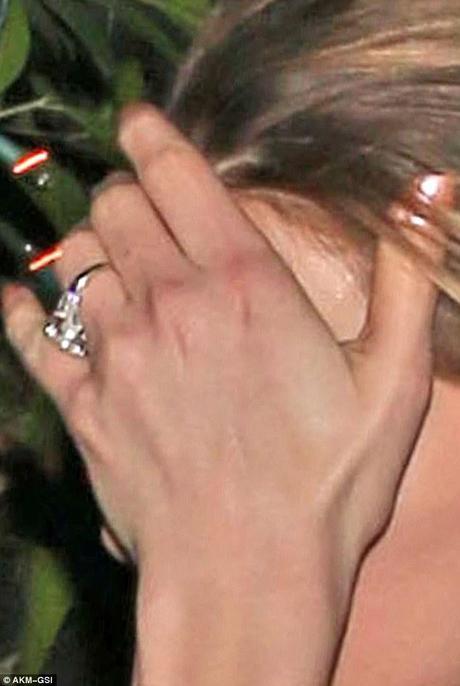 via Daily Mail
So, Amber, you got what you wanted – we're all talking! So enough with the self-hand-holding. I fully expect the rock to be front and center on any remaining red carpet appearances you'll make this awards season. You owe it to us for convincing Johnny to propose before you convinced him to stop wearing those g-d awful hats.