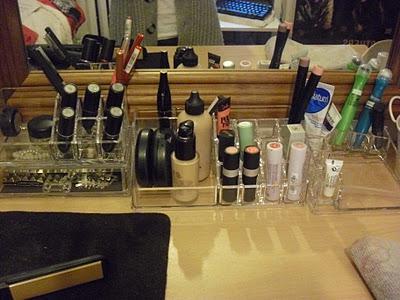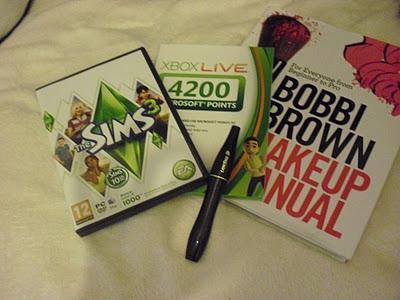 As my one of my parents have move to Australia with leaving his job he got Amazon voucher quite alot actually but not knowing if he would be able to spend them over there he just gave them to me and my brother as part of a Christmas present, which came in good seen as i got half of the stuff i had wanted to get for a while or test out. 
Ive always wanted to
acrylic draws/organisers
i think they look so much more tidier as i just use plastic draw which don't look nice on the eye at all. However i completely fell in love with these the 3 where not part of a set they are all sold severalty and cost round about £40 but they are totally worth the money! there are other kinda like these you just have to search
acrylic storage
or 
organisers
. 
The
Bobbi Brown Make up Manuel,
i had heard so many mixed reviews on this book so i wanted to get it to have a look what the fuss what about. I got the book for £10 reduced from £20 which i thought was really good! but as i start to read/go through i see instant mistakes. over all it is a good book for people starting out, my favorite one i have is the
Jemma Kidd Make-up Masterclass!
Lancome Hypnose
 i had heard hype about this mascara for awhile now and have also seen that Michelle Phan from youtube also used this. i thought it was a little to pricey to buy myself but it was only about £16. However i am so glad i have tried this i absolutely love it brush and formula it seems to give me such nice lashes. (from cheapsmells.com through amazon)
Sim 3
i am a total sim geek
 well i have wanted it ever since it came out but could justify about £45 on a PC game! for around £23 i finally got it and i must say played it once and i prefer Sim 2. for now anyway. i think i just need to get used to it but im not sure on the graphic!.
XBOX Live Points
 this was entirely for my brother he is xbox mad?! spends all his money on the thing! god knows what he uses point for, but for £34 it better be worth it. (i got the best deal as he only wanted that so i got the rest of the vouchers ;) )
Thanks for Reading!