Dreaming of a sophisticated and elegant destination with plenty of things to see and do for both city and nature lovers? Geneva, Switzerland is a gorgeous destination packed with everything you could imagine to make your holiday unforgettable. Check out this video of people asked to cycle hard enough to give power to a miniature version of the Jet d'eau – the people who powered it for the longest time won an incredible and action-packed Amazing Weekend for two to Geneva! And you can win too, so check out the video then make sure to read up on all the amazing things you can do in Geneva on this incredible trip!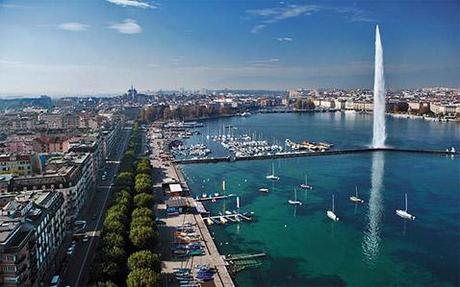 Swiss chocolate making
Are you a chocoholic? Chances are, you'll be in paradise on holiday in Geneva. This is home to some of the world's finest chocolate, and the best part is that you see how it's actually made. You can have a chance to visit one of the Swiss chocolate factories, learn about what makes Swiss chocolate so special, and sample different types yourself. It's an incredible opportunity while in Switzerland, so don't miss out- and don't forget to bring home some chocolate for your loved ones back home!
Water sports
Lake Geneva is one of the most gorgeous places in Switzerland to enjoy any number of water sports. Depending on what you prefer, you'll find so many ways to spend a sunny day on the water here. You can go on a sailing trip, try water-skiing or just enjoy swimming in the clear waters of the lake. Or rent a boat and have a day out with a picnic on the water. The possibilities are endless, so kick back and relax by the water during your holiday.
Fine dining
Geneva is home to world-class cuisine, and some of the finest restaurants in Switzerland. From Lebanese to Italian to classic Swiss choices, you can sample food from around the world in a luxurious setting. Along with fine dining, you can try some excellent wines while in the region. Spend a day wine tasting around Geneva, and end at a classy restaurant overlooking Lake Geneva. You'll never want to go home!
Luxury accommodations
When staying in Geneva, it's a great time to treat yourself to some luxury accommodations. The hotels here pull out all the stops to make you feel relaxed, pampered and totally taken care of. Many hotels will include spa treatments, fine dining, saunas and jacuzzis so you don't have to go too far to feel completely comfortable. If this sounds like your idea of a great holiday, click here for your chance to win this dream Geneva holiday for two.