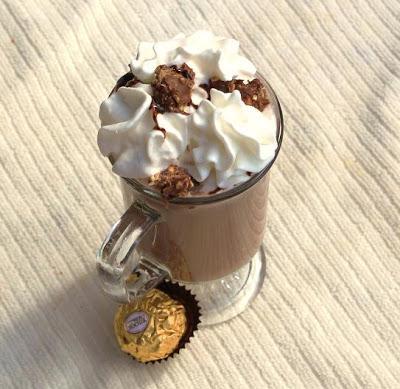 Oh boy, get ready for this one... because here we go! This Amazing
Nutella
& Ferrera Candy Hot Chocolate Recipe is a delightful 
hot cocoa
reboot.
It's one of those chocoholics favorites, "died and gone to Heaven" kind of recipes. 
How do you make a rich and luxurious hot, tasty drink - one you and your party guests are going to
love? 
By putting deliciously interesting  ingredients together, like the ones you'll find in this recipe.
Talk about sublime liquid-
sweet 
love of divinity in chocolate... oh man! 
It's not a throwback to hot chocolate, either.
This is the ultimate hot chocolate.
 I can't take credit for it. I didn't create it. But one thing is for sure... I
had
to share it with you. You're here, so I'm assuming you're like me - a
big time hot cocoa lover
; one who can appreciate an intensely chocolate drink recipe like this.
Beware! Not the same as, although much like the famous
New York City
Serendipity restaurant "Frozen Hot Chocolate", this is a drink that serious hot chocolate lovers can find addictive. The master ingredients are the Nutella, the candy and liqueurs (if you decide to add them) - they add that certain kind of
je ne sais quoi
that transport your taste buds, taking them to a whole new lever. I mean! 
After you try it, you might get hooked and have to wean yourself off of them. Really. It's that good.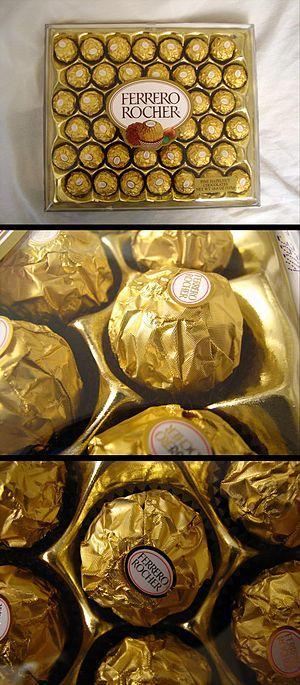 Nutella Hot Chocolate - Hot Cocoa Recipe
Ingredients
1 cup whole milk
3 tablespoons Nutella
1 teaspoon
cocoa powder
Fresh
whipped creme (or
whipped cream
in a can)
Hershey's chocolate
bar
Hershey's
chocolate syrup
Optional: 1 shot of
Frangelico
or
Kahlua
(Adult version only, smile!)
Ferrero Rocher
candy
Instructions
1.) In a high qualitiy heavy saucepan, whisk together milk, Nutella, and cocoa powder.
2.) Simmer for 5 minutes.
3.) Make chocolate shavings from
Hershey bar
.
4.) Serve with a shot of Kahlua or Frangelico liqueur inside or on the side (or without it) and top with a dollop of fresh whipped cream.
5.) Add crushed Ferrero Rocher candies and/or chocolate shavings. Drizzle with chocolate syrup.
After you try your first batch of this Amazing Nutella & Ferrera Candy Hot Chocolate Recipe, let me know how you like it. Leave a comment.
Got a hot chocolate or coffee specialty drink that you've created yourself you'd like to share? Feel free to do so.
Enjoy...
and Happy Hot Chocolate! 
Sponsor of the Month
*****
I do this... I write to help to create to opportunities for all who choose to pursue their passion to have parties almost irregardless regard to economic constraints.
I think if we keep talking about the cost of parties (I write blog posts, you write comments), together, maybe we can break down some of the party industry's price barriers and shame some of the people who've taken your money and delivered a poor quality product right into growing a conscious and treating you right (nice thought, huh?).
Opportunities to be inspired about parties are everywhere. Yet, people looking out for your wallet are few and far between. My goal is to inspire you, causing you to question the way things are that have been the status quo for too long. When we stand together and speak up, we can be a powerful force.
Let's keep the conversation of change going. Because in the sea of everyone talking, one voice is a whisper... several voices are a scream.
Leave a comment and share your thoughts, ideas and suggestions below. Remember to be as specific as possible because what you have to say helps us all.
Always... be encouraged and encourage others too,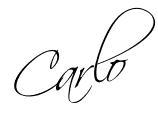 "Remembering that you are going to die is the best way I know to avoid the trap of thinking you have something to lose. You are already naked. There is no reason not to follow your heart." - Steve Jobs
Image sources: Wikipedia and
What's Cookin' Italian Style Cuisine
hot cocoa, homemade hot cocoa, amazon hot cocoa, how to make hot cocoa, hot cocoa milk chocolate, hot cocoa pack, hot cocoa recipe cocoa powder, hot cocoa vs hot chocolate, hot cocoa beverages, hot cocoa creamy, hot cocoa classic, recipe, hot chocolate recipe, homemade hot chocolate recipe, thick hot chocolate recipe, basic hot chocolate recipe, hot chocolate mix recipe, hot chocolate recipe delicious, hershey's hot chocolate recipe, hot chocolate recipe cocoa powder, hot chocolate recipe with chocolate chips, hot chocolate recipe creamy, hot chocolate recipe milk: Technorati Tags

Related articles
How To Handle A Serious Nutella Addiction
S'more Recipes: 22 ways to make the classic campfire treat | Babble
Chocolate Peppermint Crinkle Cookies
Hot Chocolate Recipes To Warm You Up On Snowy Days (PHOTOS)

>>Your Email Address... No Spam. I Promise." />
Special Offers for Cater-Hater Subscribers!
>>Your Email Address... No Spam. I Promise.';} " name="email" value=">>>Your Email Address... No Spam. I Promise." id="awf_field-35516496" onfocus=" if (this.value == '>>>Your Email Address... No Spam. I Promise.') { this.value = ''; }" type="text" class="text" tabindex="500" />