Amazing: Nik Wallenda Completes Chicago Skyscraper Walk
It's very rare in life that we get a chance to see something live that's awesome, amazing, and death defying. Last night, I got my chance when I left my warm cozy cottage to see aerialist Nik Wallenda walk the tight rope between three skyscrapers here in Chicago, Illinois. The two Marina Towers are both high-rise residential buildings that sit directly across the river from the Leo Burnett building. Thanks to Leo Burnett, I was allowed to come into the building and view the show from the 30th floor. In the end, I opted to stand outside because that's where all the action was.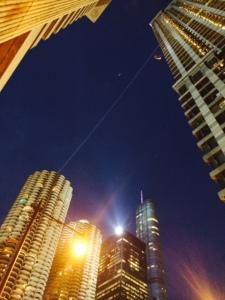 The tightrope aerial view
I am no stranger to the tightrope walks that Nik Wallenda has completed. I nervously viewed his walk across Niagara Falls in 2012, as well as, his walk across the Grand Canyon in 2013. He comes from a long line of high wire/ daredevil performers and last night, I guess you could say he dared the devil.
After spending some time indoors, and warming myself up with a cocktail or two, I headed outside to wait for the show to start. Everyone from senior citizens to infants was out last night to see the tight rope walk. Pets, mainly dogs, were also a part of the mix; right along with the Department of Homeland Security that I found odd, but I guess it was a necessary precaution. A taxi driver parked his van and set for hours so that he could see from inside the comfort of his van. He happily offered me hookah! I could not tweet, update my Facebook status, or do anything that required the internet. Data was shut down completely. The only thing I could do was snap pictures with my phone.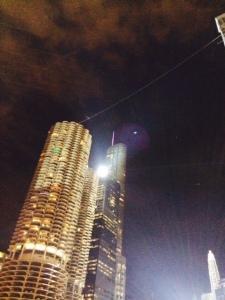 Nik Wallenda starts his tightrope walk across the Chicago River
After waiting about 90 minutes or so, he appeared at the top of the west tower and started his walk 588 feet high as me and the rest of the crowd cheered him on. Wallenda crossed over the Chicago River to the Leo Burnett building. I thought it took him about two minutes to complete the walk. Later I found out it was a little under seven minutes. He ended at Leo Burnett 671 feet above the ground. Along the way, he acknowledged God, his family, Chicago and his hometown. He then walked back over to the Marina Towers on foot, took the elevator up, and walked the tightrope blindfolded between the two buildings at 543 ft breaking two world records. I was worried the weather would not cooperate. Chicago indeed has the rightful title of the Windy City. Just two days prior on Halloween, Chicago was gifted with high winds combined with a weird mix of snow, rain, and ice.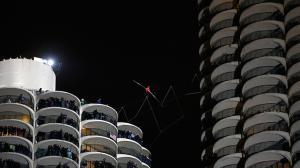 Blindfolded from East Tower to West.
While he was walking I'm not sure what I felt. I honestly can't describe it. I know that I had come to see something victorious and not tragic, but at the same time my stomach was in knots. I had a combination of fear, excitement, and disbelief going on at the same time. I can't even stand on a step stool without getting dizzy. I've heard many refer to him and his stunts as crazy, but I honestly can't bring myself to agree. If you've been trained to do something since birth and that's what you're born to do, then go for it. It is truly an experience I won't forget!