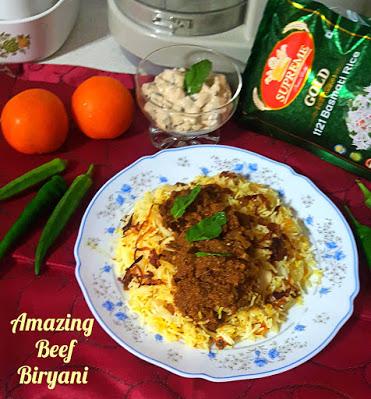 Eid Mubarak to all who is celebrating.  May this occasion bring joy and happiness to you and family! 
Biryani is one of the famous dish in the world.  It needs no introduction.  There were wide variations of Biryani.  Some used chicken, mutton or seafood.  Also available in  vegetarian version.
I have tried Mutton and Chicken biryani for the past years. As requested, this year I tried
Amazing Beef Biryani
.  There were few steps for cooking this biryani.  First marinate the meat with  yogurt and spices before proceeding.  Secondly cook the meat using ready made biryani masala until it turns tender then boil the soaked rice in salted water and whole spices.  Final step, layering  the rice with cooked beef, drizzle  yellow food coloring, fried onion and chopped cilantro/mint leaves before we slow cooked the biryani for 10 minutes. 
Amazing Beef Biryani
is being served for Eid together with okra raita.  It was super duper hit with family and relatives.  The meat almost  fall off the bone, so tender and flavorful!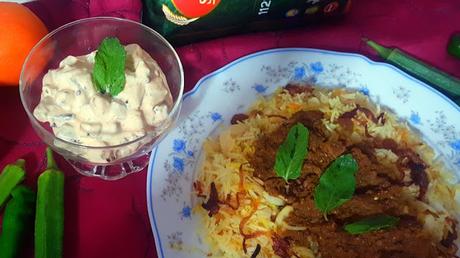 Until Jump Break