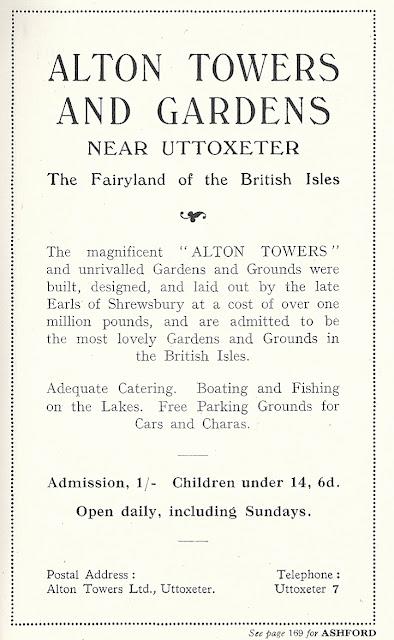 Alton Towers was the home of the Earls of Shrewsbury from the 15th century. It underwent a major transformation when the 15th Earl, Charles Talbot, employed garden architects Thomas Allason and Robert Abrahams to transform the grounds. Fountains and conservatories were built: the Chinese Pagoda Fountain was a replica of the To Ho Pagoda in Canton. Guests could take refreshments in Le Refuge, while a blind harpist lived in a thatched cottage and would play so that music completed the effect.
The Earl died in 1827; his nephew succeeded him and continued to improve the gardens. The public were first admitted in 1860, when the 18th Earl wanted money for refurbishments. Thirty years later, fetes attracted tens of thousands of visitors.
When the 20th Earl and his wife separated, she stayed in Alton Towers while he moved to Ingestre and founded the Talbot Car Company. With little spent on its upkeep, the estate was neglected. Its fortunes revived again in 1924, however, when it was bought by a consortium of businessmen who opened it to the public. This was at the expense of the house, however, which declined once fittings were removed and is now partly in ruins.
The attraction was a great success, with visitors flocking by rail, motorcar and charabanc. In 1930, the year the advertisement above appeared, Pathe News also visited.



World War II interrupted, with the property requisitioned by the War Office. When the gardens reopened in the 1950s, small fairs in the grounds helped to attract visitors; gradually, more rides were installed so that today Alton Towers is associated with rollercoasters and thrill rides. The gardens, though, have survived throughout and can still be visited.