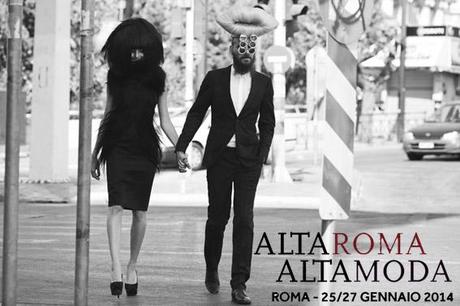 Here we are now. The cobblestones and the Eternal city are ready to host the high-fashion with AltaRoma. A pressing and rich program. Four days of lights, catwalks, press conferences, presentations, shows and exhibitions.
It's the second time for me and my blog. But in this edition I have some friends, made by chance, in the press room and cultivated over time, like my friend in web and real life Misseychelles.
The schedule leaves little time to stop and the only relaxation allowed is the one in the bar of Borgo Santo Spirito where the insiders get together for a mini break.
And together with the expected rain, with high heels and ballet flats in the bag, with the camera, the i-phone we are going to be around.
Here I tell you where you could certainly find me, if you want to come. VENERDì 24 GENNAIO
ROOM SERVICE
 in the heart of the "Dolce Vita", Via Veneto
100% made in Italy  design and  tailoring. Because we are not just the same.
ASVOFF 6
  a shaded view on fashion film. Retrospectives and short films that offer views on the avant-garde fashion. let bulgari dazzle your senses SABATO 25 GENNAIO
San Andrès Milano
. The neo-retro style for an intellectual and cultured woman.
Sarli Couture
. One of the historic and ancient Roman couturier can still seduce and teach us that high fashion and elegance can be contemporaneous.
Curiel Couture
. Another historical name that has started her career at the Balmain atelier and has arrived to conquer the international scene. DOMENICA 26 GENNAIO
Esme vie
. And their timeless elegance. For a contemporary woman who loves full skirt, class and elegance. For those who think that fashion is still a matter of style and not of raiding trends.
Nino Lettieri
. and his unwavering commitment in Haute Couture that can not only obey to the new rules, 
Gianni Molaro e Mireille Dagher
. LUNEDì 27 GENNAIO
comeforbreakfast
. minimal mood, but the constant research for materials and innovative fabrics. Creativity, originality and personal style, elements that can not  miss in a contemporary outfit.
Simona Persechino.  
The event will be in the incredible location of the MAXXI and architecture and fashion is going to be together, once again. ❣❣❣
Ormai ci siamo. I sanpietrini e la città Eterna sono pronti ad ospitare l'alta moda con AltaRoma. Un programma incalzante e ricco. Quattro giorni di luci, passerelle, conferenze stampe, presentazioni, rassegne e mostre. 
E' la seconda volta per me e il mio blog. Ma in questa edizione ho delle amicizie, alcune nate per caso nella sala stampa e altre coltivate nel tempo, come la mia amica, nel web e nella vita,  Misseychelles.
Il calendario lascia poco tempo per fermarsi e l'unico relax concesso è quello nel bar di Borgo Santo Spirito dove gli addetti ai lavori si ritrovano per un mini break.
E insieme, sotto la fitta pioggia prevista, con tacchi e ballerine in borsa, con macchina fotografica e i phone ci troverete un po' ovunque.
Qui vi dico dove andrò sicuramente, se volete venire a trovarmi.
Il calendario più dettagliato lo trovate qui: 
altaroma
VENERDì 24 GENNAIO
ROOM SERVICE nel cuore della dolce vita, a Via Veneto 
100 % made in Italy per un design e una sartorialità su misura. Perché non siamo proprio tutti uguali. 
ASVOFF 6  a shaded view on fashion film. 
Cortometraggi che offrono retrospettive e punti di vista d'avanguardia sulla moda
SABATO 25 GENNAIO
San Andrès Milano. Lo stile neo retrò di una donna intellettuale e colta.
Sarli Couture. Uno degli storici e antichi couturier romani in grado ancora oggi di farci sognare e di insegnarci che l'alta moda e l'eleganza possono essere contemporanee.
Curiel Couture. Altro nome storico che ha iniziato il suo percorso presso l'atelier Balmain per arrivare poi a conquistare la scena internazionale.
DOMENICA 26 GENNAIO
Esme vie. E la loro eleganza senza tempo. Per una donna contemporanea che ama le full skirt, la classe e l'eleganza. Che pensa che la moda è ancora una questione di stile e non di trend passeggeri.
Nino Lettieri. e il suo impegno costante nell'altamoda che non può cedere alle nuove regole della società , Gianni Molaro e Mireille Dagher.
LUNEDì 27 GENNAIO
comeforbreakfast. mood minimale, ma costante ricerca di materiali e tessuti speciali.  Creatività, originalità e stile personale, elementi che non possono cambiare in un outfit contemporaneo.
Simona Persechino.Che sfilerà nella incredibile location del MAXXI e ancora una volta architettura e moda saranno unite.