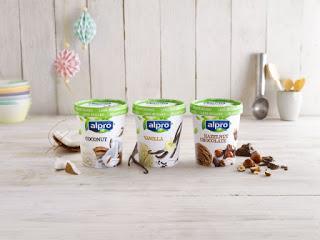 I feel as though I have been waiting my whole life for this product. My poor Mother has had to listen to my whine and complain about Alpro not branching out into the ice cream market for many moons, but alas, after several years of wishful thinking, Alpro have finally come through. But the big question here is, did they come through with the goods?
Well, I am going to keep you in suspense just a little bit longer (unless you choose to scroll to the bottom on the page, which is fine I suppose). I actually stuggled to locate this ice cream for quite a while, after doing a bit of research I found out that it is currently only available in the larger Tesco stores, so I made it my mission to locate it, and obviously, from the mere fact that you are reading this review, I did indeed manage to locate this ice cream. The tub is the usual size, and the packaging looks nice, it is minimalistic and in keeping with Alpro's usual style. 
The range comes in three varieties; vanilla, coconut, and the subject of todays review, chocolate hazelnut. This is probably the flavor that I was most excited about trying because it is such a classic flavor combination. This is a bit of information about the product. 

Alpro® Hazelnut Chocolate is made from carefully selected hazelnuts, giving our ice cream its delicious rich taste & creaminess, which are then perfectly blended with real chocolate. With less sugars & saturated fats than the market reference in ice cream, Alpro® Ice cream is a delicious treat to indulge in!
Ice cream made from hazelnut
100% Plant-based
30% Less sugars & saturated fats
Made from nature's tastiest ingredients
Free from dairy and gluten
Free from colours and preservatives
Suitable for vegans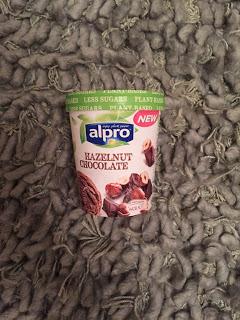 Now, onto the review! The ice cream is pretty difficult to distinguish from that of the more traditional dairy version in both taste and texture. It is creamy with a lovely smooth consistency which  would give brands like Haagan Dazs a run for their money! The flavor certainly didn't disapoint either, it was rich but not sickly with enough sweetness to work well against the nutty hazelnut. I found myself thoroughly enjoying this tub of ice cream and was actually quite sad when I finished, albeit extremely satisfied. 
Rating - 9.5/10Vegan - YesCalories - 177 per 100gBuy Again? - YES!!!