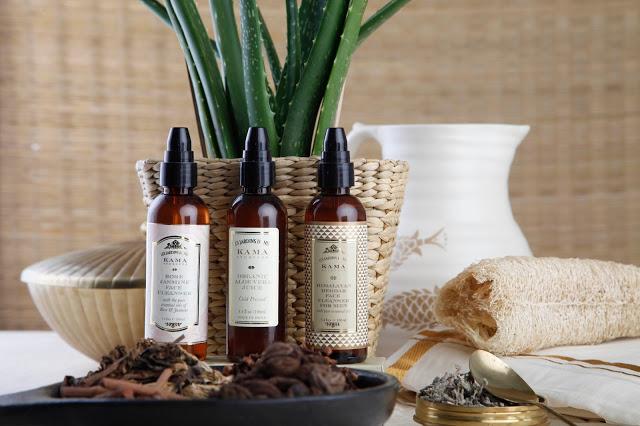 This summer, exploit the natural benefits of aloe vera to the fullest with products from Kama Ayurveda. Pick a hydrating face cleanser or aloe vera in its purest form – the organic aloe vera juice.
Rose jasmine face cleanser
With pure essential oils of rose and jasmine. 
A perfect hydrating face wash filled with natural ingredients, which gently and thoroughly clean skin and remove light makeup. Aloe vera leaf juice heals and smoothens skin, vetiver root and black cumin seeds are antibacterial, jojoba seed oil softens and rejuvenates skin, minimizing fine lines and promoting skin suppleness. The pure essential oil of rose has excellent emollient and hydrating properties keeping the skin soft, young and moisturized while the pure essential oil of jasmine is an effective toner and helps reduce skin marks and scarring.
H
imalayan  deodar  face cleanser  for men
A perfect hydrating face wash for men with cedar wood which is known for its calming and purifying qualities. Filled with pure natural ingredients it leaves the skin feeling fresh, clean & supple and preps the skin for a comfortable shave. 
Aloe vera leaf juice heals and smoothens skin and jojoba seed minimizes fine lines, promoting skin suppleness and rejuvenation, vetiver root and black cumin seeds which are anti-bacterial, lavender oil, an effective toner and patchouli oil an anti-inflammatory which tones and tightens skin.
Organic aloe Vera juice
100% organic and cold pressed
Kama ayurveda's100% organic aloe vera cold pressed juice is an ideal daily remedy for naturally glowing skin. Rich in vitamins A, C, F, B and amino acids, Aloe Vera has anti inflammatory, anti bacterial, anti fungal, healing and cooling properties. Aloe Vera helps in the uniform growth of cells and reduces melanin secretion, preventing fine lines, freckles, blemishes, acne, sunburn, rashes and black heads. It acts as an astringent, which closes the pores and forms a protective layer that helps retain moisture and hydrates the skin. Aloe vera can also be applied on the hair to prevent dandruff and hair loss. It can be used as a 100% natural aftershave for men.
KAMA Ayurveda harnesses the power of nature, using ancient wisdom and well being traditions of Ayurveda. KAMA Ayurveda partners with the Arya Vaidya Pharmacy (AVP) in Coimbatore, which ensures strict quality control, tested effectiveness and the highest standards of research and development. All the while following and expanding ancient Ayurvedic texts.
Today Kama's beautifully designed and packaged products are used in select resorts and spas worldwide including: The Oberoi Hotels & Resorts, Aman Bagh & Aman Kora, The Four Seasons Hotel Maldives, and The Mandarin Oriental, New York.
Kama has recently also won multiple prestigious awards such as the Images award for the Most Admired Launch of the Year for a Beauty Retailer, the Best packaging design by the Confederation of Indian Industries and the National Institute for Design (CII-NID) and the CII-NID Environmental Graphics Award for the design of the Kama store in Khan Market, their first exclusive store in the country.
The KAMA Rose and Jasmine Face Cleanser is priced at MRP: 540/- for 100ml
The KAMA Himalayan Deodar Face Cleanser is priced at MRP: 540/- for 100ml
The KAMA Organic Aloe Vera Juice is priced at MRP: 500/- for 100ml
These are available at the Kama Ayurveda store, Khan Market, New Delhi