Almost Anorexic and Totally Tragic
NEDA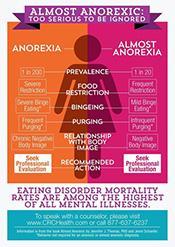 By:  Irvina Kanarek
"I am not as sick as the other women… I don't need treatment."
I heard this statement from time to time in my role as a support staff counselor in an eating disorder rehab. My response? I'd say,
"Interesting. Tell me, what makes you less sick than the others?"
The answers I would hear were:
"I am not that underweight…"
"I am not that overweight…"
"I am not as crazy as her…"
"I am not as angry as her…"
I would then ask,
"When you walk into a room of people, do you see human beings? Or do you start judging the dimensions of their faces, the shape of their body parts and guessing their weight? Do you find yourself measuring yourself against them?"
"When you feel uncomfortable with a person, can you candidly express what you're thinking and feeling? Or do you keep your anxiety to yourself and start planning tomorrow's new diet or your next binge?"
"When you sit down to have a meal, do you see food that is going to nourish your body with energy? Or do you feel tears start to form behind your eyes?"
"When you're sleeping, do you ever wake up in the middle of the night with severe cramping in your legs? Because that's a sign that the body is lacking nutrients and pulling potassium from the muscles. Potassium contributes to our electrolytes in our blood stream which create the electrical currents that make our heart beat."
Sometimes the most telling signs of an eating disorder are the ones we can not see. The problem I have witnessed within this disease (and the treatment of it) is that often we dismiss the whispers of this deadly illness until its physical repercussions start to scream.(1)
I can't count how many clients have told me, "When it first started, the doctor said I didn't have an eating disorder because my body mass index wasn't that far off the chart." The problem is most eating disorders don't fit neatly into charts, scales and diagnostic boxes. Eating disorders like to hide, but thankfully the walls they shroud behind are being demolished. Behind them we are finding new terms like, "almost anorexic." Coined by Dr. Jennifer J. Thomas of Harvard University and Jenni Schaeffer, author of Saying Goodbye to ED and Goodbye ED- Hello Me. Together, in their book, Almost Anorexic they are exposing anorexia in its early stages. The two are advocates for the urgency of treatment before full scale anorexia develops. Their work comes at a needed time considering:
The mortality rate associated with anorexia nervosa is 12 times higher than the death rate associated with all causes of death for females 15-24 years old. (2)
35% of "normal dieters" progress to pathological dieting. Of those, 20-25% progress to partial or full-syndrome eating disorders. (3)
Without treatment, up to 20% of people with serious eating disorders die. With treatment, the mortality rate falls to 2-3%. (4)
Whenever I think of the clients I worked with I think of brilliant, hilarious and compassionate women. I also think of vicious pain and devastation that permeated their circumference. As I got to know these women, I wished that something could have spared them this disease. Witnessing their pain proved to serve a purpose, as it inspired me to prevent eating disorders. Today, I am the Rewriter-In-Chief and Founder of Rewrite Beautiful a non-profit that creatively changes how girls see beauty for eating disorder prevention through education. I, along with many like Thomas and Schaeffer are shedding light on the "almost anorexic" before it becomes the "totally tragic."
The  clinicians at CRC Health have created this infographic about almost anorexia to shed light on a diagnosis that is often ignored but warrants clinical intervention. You too can play a part in preventing eating disorders by raising awareness. Education equals prevention.
Irvina Kanarek is the Rewriter-In-Chief and Founder of Rewrite Beautiful, a nonprofit organization that creatively changes how girls see beauty in themselves, for eating-disorder prevention through education. Irvina is also the author of How To: Rewrite Beautiful- You Can Be A Hot Mess Today And A World Changer Tomorrow and a writer on mental health for CRC Health Care. Follow Irvina on Twitter here @IrvinaKanarek
Sources:

1 – American Journal of Psychiatry, Vol. 152 (7), July 1995, p. 1073-1074, Sullivan, Patrick F.
2 – American Journal of Psychiatry, Vol. 152 (7), July 1995, p. 1073-1074, Sullivan, Patrick F.
 3 – Shisslak, C. M., Crago, M., & Estes, L. S. (1995).The spectrum of eating disturbances.International Journal of Eating Disorders, 18(3), 209-219.
 4 – South Carolina Department of Mental Health (2014.)