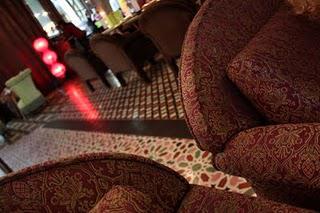 I love finding a secret. It pampers the selfish egotistical side of me. I'm clever enough to know this secret, and nobody else does. Will I tell them about it? Or will I keep it to myself, selfish, enjoying the quiet Friday lunches. I mean, if I tell you all about it, you might all go there and fill the place up and then I might have to (heaven forbid!) make a booking.
That's the way I got my kids up there the first time. I dragged them past the maelstrom that is the food court, expertly skirted the numerous ice-cream stores, fended requests of lollies from the sweetie carts, and whispered in their ears: "Mummy's got a secret place to have lunch. We have to go through a very very expensive shop to get there - the kind of shop Mummy's not usually allowed to go into. We have to be very well behaved while we are in that shop, because everyone who shops there is a millionaire. Then we have to find the secret restaurant at the top. What do you think?"
Wide eyed, "OOOOOOOO". That was a yes.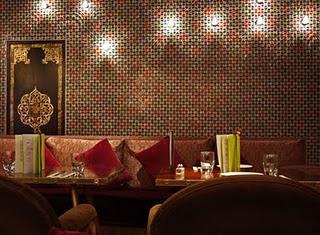 And so, we tiptoed through Harvey Nichols, and the leprechauns behaved impeccably. I cannot say the same for Hambone, who kept on looking at the prices on the menswear, and exclaiming altogether too loudly, "Nine-Hundred Dirhams for a T-SHIRT? Are you KIDDING me?" Embarrasing. Even the children were unimpressed, and walked faster in an "I'm not with him..." kind of way. We had to ask where Momo was - it is tucked away, in the far right corner of the very top floor - just past the gold-plated hand towels and diamond-encrusted soap dishes. We arrive at Almaz, fittingly, the arabic word for 'diamond', but for me, it is always Momo - because the name reminds me of Greg Malouf's Melbourne restaurant - and my introduction to a love affair with Moroccan food.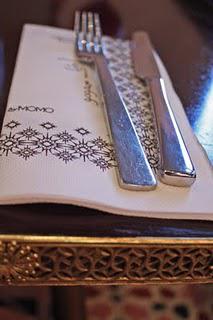 On a Friday at 1pm, it's quiet - blissfully so. The cavernous interior is dimly lit with trios of large baubles encased in Saracenic star-patterned crochet. All chairs are plush - the children want to sit on the stage area, which is in the shape of a majlis, and has circular tin tabletops patterned in reflection of the lights. But they are for drinking only, says the waitress - the seats are too low. Instead we are led over the painted floor to a couch and armchairs, and Goldilocks proceeds to erect a cushion-castle while we order fruit mocktails and lemon and mint juice.
The atmosphere is rich, considering you are in a Mall (Mall of the Emirates), and many times I forget where I am. The music is Morrocan I think, and I like it. Waiters dressed in black fade into the walls, and they are efficient - you barely notice them. In the far corner, behind rose-coloured glass, lies the smokers' room - a den of sweet-scented air pollution and men dressed in white thobes - they are in on my secret. Or is it me who is in on theirs?
While we wait for our food, the children doodle with crayons on their paper menus, and we are brought marinated olives, hummus and soft pillowy bread fresh from the oven. The kids' food arrives first - Chicken tenders sounded like fast food on the menu, but they arrive and prove otherwise - shoestring strips of crumbed chicken, and home-made shoestring fries - the crunchiest I have ever had. There is silence - proof the children are happy.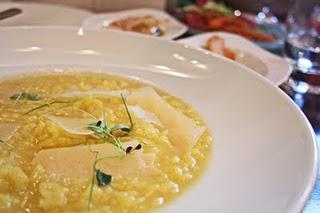 Fattoush and Moutabel arrive next. Superb smokey moutabel, and good fattoush but not great - too much capsicum, and not enough lemon juice. But mains are out of this world. Hambone demolishes a chicken tagine, only once offering me a sample - it's tender, piquant, the gravy is rich, and the flavours delicate. My saffron risotto is unbelievably good. This is a Moroccan restaurant, and I didn't expect this - but the rice is al-dente, and it rests in the remnants of a full-flavoured stock - no stodge, not undercooked, seasoned perfectly, amazing. And surprisingly, the saffron is easily tasted next to the parmegiano - a combination I had thought might be out of balance.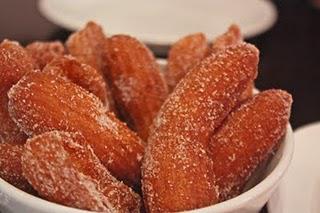 We're full, but I had seen churros on the menu, and I want the kids to love them as I do. I used to buy spectacular churros at the Queen Victoria Market in Melbourne - they would come in a paper cone, piping hot and crunchy, but soft in the middle, and coated in cinnamon and sugar. But when I took them to Melbourne last year, they were disappointing. Not soft in the middle, too chewy on the outside, and overall, disappointing. The kids had thought I was crazy. But today in Momo, I redeem myself. Tasty little munchkin churros arrive in a bowl with cinnamon and pistachio icecreams on the side. They are everything I had hoped and more - better than the old-fashioned Melbourne ones, in fact, rivalling Barcelona 1998.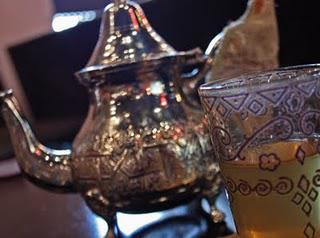 We finish with tea - Moroccan mint, of course. The waiter pours it theatrically, ensuring the leaves remain in the bottom of the pot, and don't tumble into my tiny glass. It's sweet, but refreshing, and cleanses the palate, and steels us for the shopping and the bright lights that must follow in the Mall.
--------------------------------------
Almaz by Momo is part of the Momo group, started by Mourad Mazouz in 1988 in Paris, and continued in London, Dubai and Beirut. It is in the Mall of the Emirates, on the top floor of Harvey Nichols, but can also be accessed via the out-door lift on that side of the mall near the taxi rank. It is not licensed, but has an excellent range of non-alcoholic drinks, even non-alcoholic wines.
Leave me a comment and make my day...