From Bakersfield News:
FOR IMMEDIATE RELEASE - January 14, 2014 – Paskesz Candy Company, Brooklyn, New York is recalling its Premium Belgian Chocolate Coins Hologram .5 oz bags because they may contain traces of milk. 
People who have allergies to milk run the risk of serious or life-threatening allergic reaction if they consume these products. To date one parent has reported that her child took ill after eating one of these coins with the production code P233. Subsequent testing of a sample by the FDA showed that the coin contained .000041 parts of milk (41 parts per million). Out of caution we are recalling all production codes.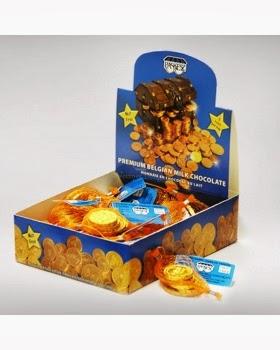 Source: Bakersfield News